EASTBOURNE PIER, A MONUMENT AT RISK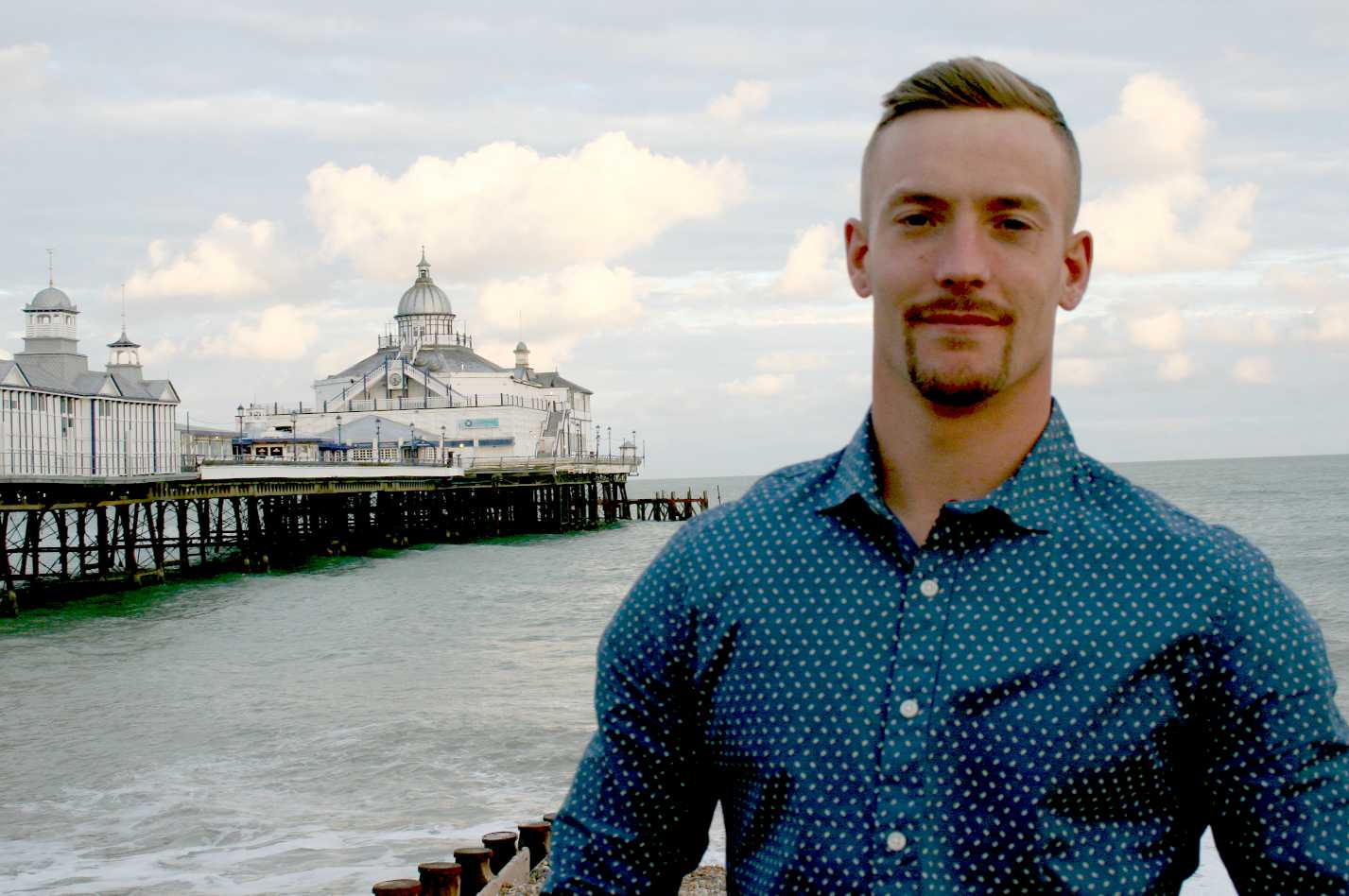 MEET TERRY - Terry is a trustee of the Cleaner Oceans Club and our security specialist. Having lived in Eastbourne for most of his life, he is keen to see Eastbourne pier restored. Terry says: "It is going to be an uphill struggle for the whole team, but if we all pull together, we can move mountains." The Club is more than interested in working with any person, group or company that might share the same ambitions for this Victorian masterpiece.
According to the media there are two other bidders expressing interest in acquiring the pier. One is the flamboyant Sheikh Abid Gulzar, the other is anonymous. We should stress, that at this stage the pier is not offered for sale. The owners are only considering their options. Any communications between Cleaner Oceans and the owners is on an unsolicited basis and is at present confidential, save for the fact that we are also exploring our options along the south coast. We are more than willing to work with entrepreneurs like Mr Gulzar. He is well known for all the charitable works that he does in the town, not to mention the employment that his group of Lion hotels bring to the Eastbourne area.
Other hotel groups with local interests include Elite (The Grand Hotel) and Britannia (The Cavendish Hotel). The Cumberland is more or less opposite the pier. It is in the interests of all Eastbourne hotels, restaurants and traders, that the pier is properly utilised. We can see no reason why hotel groups and other traders cannot work together in a partnership.
NEWS: PIER SOLD TO SHEIKH ABID GULZAR - OCT & NOV 2015
The pier at Eastbourne was sold to Mr Gulzar this month for an undisclosed sum. We were very pleased to learn that a local entrepreneur has risen to the challenge, but not so pleased to hear of plans to charge the public one or two pounds (£2) to walk the pier and no plans at all to repair the Blue Room. On that front we feel sorely misled by Mr Gulzar's public relations efforts, where it appeared that a restoration may be on the cards.
We offered our congratulations to the flamboyant hotelier, where most people thought that under his ownership he had relieved everyone of their duty to protect the historic environment. As of November 2015 that is by no means certain and should he at any time wish to call on us for ideas as to sustainability or attractions, we will be pleased to assist.
That aside, we appreciate the difficulties obtaining consents and raising the funding to carry out essential maintenance.
The purchase by Mr Gulzar means that we will not be making an urgent application for funding ourselves and that the proposed Phases published below before the announcement of the transfer from Crown Entertainment, are no longer applicable. Should you feel like offering any helpful suggestions, please contact Mr Gulzar care of one of his hotels. We will continue to report on progress as we hear of it.
We are pleased at some of the works undertaken by the new owner. For those works and for accepting the liability of Hastings pier, as an additional financial burden, Mr Gulzar was awarded the honorary title Mister Ocean in the Coastal Heritage category for 2018. Credit where credit is due. This is amid some awful press and questions being asked as to closures, that are reviewed elsewhere on this and other websites.
PIER HISTORY - OVERVIEW
Eastbourne pier is a 144 year old south coast icon and the focal point for visitors to a seaside town that is suffering from a loss of tourism. Such economic decline is simplistically attributed to cheap overseas holiday packages.
Eastbourne pier is a more conservative affair, steering away from the ferris wheels and slides that might be found on other piers, such as Brighton or Blackpool. Such developments would not be in keeping with the original intent of the design, or style of the town. Hence, the development of the pier in business terms must be subtle, which the last planning application by Cuerden Leisure was not.
In August of 2014 the pier caught fire destroying the former music pavilion called the Blue Room. This was after a £3.5 million restoration project for the structure in January 2012 that was supposed to run for ten years.

The present owners cannot see the merit is spending additional sums to restore a heritage asset where there is no income to put the operation into a profit situation is the foreseeable future. A planning application for temporary amusements was recently refused by the Eastbourne Borough Council signaling their hope for alternative proposals.
It is well publicized (Eastbourne Herald) that the owners are entertaining unsolicited bids from private buyers who we believe are not proposing restoration of the Blue Room as part of a transparent rescue package, but simply wish to obtain the pier to use more or less as it is, possibly in the hope of obtaining planning permission for alternative uses that may mean that this valuable heritage asset would remain at risk for longer than necessary.

The reason for the "at risk" status has been confirmed to us by Historic England and is published on their website. Without action to reinstate the lost music pavilion that "risk" of loss to the community will therefore increase, without any realistic hope of reinstatement of the rooms destroyed by the fire last year. In our opinion this sounds a death knell for a structure that is vital to preserve the character of this seaside town.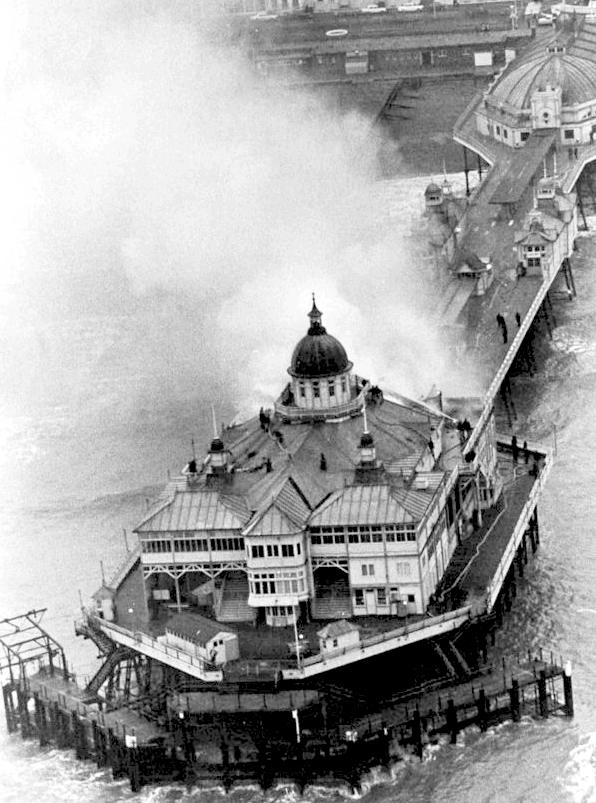 EASTBOURNE PIER 1970 - Is seen in the picture above on fire at the southern end in 1970. This is an example of a heritage asset that could be put to better use to pull a community together. With a track record of fires, any new owner will have to be extra vigilant to do their utmost to ward off potential arson attacks. Security will thus play a major part in forward planning.
BBC NEWS SATURDAY 22 January 2000 - A nightclub where more than 100 people were evacuated after a fire is expected to reopen on Saturday night.

The Atlantis club, on the pier in the south coast resort of Eastbourne, was cleared when a neon sign above the entrance to a bar caught fire. Some 25 firefighters were called in to tackle the blaze, which spread to a wooden facade on the Victorian structure. The club, which is covered by a landmark dome, was emptied as security staff launched an evacuation procedure.

COULD HAVE BEEN WORSE - Ambulances were called to the scene, but there were no injuries. The fire, which began at 22:15 GMT, was brought under control 45 minutes later.

Assistant Divisional Officer Frank Davis, district fire safety officer for Eastbourne and Hastings, said: "It could have been much, much worse. There is a lot of wood out there, and because it is so exposed it could have spread very quickly. "However, the pier's evacuation operation worked perfectly and everyone in the nightclub was out quickly."

Eastbourne pier was renowned for its annual National Birdman Championships held every August. Crowds flock to see people in fancy dress running off the end of the pier and attempting to fly using home-made contraptions.
THE PROPOSAL IN BASIC: GET THIS PIER OFF THE "AT RISK" REGISTER

In 2015, the Cleaner Ocean Club proposed taking on the restoration of the pier with the intention to rebuild the Blue
Room, but not to use the space thus created for gaming machines, more for mini exhibitions and conferences.

By way of a sustainable rescue package, we would like to replace the Atlantis night club, the former theatre, (a loss maker and potential risk to the pier) with a maritime museum (with a difference). The museum will be free for the public to enter, for other special attractions charitable donations on entry will be requested - rather than mandatory ticket prices. In other words, those who can afford to make a donation will want to support the continuous maintenance cycle.

We will also organise Educational and popular Sporting events that will benefit the community in line with our ocean awareness, and ultimately, conservation objectives. What better place for ocean awareness than a pier. We already have a number of volunteers and will invite further community participation - such as to make more of the pier in tourist and economic terms.
The suggested order of implementation is by way of 3 Phases, that might be swapped around should funding become an insurmountable hurdle.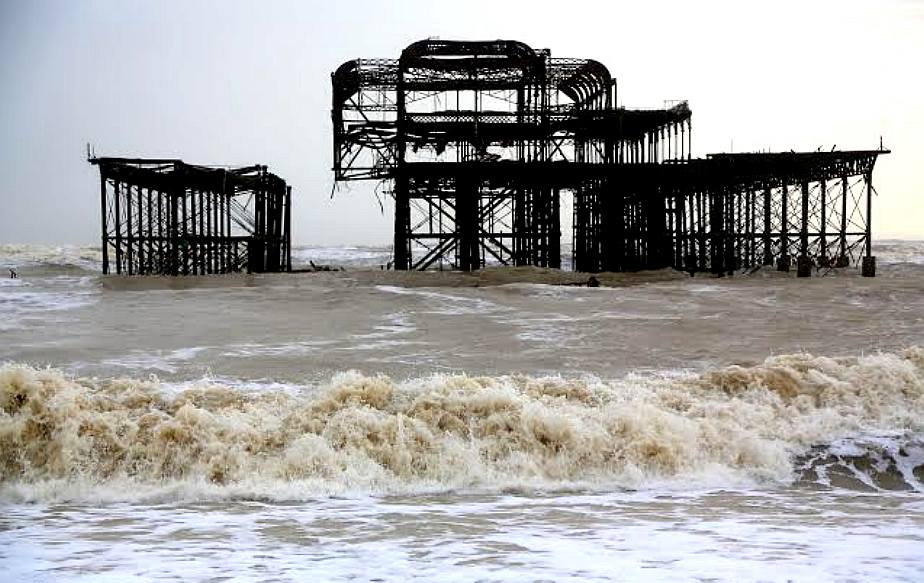 BRIGHTON WEST PIER - We can learn from past mistakes, and this one hit the headlines big time in May of 2003 when it burned down. Before that tragedy the West Pier was a magnificent pier in Brighton, England. As with Eastbourne's pier, it was designed by Eugenius Birch, opening in 1866 and closing in 1975. The pier was the first to be Grade I listed in Britain but became increasingly derelict after closure. Listing is therefore no security, but almost a death sentence in some circumstances due to the increase in costs in planning and administration terms. We believe that planning fees should be waived concerning major heritage assets, since councils are duty bound to help conserve our heritage, but frequently become the fly in the ointment. Planning officials have never been out in the real commercial world, so do not appreciate that entertainment halls have to be financially viable. Planning applications add significantly to the cost of pier projects - to the point where it may not be viable to throw good money after bad. Councils are well aware of the financial risks, or they would take on pier management themselves.
The pier was constructed during a boom period in pleasure pier building in the 1860s, and was designed to attract tourists to Brighton. It was the town's second pier, joining the Royal Suspension Chain Pier of 1823. It was extended in 1893, and a concert hall was added in 1916. The pier reached its peak attendance during this time, with 2 million visitors between 1918 and 1919. Its popularity began to decline after World War II, and concerts were replaced by a funfair and tearoom. A local company took ownership in 1965, but could not meet the increased maintenance cost, and ultimately filed for bankruptcy. They could not find a suitable buyer, so the pier closed in 1975 and subsequently fell into disrepair. Eastbourne pier could suffer the same fate, simply because the demand for seaside attractions is dead. Passing trade is all but gone with all the out of town shopping parks, and teenagers who might once have been attracted to the gaming rooms can now get better thrills from their Playstations. Parking is of course a problem. It now costs a fortune to park nearby and that is if you can find a space.



GONE FOR GOOD - The West Pier Trust now owns the pier site and has proposed various plans to replace it. Some schemes have been opposed by local residents and the owners of the nearby Palace Pier, who have claimed unfair competition. The pier gradually collapsed during the early 21st century. Major sections collapsed in late 2002, and two fires in March and May 2003 left little of the original structure. Subsequently, English Heritage declared it to be beyond repair. Structured demolition took place in 2010 to make way for the i360, an observation tower which started construction in 2014; further structural damage from storms occurred in 2014.
If we do nothing about the pier in Eastbourne, gradually, the structure will decay until it is also beyond repair. Pier owners frequently operate their properties with a level of maintenance that does not keep up with the ravages of tide and time. The decay is of course not perceptible, and this gradual rate of decay lulls local authorities and the general public into a state of false security. Piers need constant attention. If the wrong owner gets hold of a pier and does not truly appreciate the challenge, the pier is doomed. Brighton's west pier was one of the finest examples of the genre, with extremely attractive architectural features. By comparison, Eastbourne pier is not so grand, but is one of the finest surviving examples of yesteryear. That it survives and is repairable, makes it the most important pier on the south coast of England - but also the most risky in ownership terms. The Borough Council have already refused temporary permission for fairground rides because of the noise pollution such amusements would generate in a sensitive location - and who can blame them for that. English Heritage said that as a temporary measure such harm might be acceptable. The danger being that temporary permissions have a habit of becoming permanent.
PIER RESCUE PROJECT MANAGEMENT & TIMESCALE
Looking at the timetable for Heritage Lottery Fund (HLF) applications and grant, we would like to begin the pier rescue operations as early as possible next year. If we make a full application for funding assistance to the HLF before December 2015, we might begin restoration works as soon as February or March of 2016.

The completion date is likely to be sometime in 2017. We'd be aiming to have the Blue Room reinstated before May of 2017, but that relies on funding being available from the Big heritage grant scheme - and that in turn rests on match funding.

In tandem we will arrange for events to show the public what we are doing and how they are, in effect, contributing to the rescue by supporting this proposal - howsoever that might be.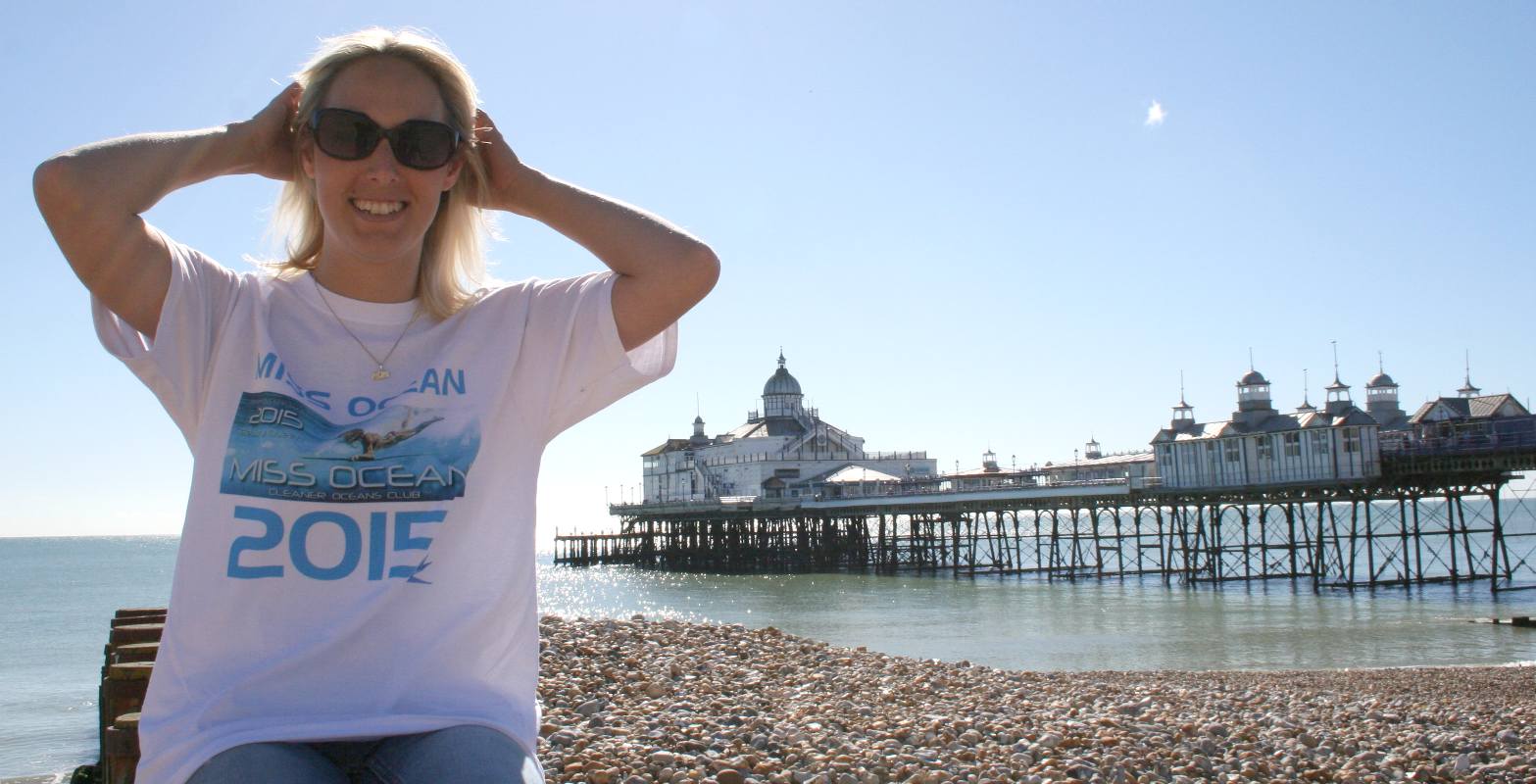 MEET HAYLEY - Hayley is a trustee of the Cleaner Oceans Club and our events manager. She will be concentrating on organizing the Miss Ocean event, aiming for a first contest in June or July of 2016. The pier at Eastbourne could be the venue for Miss Ocean eventually. It is unlikely that 2016 will see the pier re-instated in sufficient time for a full blown pageant at this location, but, what a venue this would be if funding can be found to make it happen.
As a Grade II* building the owners could eventually be forced to reinstate the lost heritage by the local authority in a prolonged war of attrition. Any new owner should be well aware of that and look to Hastings pier as an example of what a council can do absent owners of heritage assets, where the prime concern is to protect coastal assets. In the case of Hastings pier the owners were served with a Compulsory Purchase Order for willfully allowing their pier to go to rack and ruin - hence being at risk.
In March of 2015 the Mirror reported that Cuerden Leisure had put Blackpool pier on the open market, along with two other piers, including Llandudno. These piers have amusement arcades and rides, that Eastbourne does not have to support a sustainable care programme. The value to pier operators looking for profits is the rides that pull in the crowds. Eastbourne pier has never had these rides and it would be wrong to change the character of the pier by installing anything that would alter the distinctive skyline that is at the moment missing.
PIER RESCUE PROJECT COSTS - WHO CARES WINS:
PHASE 1 - THE BLUE ROOM
Details of these Phases can be seen as part of our online Business Plan.
PIER RESCUE PHASE 2 - Installing attractions
PIER RESCUE PHASE 3 - Re-instating boat trips
JOB CREATION - A number of positions will be created by this project.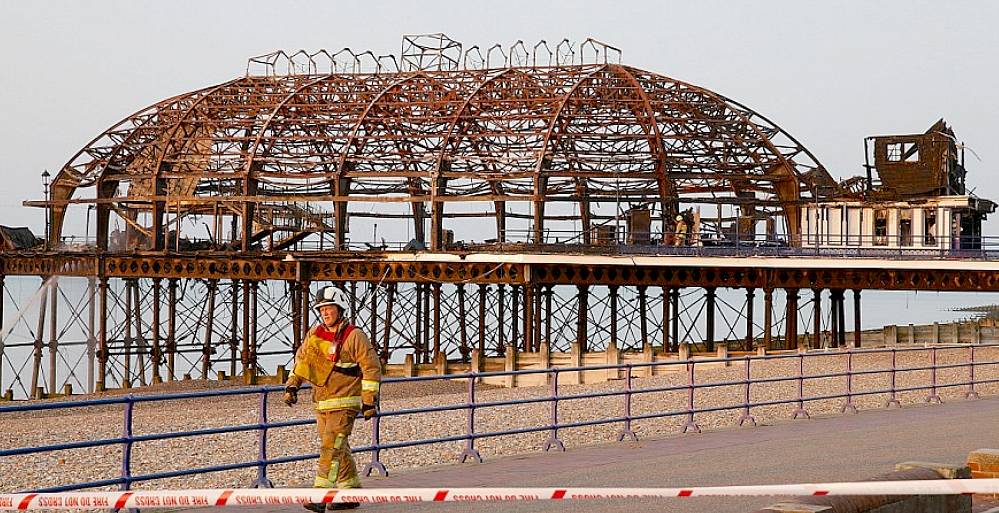 FIRE TRAGEDY - It made many people weep to see this icon reduced to a pile of scrap steel. The problem with steel in fires is that the rolled girders twist and distort, making it impossible to repair. The only way is to take it down and start again.
GETTING THE COMMUNITY INVOLVED
If we are successful in restoring the pier we want to get the community involved. The room that was used as a penny arcade will be made available to performing artists for plays and exhibitions. The Blue Room was built as a music pavilion with moderate seating capacity. Hours of opening will be strictly controlled so as not to cause neighboring premises inconvenience.
ACCESS TO THE PIER
One major problem with accessibility is that Eastbourne is not well designed for tourism. The roads in and out of the town are routinely congested from 8:00am to 9:30am, then from 12:00 - 1:30am, again at school collection times and then finally from 4:30 - 6:00pm when the shops and offices close. Wide main roads should have been dual carriageways. It is a common failing in this part of Sussex. The A22 and A27 are classic blunders. They widened the road, but all that means is that you can see where you cannot overtake. Nervous drivers and heavy goods vehicle are the weakest links in this chain. As soon as there is a stretch of dual carriageway the traffic gets going. Strangely, even the nervous drivers speed up on motorways or dual carriageways. How that works is anybody's guess.
The coast road from Seaford to Eastbourne is a tortuously slow route with queues of traffic following buses that lumber up the hilly B class road at a leisurely pace. The A27 widening was supposed to alleviate this problem: no chance.
The roundabouts at Pevensey Bay Road (A259) Kings Drive and Lottbridge Drove are always clogged. Other major blockages include the traffic lights at Polegate and the railway crossing at Hampden Park - a Guinness world record contender for closures. The Royal and Grand Parades (B2103) are some of the slowest roads in England. They are 30mph roads where dithering drivers travel at 15mph, some of which could no longer pass a driving test if they were asked.
One day driverless cars will relieve some of this congestion. Come on Google, we love the idea of taking out the drivers who have lost the ability to make decisions. Replace all the taxi, bus and truck drivers with robots so that the drivers can come and visit the pier. Fleet management software from the likes of TomTom could control the traffic, timing the arrival of cars at roundabouts so that they mesh, rather than jam the roads. This kind of software has been proposed for marine green lanes for precisely the same reasons. All of this depends on taking humans out of the routine decision making chain - except for emergencies. Imagine the saving in petrol and diesel.
PARKING
What parking? There is no parking for the pier. The seafront is all pay and display and even so, there is insufficient parking bays for convenient access. By the time you've paid for parking and travel, you are not inclined to fork out for much more than a snack. You'd be better off going to a boot fair where there is parking galore. We are thus considering how to overcome this major obstacle to popular enjoyment.
Other venues with this problem operate coaches from car parks out of town. This would not work for Eastbourne because of the restrictive road network, as described above. That leaves the trains and shanks pony along Terminus Road. People are prepared to put up with this dilemma to attend free shows like Airbourne and that is why we need the Miss Ocean event to make the pier work in the long term.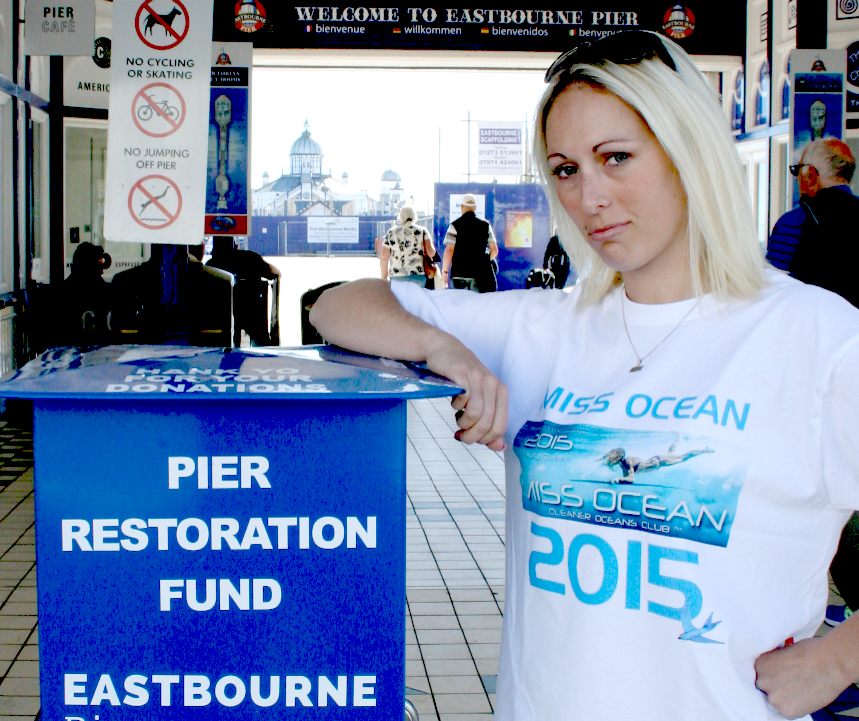 FUNDING - These boxes are virtually empty. Why? Locals gave shortly after the fire raising a few thousand pounds. But small sums like that are not going to pay for £3 million in repairs. We have no idea where this collection is going and what it is being spent on. We believe that a dedicated foundation that is fully accountable would be more appropriate and give backers the confidence to contribute. The Cleaner Oceans Club Ltd is a not for profit company with charitable objects. Read the Eastbourne Herald article 23-9-15. Please note that we are not staging a Miss Ocean contest in 2015.
HISTORIC ENGLAND LISTING NOTES:
SEASIDE PIER. It opened on 13th June 1870 and was designed by Eugenius Birch, the contractors Messrs Head, Wrighton and Co of Stockton on Tees. It was completed in 1872 and modified at the landward end following a storm of 1877. The seaward Pavilion theatre with 'camera obscura' and two games pavilions are of 1901 designed by Noel Ridley AMICE. The central windscreens were erected betweeen 1902-03, and a music pavilion was added in 1925 designed by P D Stoneham. Further kiosks were added in 1971, and an entrance building in 1991 in matching style.

MATERIALS: Substructure of cast iron screwpiles with some surviving combined cast iron side railings and seating. Wooden decking except for the centre which was replaced in concrete slabs after the Second World War. The pier buildings are constructed of wood with some structural cast iron and zinc roofs.

PLAN: As originally built in 1872 it was 1000ft long by 22ft wide, with two projecting bays on each side increasing the width to 68ft at the shore end and 52ft halfway along. The pier head had a diamond-shaped end approximately 115ft wide. After the storm of 1877 the shoreward end was rebuilt 5ft higher and the width of the pier increased to 52ft. By 1901 the pier end was much enlarged to accommodate the Pavilion theatre and in 1925 a section near the shore end was widened for a new music pavilion.

HISTORY: The first pile of Eastbourne Pier was screwed into the seabed on 18th April 1866, and the pier was officially opened on 13th June 1870 by Lord Edward Cavendish. The pier was one of 14 designed by Eugenius Birch (1818-1884). By the official opening date only half the projected 1000ft length had been constructed and it was not completed until 1872. It was originally 22ft wide with two projecting wings on each side and a small diamond-shaped pier head with two kiosks and a bandstand.

On New Year's Day 1877 a violent storm washed away a large part of the shoreward end of the pier. To counteract the effect of waves surging over the shingle below the shoreward end was rebuilt 5ft higher. Also the pier was rebuilt to the width of the former projecting bays, from 22ft to 52ft. In 1888 a large building was constructed at a cost of £250 on the pier head to form a theatre, but was taken off 'in one piece' to Lewes for use as a cattle shed when it was proposed in 1899 to produce a grander building. The plans, drawn up by Noel Ridley, were for a new pavilion theatre housing a 'camera obscura' in the dome surmounting the structure. The building, completed in 1901, could accommodate 1000 people, it had no pillars to obstruct the view and the balconies were cantilevered. It contained a bar, a cafe and the pier offices. An open verandah just above ground level was later filled-in. The camera obscura was the largest in the country when constructed. Very few now remain and this is thought to be the only camera obscura on a pier in the world. Visitors could watch a moving coloured picture of the view outside on an emulsioned dish in a darkened room.

In 1901 the two games saloons were erected on either side of the central ramp. Between 1902 and 1903 the central windscreens were erected and a ten-sided bandstand which was removed in 1945.

In 1912 the original octagonal front entrance kiosks, together with the central octagonal pay kiosk, were removed. The central pay kiosk still survives in the middle of the Redoubt Pavilion Gardens.

In 1925 a section of the upper deck level was widened near the shore end and a new music pavilion with domed roof constructed which could seat 900. It was used for many years as a ballroom and later became an amusement arcade.

During World War II there was an order to blow up the pier but, luckily, it was spared; wooden decking was removed from the centre to prevent an enemy landing and gun platforms installed in the theatre to repel any attempted enemy landing. In 1945 the bandstand was removed and in 1951 the Edwardian entrance kiosks were replaced by a flat-roofed building.

In 1970 a pier employee set fire to the Pavilion Theatre and severe damage was caused to its shoreward end, including the destruction of the access staircase to the camera obscura. As a result the theatre was closed down and the remaining part of the building converted into a nightclub. In the 1970s two steel-framed glass fibre amusement arcade buildings were added betweeen the ramp and the old theatre, followed by three kiosks between the ballroom and the ramp.

In 1991 the entrance building of 1951 was replaced by a new entrance, in a similar style to the original octagonal turrets, with shops and a weatherproof covered way. In 2003 the camera obscura was re-opened to the public.

SOURCES: Supplement to "The Illustrated London News", June 25, 1870. Print of original pier. "The British Builder", July 1925, pp.281-283 for the musuc pavilion. The Oxford Dictionary of National Biography entry for Eugenius Birch. Simon H Adamson, "Seaside Piers", 1977. "Eastbourne Argus", 14/06/1982. John D Clarke and Partners, "Eastbourne Pier Conservation Strategy". Report of December 2007. Arthur J Gill, "Camera Obscura", April 1976. James Fenton, "Journal of Photography and Motiuon Picture Photography of the International Museum of Photography at George Eastman House, Rochester, New York, USA". Vol 27, No 4, Dec 1984, pp.9-15 for surviving 'camera obscura' in Great Britain.

REASONS FOR DESIGNATION: * Following the loss of a number of Eugenius Birch's 14 seaside piers and most notably the almost complete destruction of Brighton West Pier by storm damage and fire, Eastbourne is now the finest of Birch's surviving seaside piers. * Eastbourne and Brighton Palace Pier, by St John Moore, are now the best surviving Victorian seaside piers on the South Coast for the number of remaining Victorian and Edwardian structures. * Eastbourne Pier has a rare surviving example of a 'camera obscura'; it was the largest example in Great Britain when built in 1901, and seems to be the only example of a camera obscura on a seaside pier in the world. * Eastbourne Pier is a good example of a promenade pier, later adapted into a full blown pleasure pier with good quality late C19, Edwardian and 1920s structures. Later replacement buildings have imitated the style of the earlier structures, so that the pier retains a stylistic coherence.

National Grid Reference: TV6185098847

List entry Number: 1353116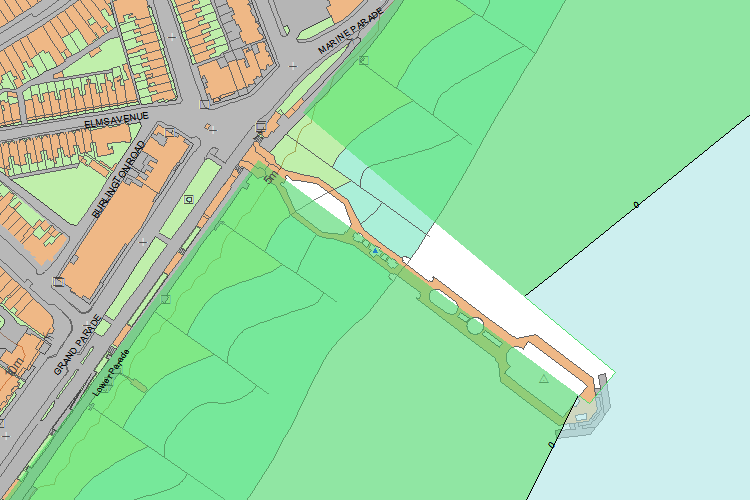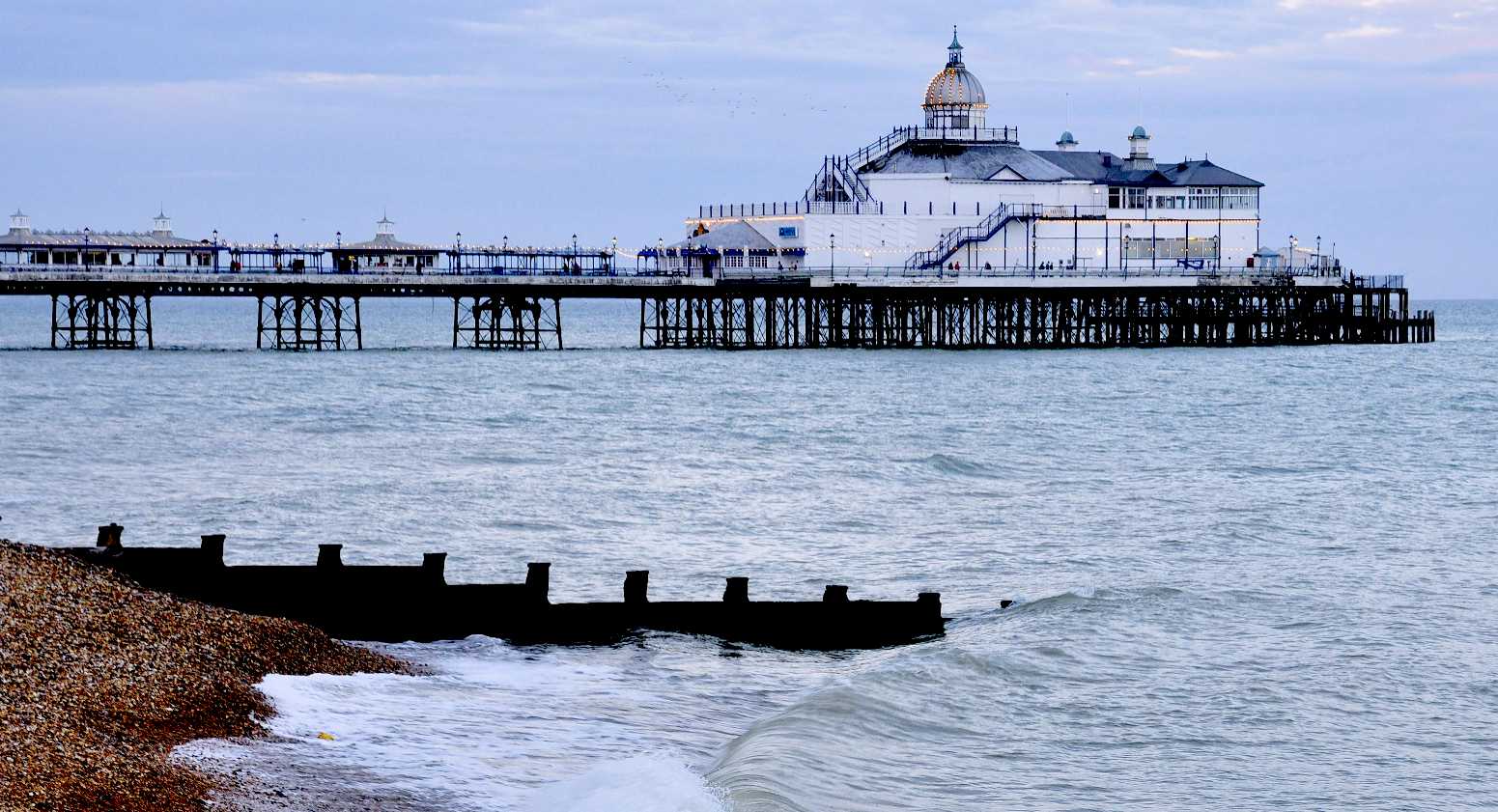 EASTBOURNE PIER - Is a monument at risk. A fire ravaged the 144 year old Victorian icon in 2014, but there is no legal requirement to rebuild the Blue Room from the insurance payout. The pier is a loss maker at the moment, leaving the owner to foot the bills for repairs. Unless an extremely wealthy private owner can stump up something in the order of $4.6 - 6.1 million dollars (£3-4 million pounds), there is little chance that the Blue Room will see the light of day again. The final figure is likely to be far more of course.
The present owners are caught between a rock and a hard place. Obviously the pier has some commercial value, with the Atlantis night club and a few other minor enticements bringing in some revenue. Not though enough to warrant major investment.
SERIOUS ABOUT CONSERVATION - An alternative to a private developer is a 'Heritage Trust' that might attract a mix of state funding, private patrons and commercial sponsors, with the specific aim of raising the finance to rebuild the once proud structure that Eastbourne was famous for. If you, your organisation, or your company might be interested in joining such a consortium, please contact the Cleaner Oceans Club Ltd. We are a not for profit concern with charitable objects, one of which is the conservation of historic buildings. We also have an in-house planning consultant who is prepared to work on such a project on a free basis.
The pier could be operated on a not for profit basis, as a museum and for social projects concerning the sea for the benefit of mankind. This building is listed under the Planning (Listed Buildings and Conservation Areas) Act 1990 as amended for its special architectural or historic interest. List entry Number: 1353116.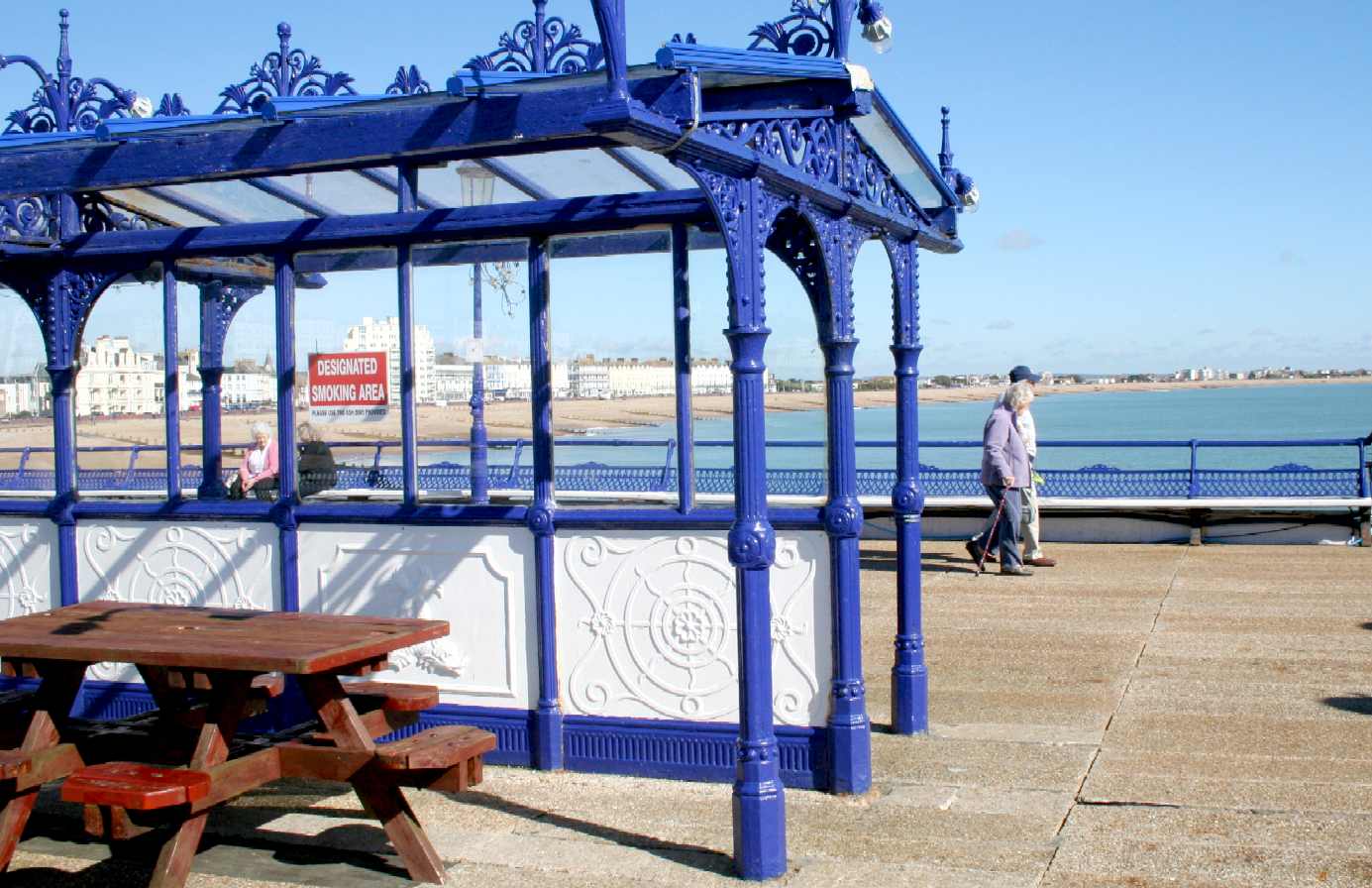 The lack of custom during peak opening times is one of the main reasons why the pier is taking a financial pounding. Of course the pier should be open to all for their enjoyment, but we would expect to see more activity and a mix of holiday makers. To make that happen you need better attractions. At the moment during the day there is nothing.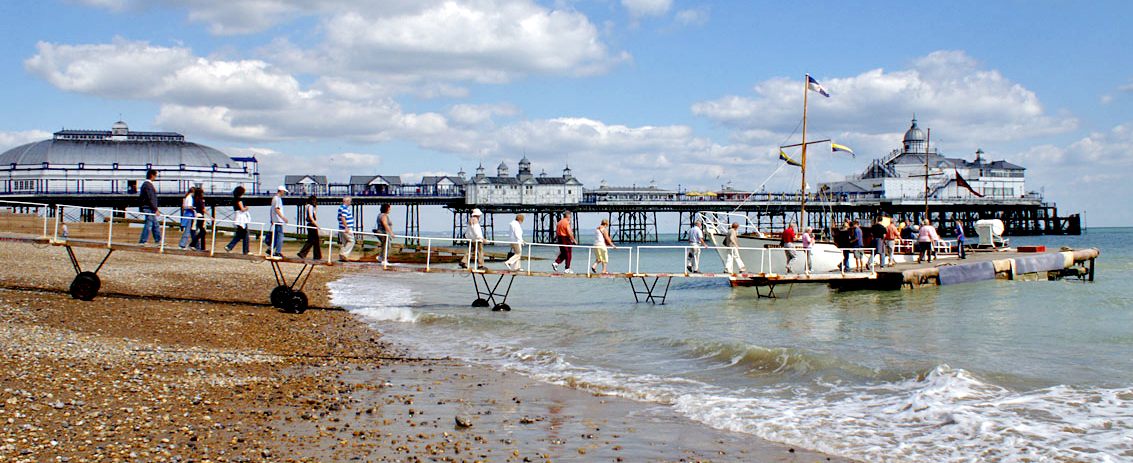 MEMORIES - Do you remember the sound of a crackling analogue radio made from brown bakelite and a television without colour? If you do you may well have ridden on the William Alchorn, or maybe taken a ride on one of the Bluebird speedboats from the rear of the pier, where that jetty is all but collapsed. These attractions no longer exist (Sept 15). Now imagine that you can take your kids on one of these rides, and that was after a visit to the amazing Maritime Museum on the pier. What a day out. You can't do any of these things yet, but if the Cleaner Oceans Club get their hands on the pier - it will come alive.

CONTACTS
Project address:
Eastbourne Pier
Grand Parade
EASTBOURNE
East Sussex
BN21 3EL
Local authority address:
Eastbourne Borough Council
1 Grove Rd
Eastbourne
East Sussex
BN21 4TW

Contacts: Hayley Stebbings (events manager)
Terry Valeriano (events security)
Natasha Lee (swimming coach)
Christina Dusart (events admin)
Tel: +44 (0) 1323 831727
Email: pageant@miss-ocean.com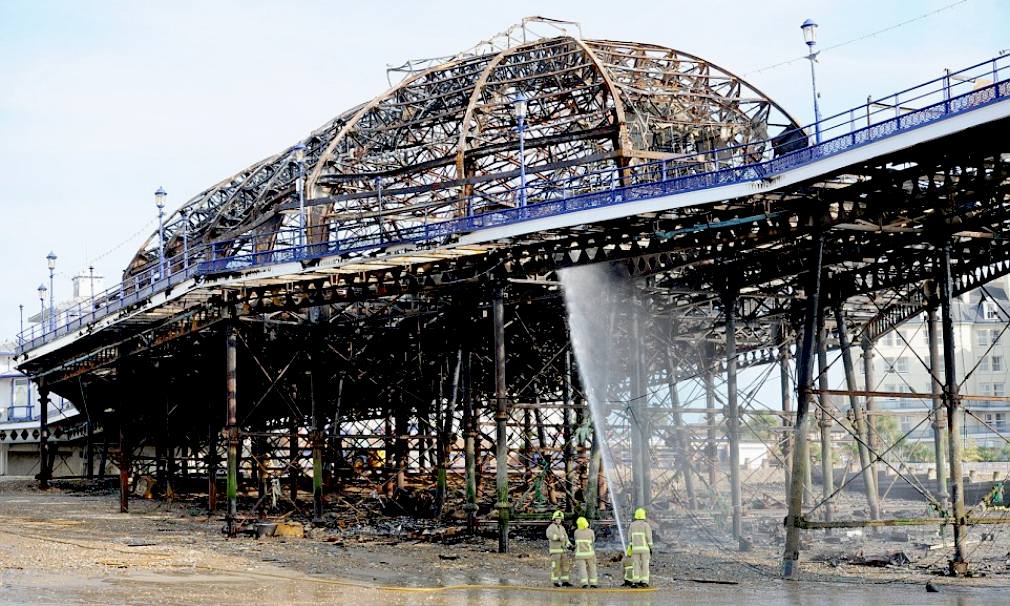 FIRE BRIGADE - It took 80 fire fighters to bring the blaze under control. Not though in time to save the music pavilion. Indeed, one could argue that with all the combustible materials consumed, the fire was simply prevented from spreading to other substantial buildings. What then was the pier constructed of to make it burn so fiercely? The south west music pavilion from 1925, seen here as charred wreckage 1925, was an amusement arcade, which had an oval domed zinc roof with a large iron-crested central roof-light and walls with diagonally placed weatherboarding with reeded pilasters and blocked multi-paned sash windows. The north west end had a wide central entrance with round-headed window and cornice and pilasters flanked by smaller entrances with cornices and brackets. The south east end had a tall central entrance with pilasters and oculus. The interior had large segmental arches and Art Deco decoration of floral swags, urns and Vitruvian scrolls. There was a proscenium arch at the south east end with Art Deco motifs, but the stage had been removed. We would reinstate that stage for Miss Ocean events.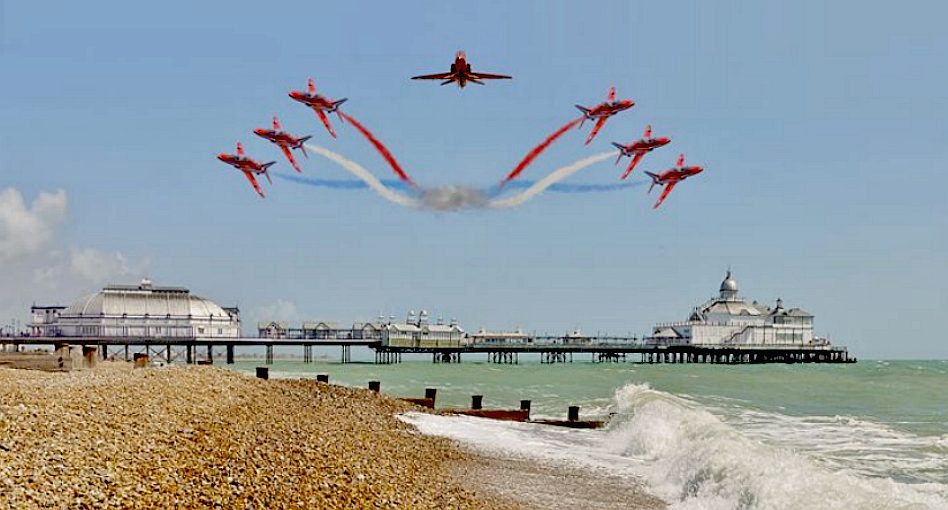 RED ARROWS FLYOVER - If the pier is recognized as being a monument at risk by English Heritage, why are the local authority encouraging the RAF to fly over the historic site? During World War II (26 November 1944) a Royal Air Force Hawker Typhoon fighter plane hit Brighton's west pier, subsequently crashing onto the beach. Much as we admire the Red Arrows, It's just a matter of time before acrobatics like that seen above end in tragedy.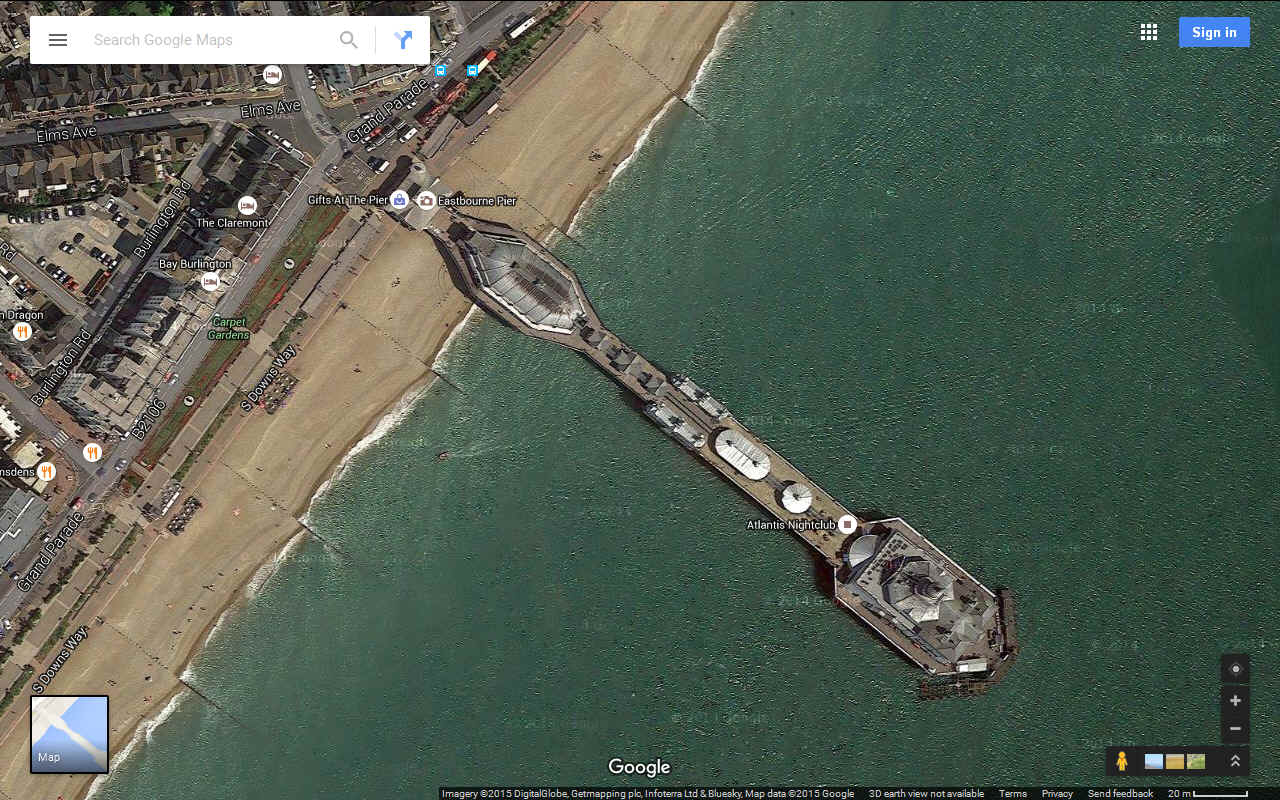 GOOGLE MAPS - The above is a satellite view from one of the most famous search engine companies. The snapshot was taken in September 2015, but still shows the Blue Room intact.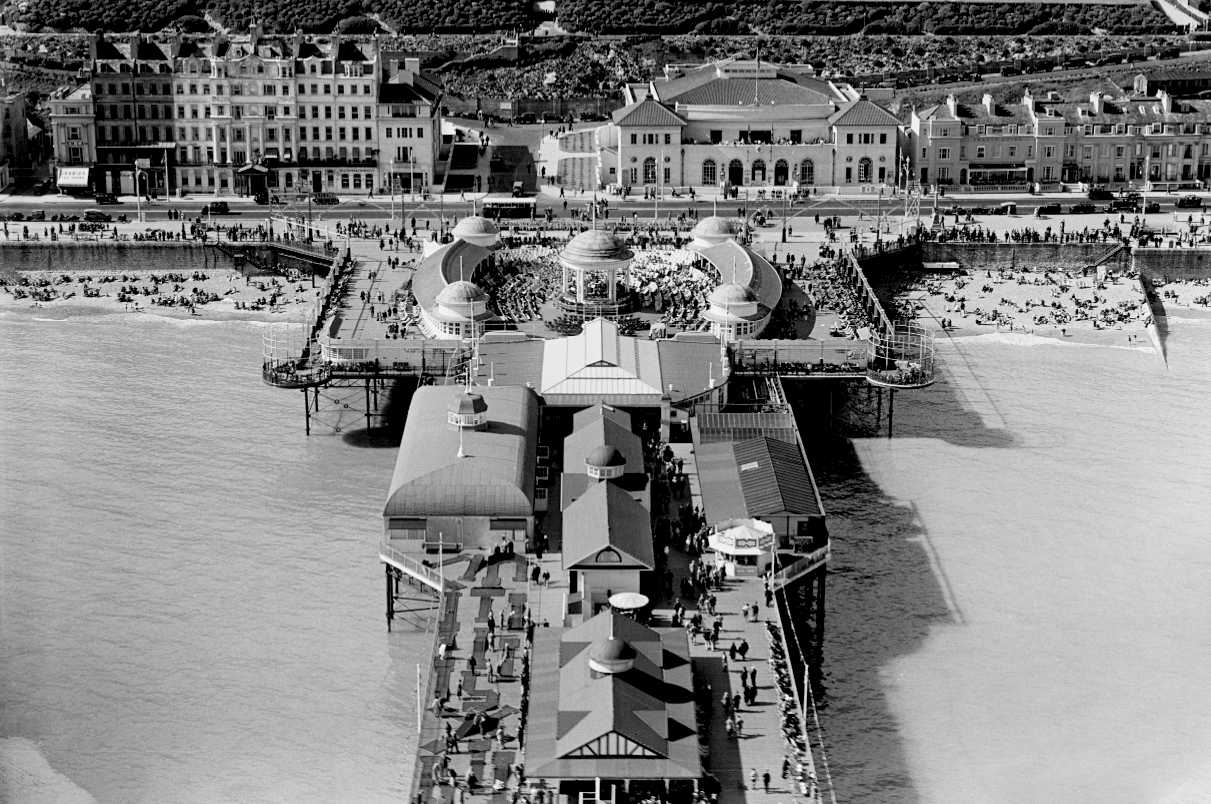 HASTINGS PIER - Is seen in the picture above in fully operational condition with crowds of people taking in the sea air and wonderful coastal views. This pier also had a fire and became dangerous. But, as the result of a campaign to save the heritage asset, £14 million was raised for repairs and new attractions.
LINKS
Dailymail-Eastbourne-2million-windfall-fire-destroyed-Grade-II-listed-pier-2014-Prime-Minister-knows-hit-town-hard
IOL news world England Hastings pier gutted by fire 2010
Big Lottery Fund Coastal Communities Fund
http://news.bbc.co.uk/1/hi/uk/614286.stm
Historic England listing entry 1353116
Historic-England-news-and-features/news/english-heritage-reveals-south-east-heritage-at-risk-register-2014
https://en.wikipedia.org/wiki/Eugenius_Birch
http://www.mirror.co.uk/news/uk-news/blackpool-pier-goes-market---5322640
http://www.britanniahotels.com/
http://www.elitehotels.co.uk/
http://www.hotelcumberland.co.uk/
http://www.simplonpc.co.uk/Sussex-Piers.html
https://historicengland.org.uk/news-and-features/news/english-heritage-reveals-south-east-heritage-at-risk-register-2014/
http://www.historicengland.org.uk/listing/the-list/list-entry/1353116
http://news.bbc.co.uk/1/hi/uk/614286.stm
https://www.biglotteryfund.org.uk/ccf
http://www.eastbourne.gov.uk/
http://www.hlf.org.uk/
http://www.historicengland.org.uk/
southeast@HistoricEngland.org.uk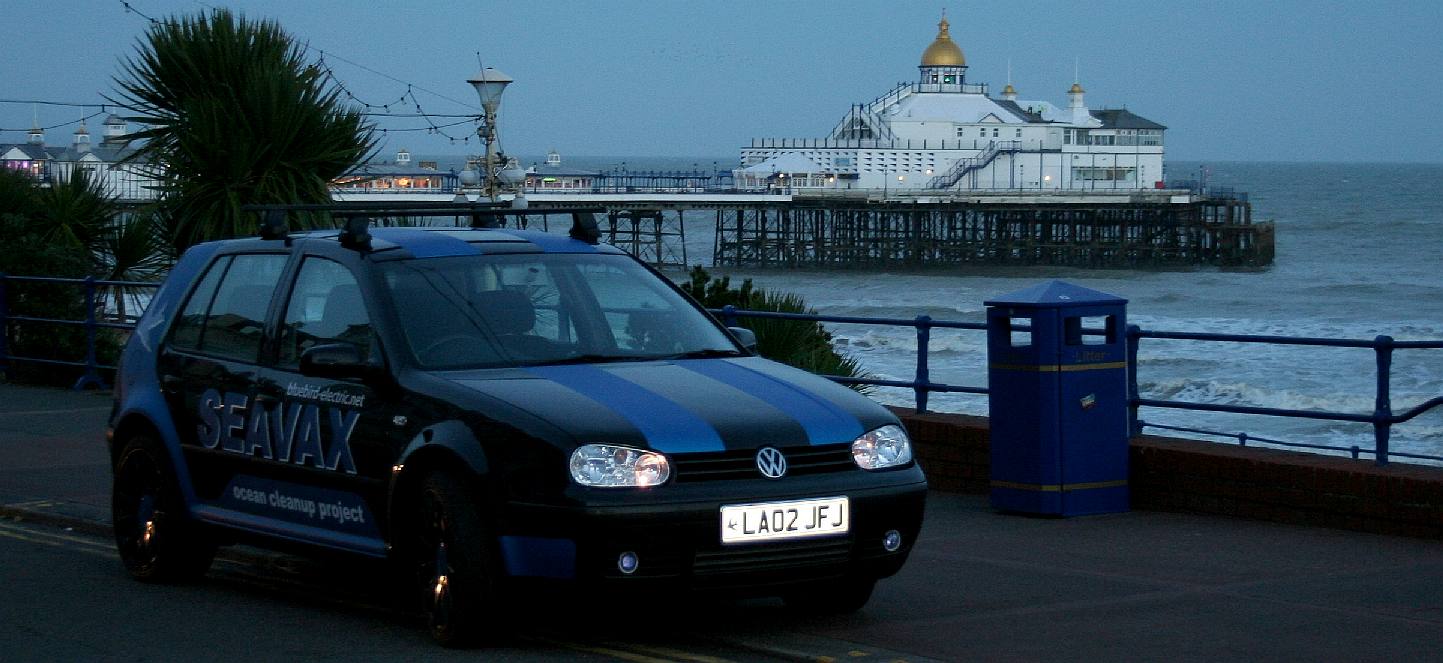 GRAND PARADE - Eastbourne is a seaside holiday town with some very fine hotels, including the Grand and Cavendish. Copyright photograph 24 November 2016 Bluebird Marine Systems Ltd, all rights reserved. You will need the permission of BMS Ltd to reproduce this picture.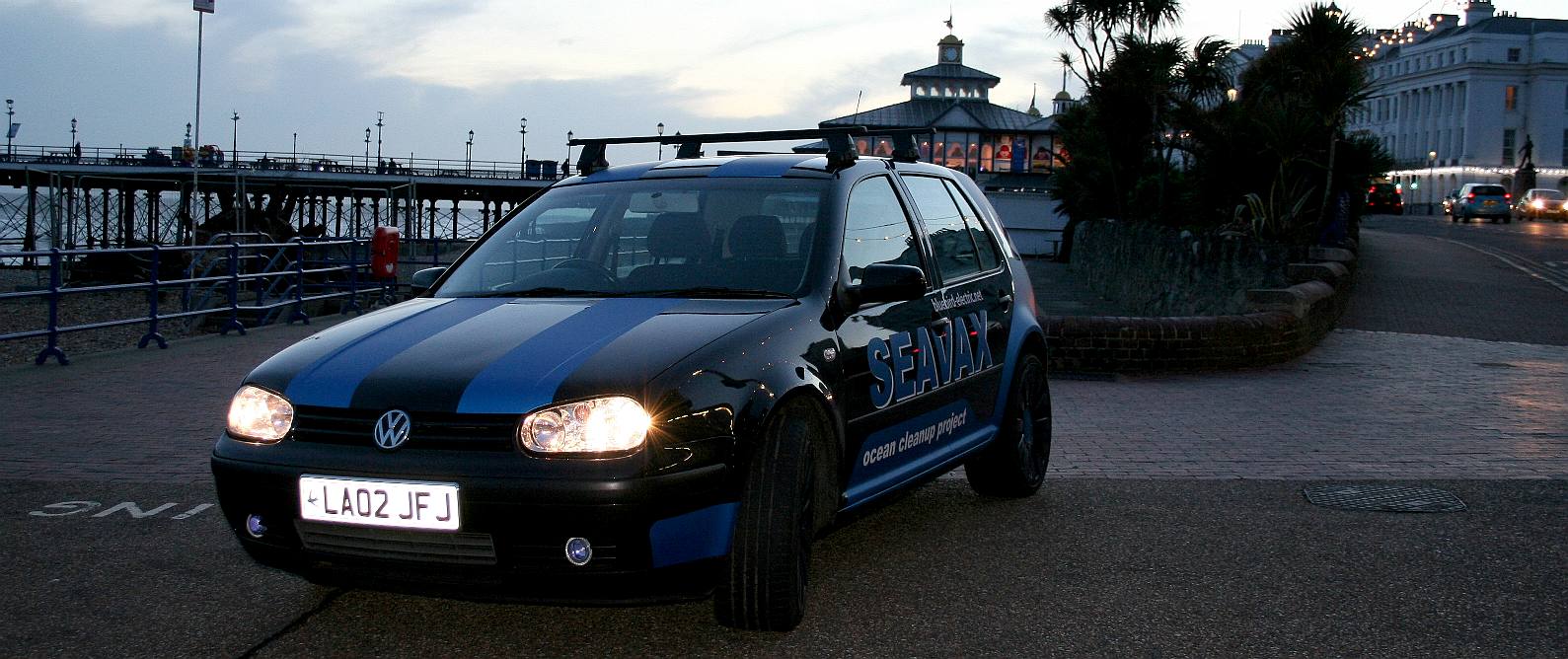 GOING FOR GOLD - The Golf is seen here along Eastbourne's Grand Parade. In the background you'll notice the Pier, where the Camera Obscura has been painted gold by Sheikh Abid Gulzar. We must say that now that all the planning furore has died down, the gold relief looks rather attractive. Mr Gulzar should be commended on this scheme, that has the approval of Historic England and the local authority. Unlike the previous owners, the new owner is spending money on a facelift, though he was not the only bidder (as the newspapers report) in the quest for conservation, or more correctly, the restoration of the landmark dome know as the 'Blue Room' that was destroyed by fire on the 30th of July 2014. At time of writing there are no published plans for the restoration of the dome and because of the expense nobody could blame Mr Gulzar for being unable to consider such works. Copyright photograph 24 November 2016 Bluebird Marine Systems Ltd, all rights reserved. You will need the permission of BMS Ltd to reproduce this picture.