PIER PARTNERS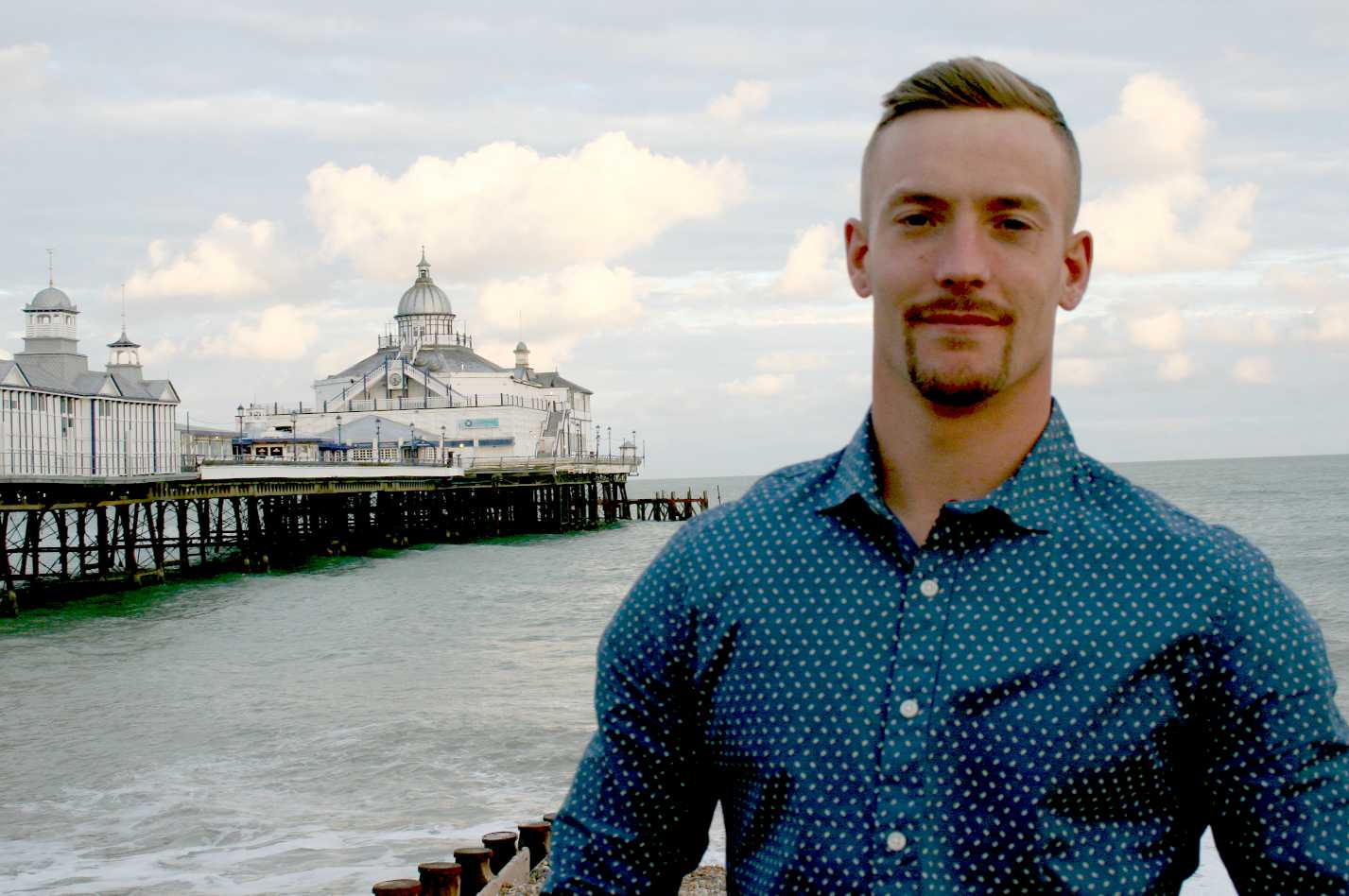 PLEASE HELP US - This magnificent monument is at risk. Your company can help us to put in place a sustainable plan to keep Eastbourne pier alive.
Have you ever considered partnering a local cause? We all need to advertise our products or services. Why not then place part of your budget where it will do a lot of good. The Cleaner Oceans Club want to turn Eastbourne pier into a community project, to involve local people, but still to offer associates excellent PR value in return for their generosity.
WE ARE LOOKING FOR PIER PARTNERS:
* Clothing,
* Cosmetics companies,
* Holiday companies,
* Telecommunications,
* Banks & Credit Cards,
* Sportswear.
These are only a few examples of concerns that we would like to partner with in our bid to take over the running of Eastbourne pier. For Phase 1 to be able to restore the Blue Room, we need to raise £500,000 pounds to match a £4.5 million contribution by the Heritage Lottery Fund. There is a 10% match funding requirement.
GETTING THE COMMUNITY INVOLVED
If we are successful in securing the funds to restore the pier, we want to get the community involved. The room that was used as a penny arcade in days gone by, will be made available to performing artists for plays and exhibitions. The Blue Room was built as a music pavilion with moderate seating capacity. Hours of opening will be strictly controlled so as not to cause neighboring premises inconvenience.
EASTBOURNE FACTS
* Eastbourne is the 2nd fastest growing seaside resort in the UK

* According to the Met Office, Eastbourne is the sunniest place in the UK

* 34% of the population of Eastbourne is under 30 years old

* The average age is 46

* 4.9 million visitors spend £246 million in Eastbourne each year

* Over 35,000 overseas students visit Eastbourne each year

* Since 2001 Eastbourne has grown faster than anywhere else in East Sussex

* 52% of our catchment area of residents are ABC1

* Average weekly earnings in Eastbourne are £485 per week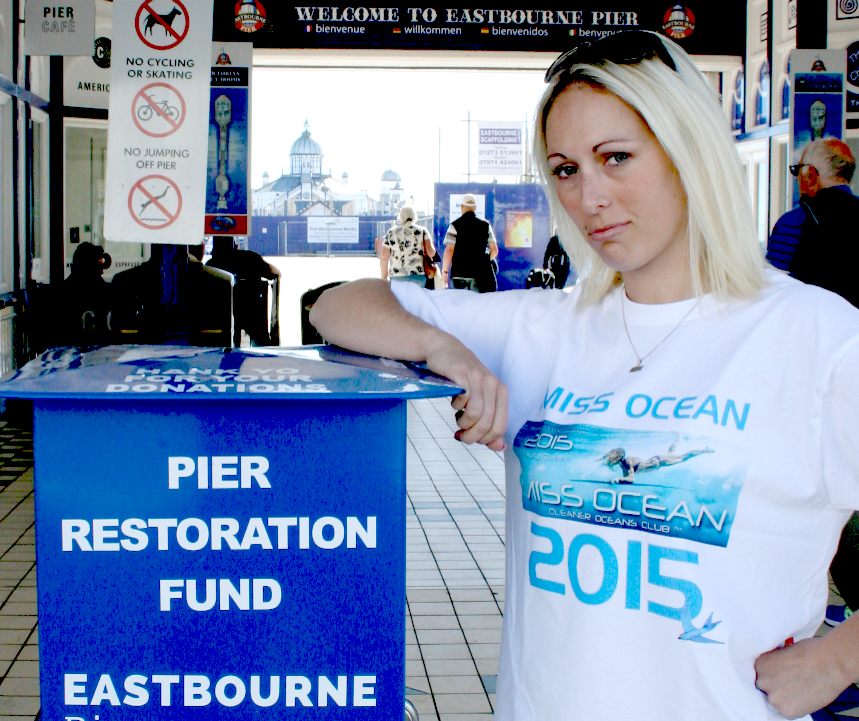 FUNDING - These boxes are virtually empty telling their own story. The Cleaner Oceans Club Ltd is a not for profit company with charitable objects. A foundation dedicated to conservation issues is more likely to be able to raise funding for serious construction works that any private owner. Read the Eastbourne Herald article 23-9-15

CONTACTS
Eastbourne Pier Rescue Project
Cleaner Oceans Club Ltd
Solar Studios
BN27 1RF
United Kingdom
Contacts: Hayley Stebbings (events manager)
Terry Valeriano (events security)
Natasha Lee (sports coach)
Christina Dusart (events admin)
Tel: +44 (0) 1323 831727
Email: pageant@miss-ocean.com
Local authority address:
Eastbourne Borough Council
1 Grove Rd
Eastbourne
East Sussex
BN21 4TW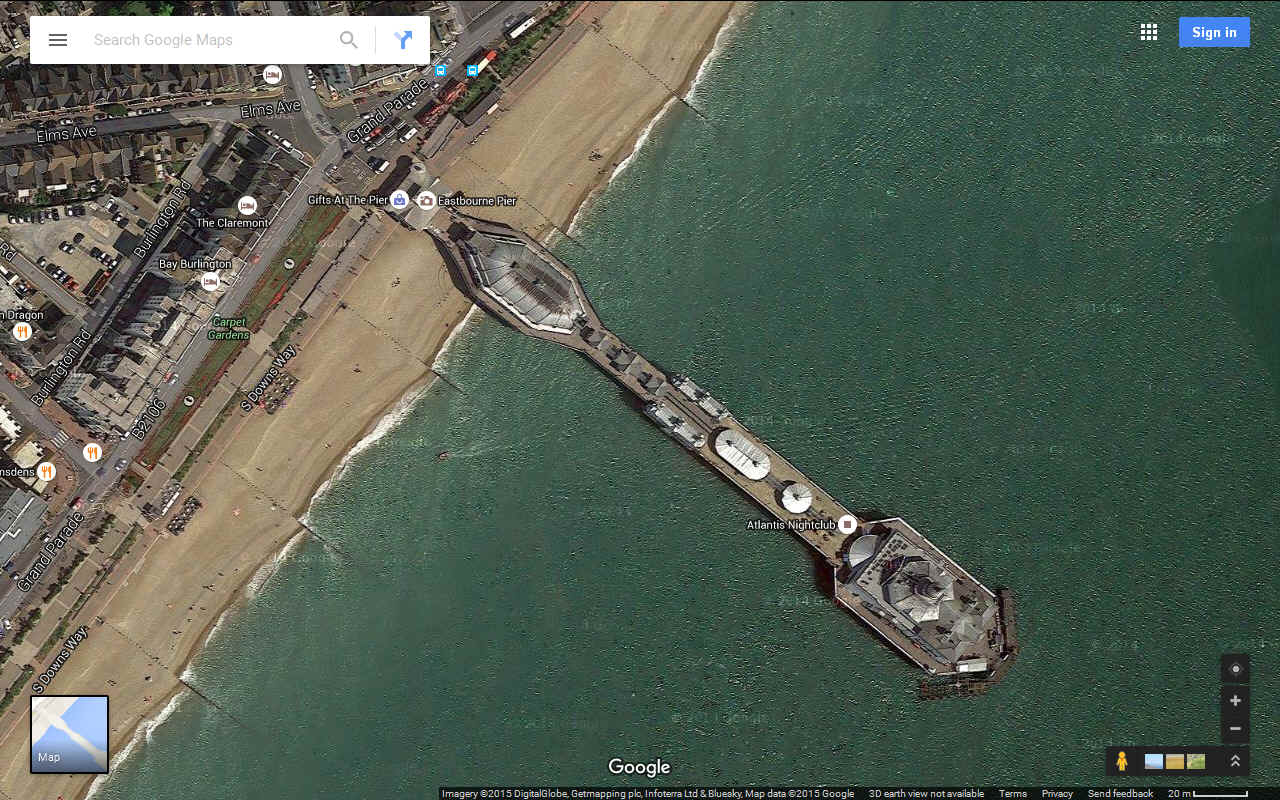 GOOGLE MAPS - The above is a satellite view from one of the most famous search engine companies. The snapshot was taken in September 2015, but still shows the Blue Room intact.
LINKS
Big Lottery Fund Coastal Communities Fund
https://www.biglotteryfund.org.uk/ccf
http://www.eastbourne.gov.uk/
http://www.hlf.org.uk/
http://www.historicengland.org.uk/
southeast@HistoricEngland.org.uk