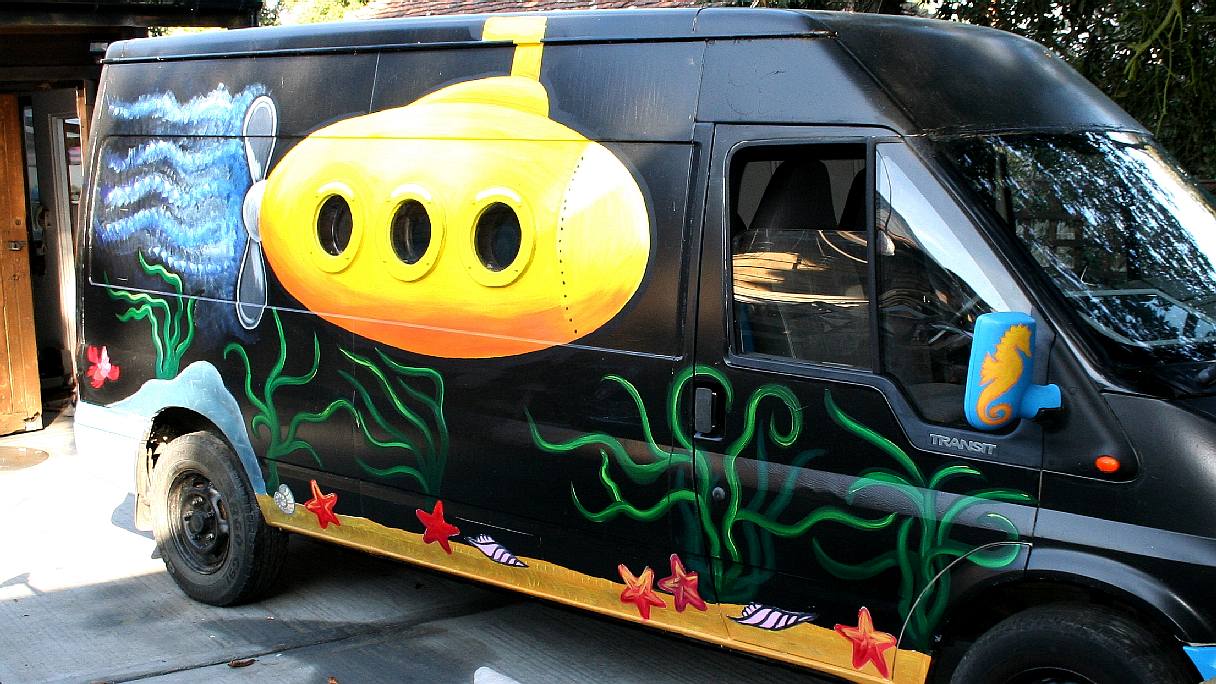 MARINE ART - We used ordinary artists acrylic paints to turn the standard white van into an underwater seascape. Once completed, we'll give the whole vehicle a clear protective topcoat. Copyright © photograph 17 August 2018, all rights reserved.
The Cleaner Oceans Foundation will be using this Ford Transit van as part of the awareness campaign. It came to us in white, looking rather sorry for itself after standing outside in all weathers for a while before we could lavish a little attention on it.
For our ocean awareness events and when we start building SeaVax, we'll need vehicles that have sufficient carrying capacity to hold food, clothing and equipment. The transit and similar sized light cargo vehicles have evolved to become the delivery lifeline of thousands of companies. Especially in the internet age.
ARTIST - Our marine biologist is a dab hand with a paintbrush. Copyright © photograph 17 August 2018, all rights reserved.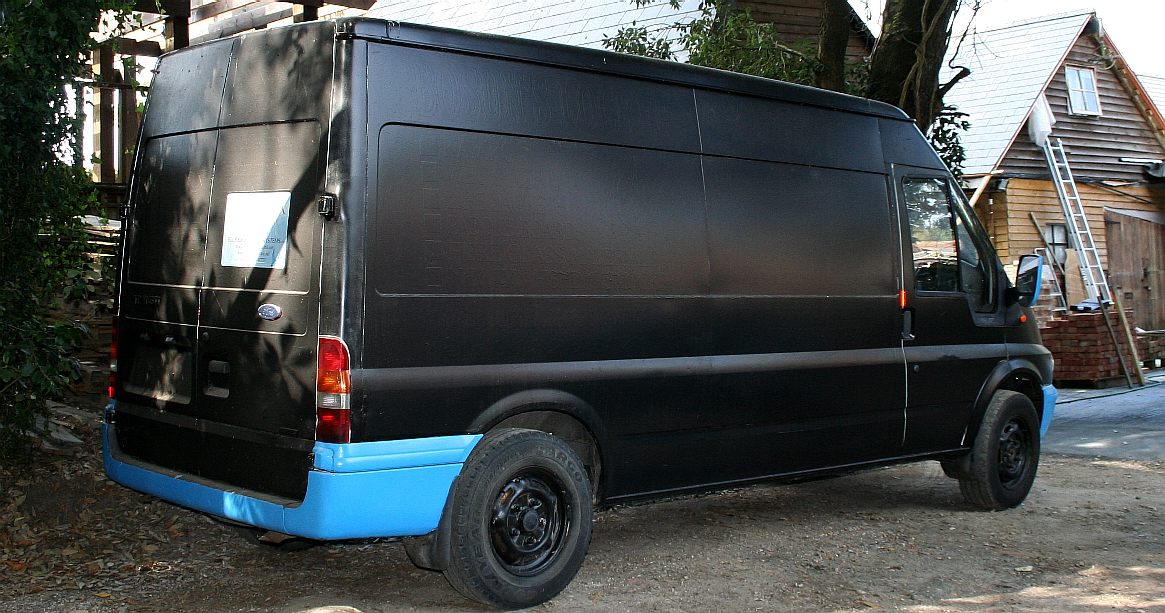 BLANK CANVAS - The Ford Transit started out with a coat of exterior quality black paint. Copyright © photograph July 2018, all rights reserved.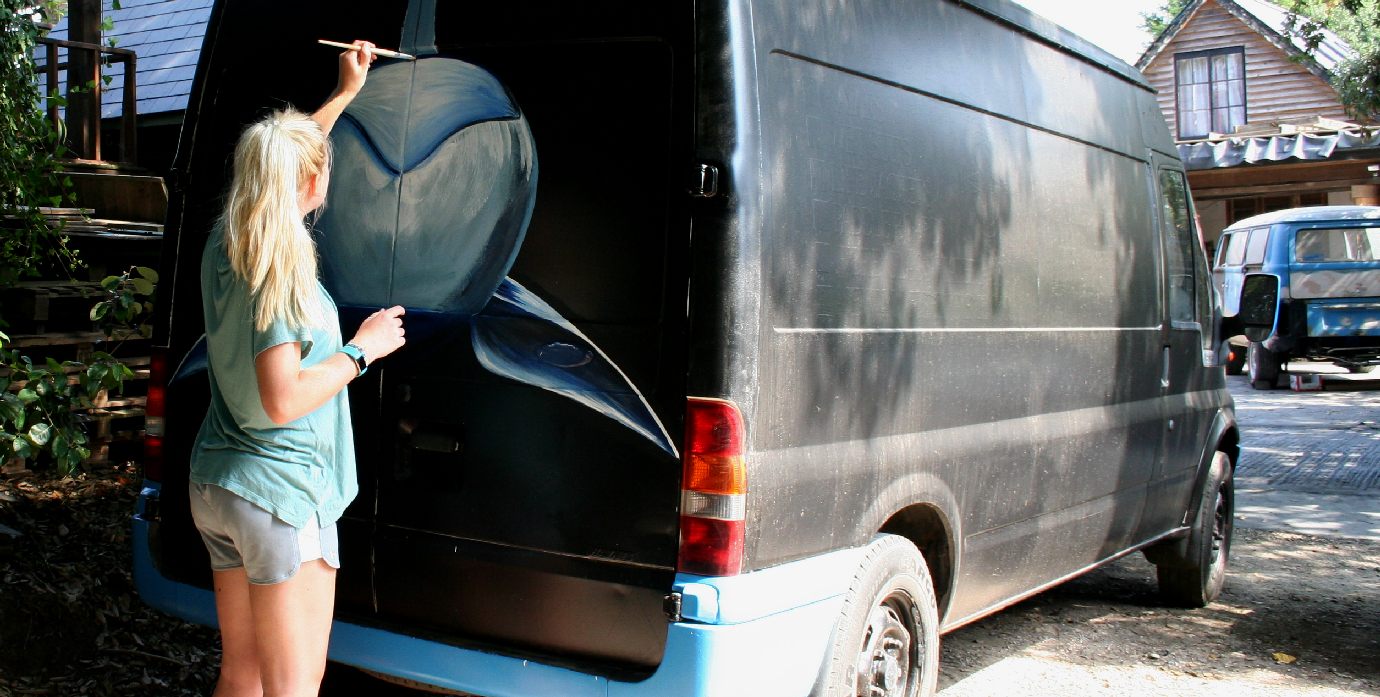 MARINE ART - We used acrylic paints to turn this ordinary looking van into an underwater seascape. Copyright © photograph 17 August 2018, all rights reserved.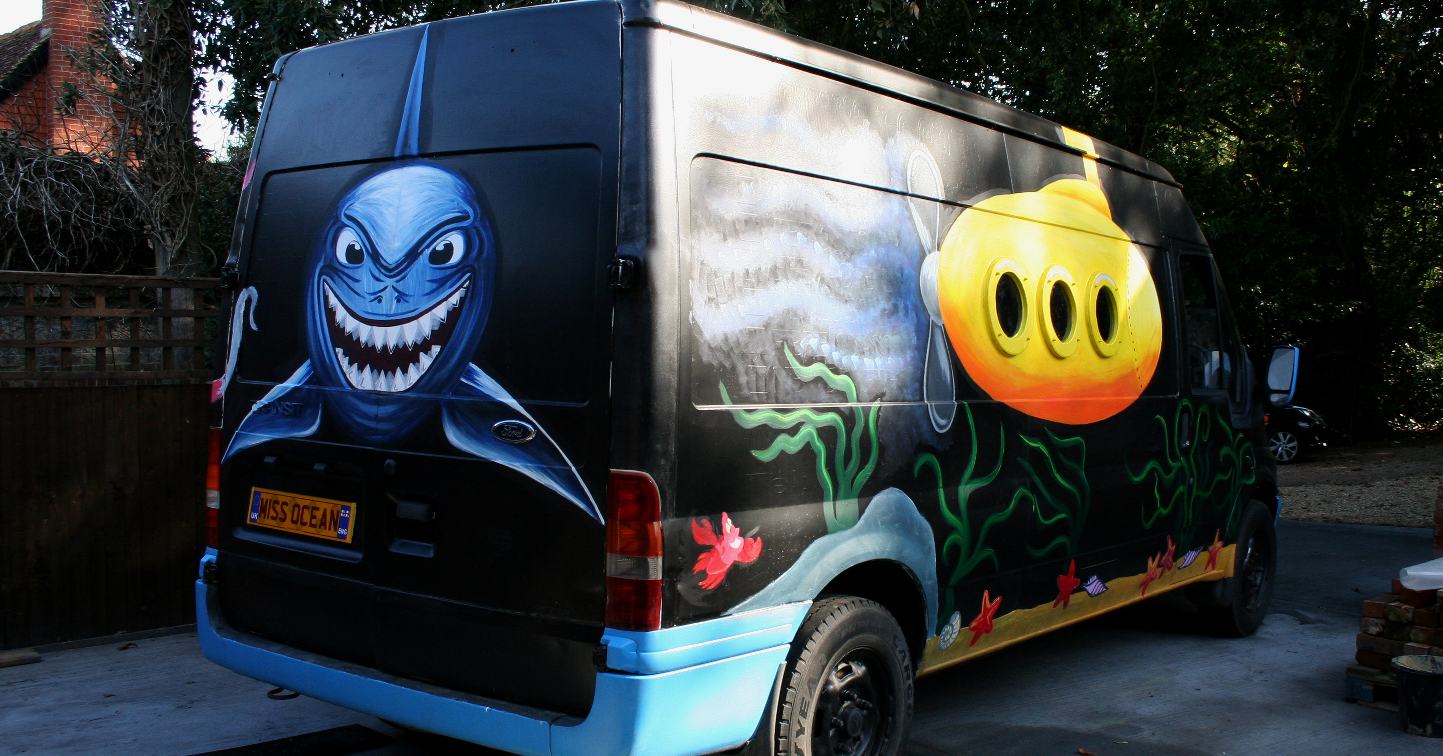 SHARK - This is Pierre, a friendly great white shark with a particularly French smile. This van is being used in 2019 as the base vehicle to test a mobile wind turbine rig. Copyright © photograph 17 August 2018, all rights reserved.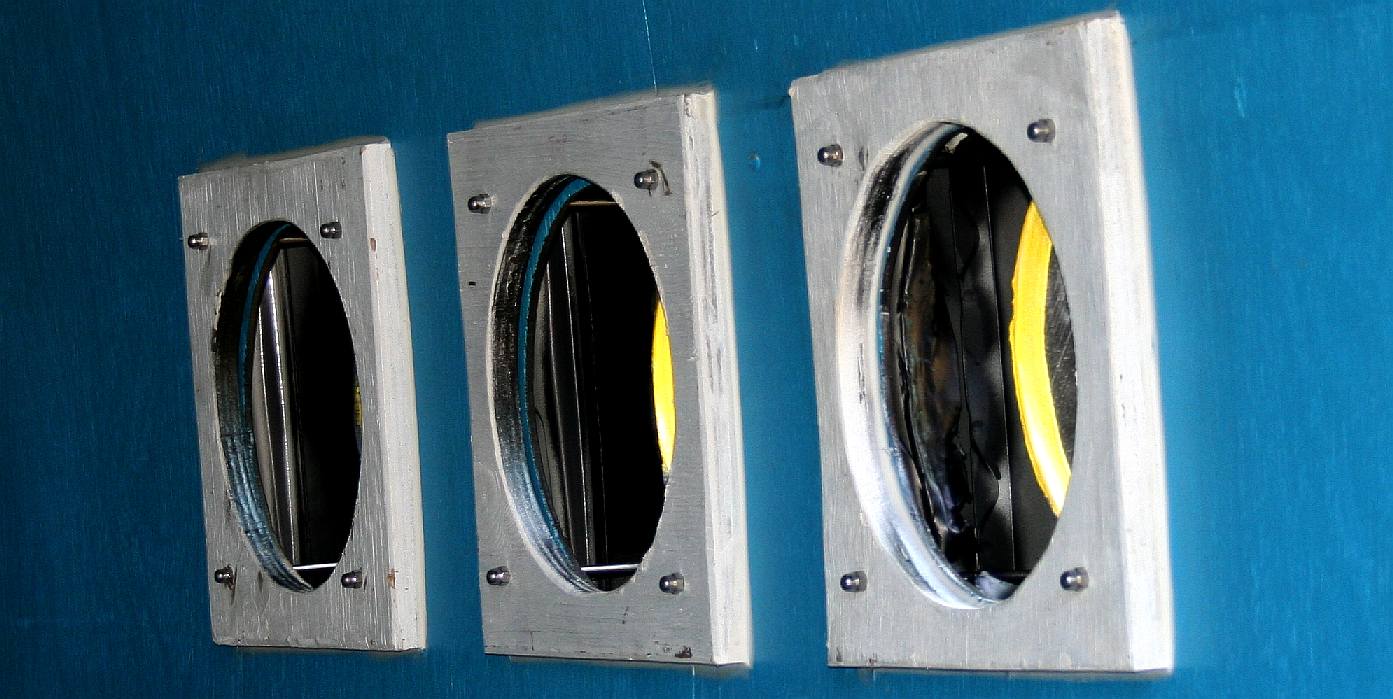 PORTHOLES - Cut from 22mm plywood, then treated against decay, these wooden surrounds bolt through the van wall to the portholes on the outside using stainless steel studding. Copyright © photograph 17 August 2018, all rights reserved.
ABOUT THE FORD TRANSIT

The Ford Transit is a range of light commercial vehicles produced by Ford since 1965. Sold primarily as a cargo van, the Transit is also built as a passenger van (marketed as the Ford Tourneo since 1995), minibus, cutaway van chassis, and as a pickup truck. Over 8,000,000 Transit vans have been sold, making it the third best-selling van of all time and have been produced across four basic platform generations (debuting in 1965, 1986, 2000, and 2013 respectively), with various "facelift" versions of each.

The first product of the merged Ford of Europe, the Transit was marketed through Western Europe and Australia; by the end of the twentieth century, it was marketed nearly globally with the exception of North America until 2013 when it replaced the Ford E-Series in 2015. The Transit has been the best-selling light commercial vehicle in Europe for forty years, and in some countries the term "Transit" has passed into common usage as a generic trademark applying to any light commercial van in the Transit's size bracket. While initially designed for the European market, the Ford Transit is now produced in Asia, North America, and Europe for worldwide buyers. Upon production in North America, the Transit won second place in Motor Trend's 2015 'Truck of the Year' award, behind the newly introduced mid-size Chevrolet Colorado pickup and ahead of the new Ford F-150.

As of 2016, the Transit is the best-selling van of any type in the United States, minivan sales included. The Transit drives Ford's 57 percent share of the full-size van market in the USA.

The new Transit is available in cargo van and chassis/cutaway cab configurations. In a significant departure from the E-Series, but standard for existing rest of world versions, Transit vans/wagons come in three different roof heights; extended-wheelbase vans are available with dual rear wheels. It was released in North America in the summer of 2014, released as a 2015 model. As with the much smaller Transit Connect, passenger versions are marketed under a singular Transit nameplate rather than the Tourneo name seen globally.

Outside of North America, much of the Transit engine lineup and drivetrain configurations are retained from the previous generation. For the United States and Canada, the four cylinder engines and manual transmission are not offered; in these markets only the 180-hp 3.2L Duratorq I5 diesel (branded as a PowerStroke) is shared with global-market models. For North America, the standard engine is a 275-hp 3.7L Ti-VCT V6 (shared with the F-Series and Police Interceptor version of the Ford Explorer) and an optional 320-hp 3.5L EcoBoost V6 shared with the F-150 and D3-platform vehicles. All versions in North America are specified with a 6-speed automatic transmission and rear-wheel drivetrain. The 3.7L Ti-VCT V6 can be converted to run on compressed natural gas or liquefied petroleum gas with an optional Gaseous Engine Prep Package. In North America, 4x4 conversions are done through factory-supported third party installers.

Each Transit model saw at least at a 600 lb. increase in maximum payload capability over the comparable E-Series/Econoline model it replaced. The Transit's body makes extensive use of boron steel in its construction.

Production

Worldwide production of Ford Transits takes place in two facilities; all European and Asian Transit production is from Ford Otosan in Kocaeli Province, Turkey; this factory will also provide a percentage of global exports. North American and South American production is primarily sourced from Kansas City Assembly in Claycomo, Missouri on the lines used for the previous generation Ford Escape; production at the Kansas City Assembly Plant began on 30 April 2014.
LINKS & REFERENCE
http://www.r-techwelding.co.uk/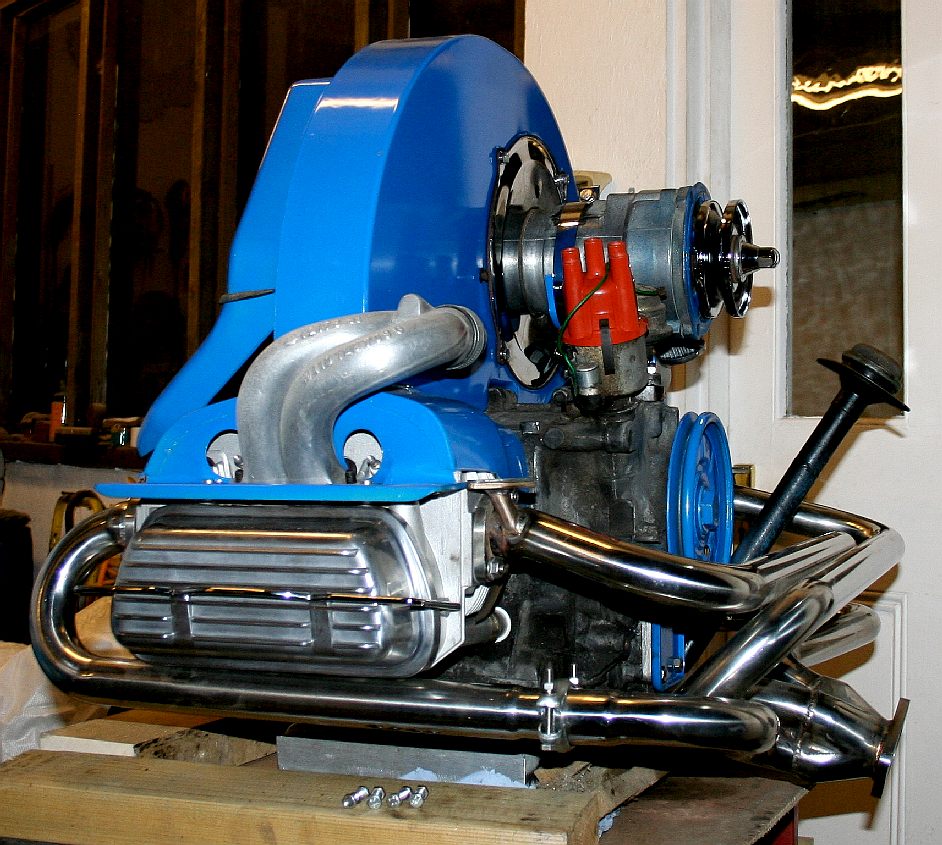 MORE AUTOMOTIVE ART - This is the engine for our VW camper van, painted in ocean blue. Naturally! Copyright © photograph 6 November 2017, all rights reserved.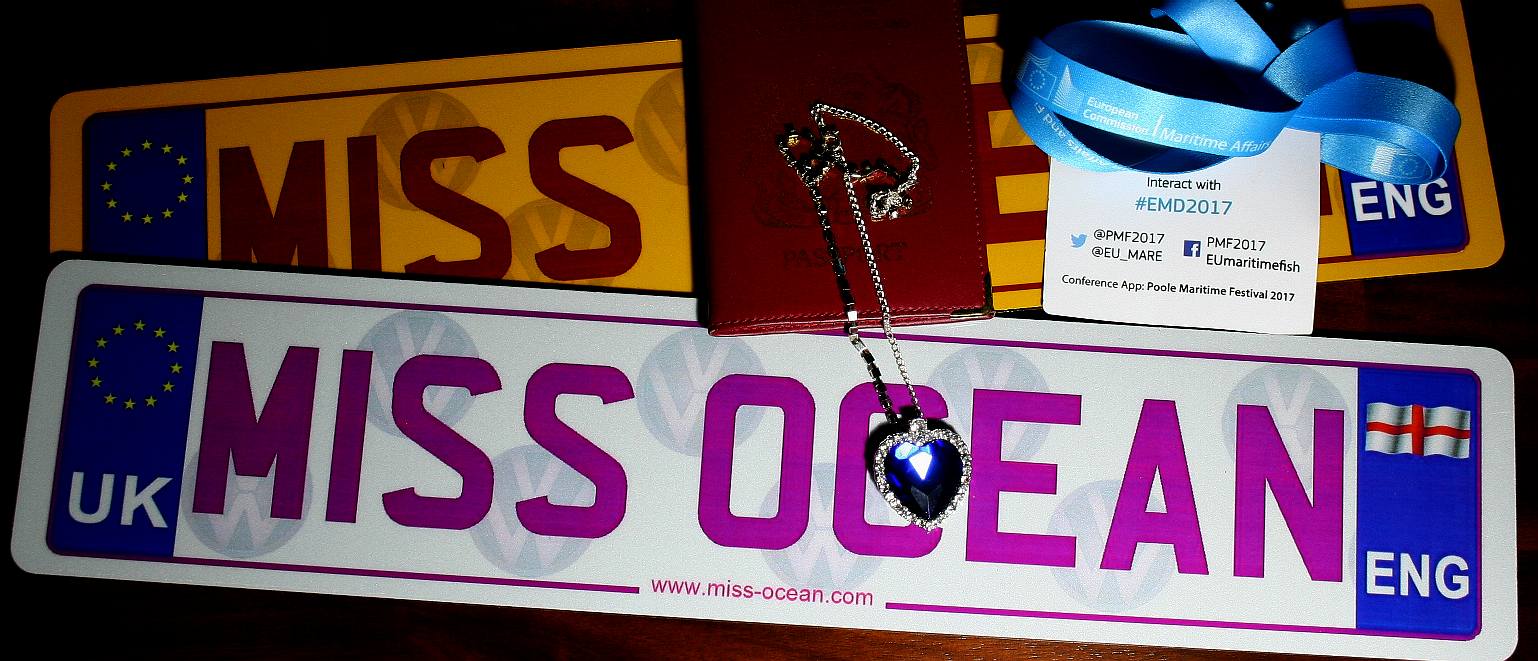 TOUR BUS 2019 - These are not the road plates for the ocean awareness tour bus, they are for use during shows off-road. We are in the process of designing the vinyl wrap for this classic wagon. The Heart Of The Ocean is famous the world over but if of course a fictitious movie prop, whereas our Miss Ocean tiara is real and is also the subject of design copyright, and is presently the subject of a study.