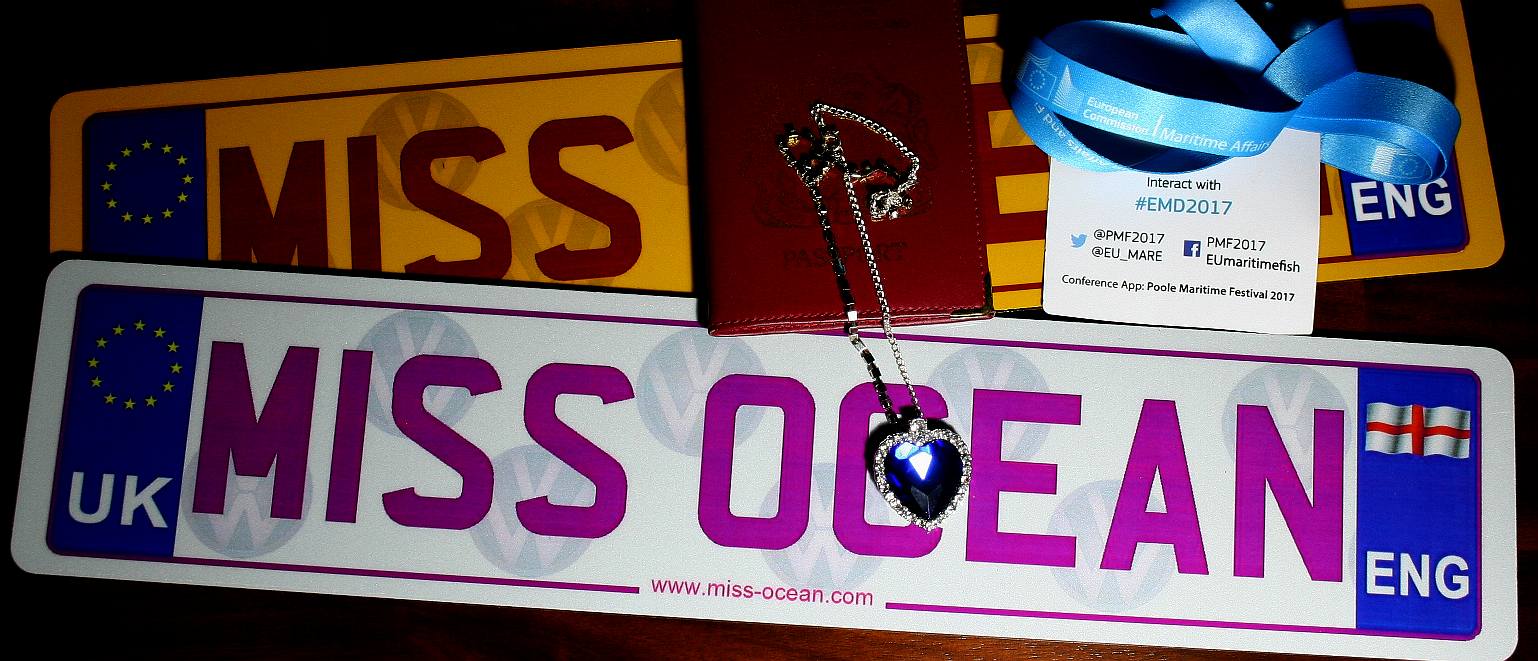 TOUR BUS 2017 - These are not the road plates for the ocean awareness tour bus, they are for use during shows off-road. We are in the process of designing the vinyl wrap for this classic wagon. The Heart Of The Ocean is famous the world over but if of course a fictitious movie prop, whereas our Miss Ocean tiara is real and is also the subject of design copyright, and is presently the subject of a study.
The Cleaner Oceans Foundation will be using this Volkswagen to attend events and give ocean awareness presentations as the eco flagship. She is forty (40) years old in 2018 and so is a classic in the ordinary sense and a historic or antique vehicle as defined by most automobile clubs. See the definitions below. We are AA members.
This wagon started out as a camper van that was in need of some serious attention, but will be converted to a surfing wagon, complete with a PA system, boards and more - and with a vinyl wrap that helps us to get our message across about plastic ocean pollution, single use plastic and the need for blue growth to combat unsustainable exploitation of the sea.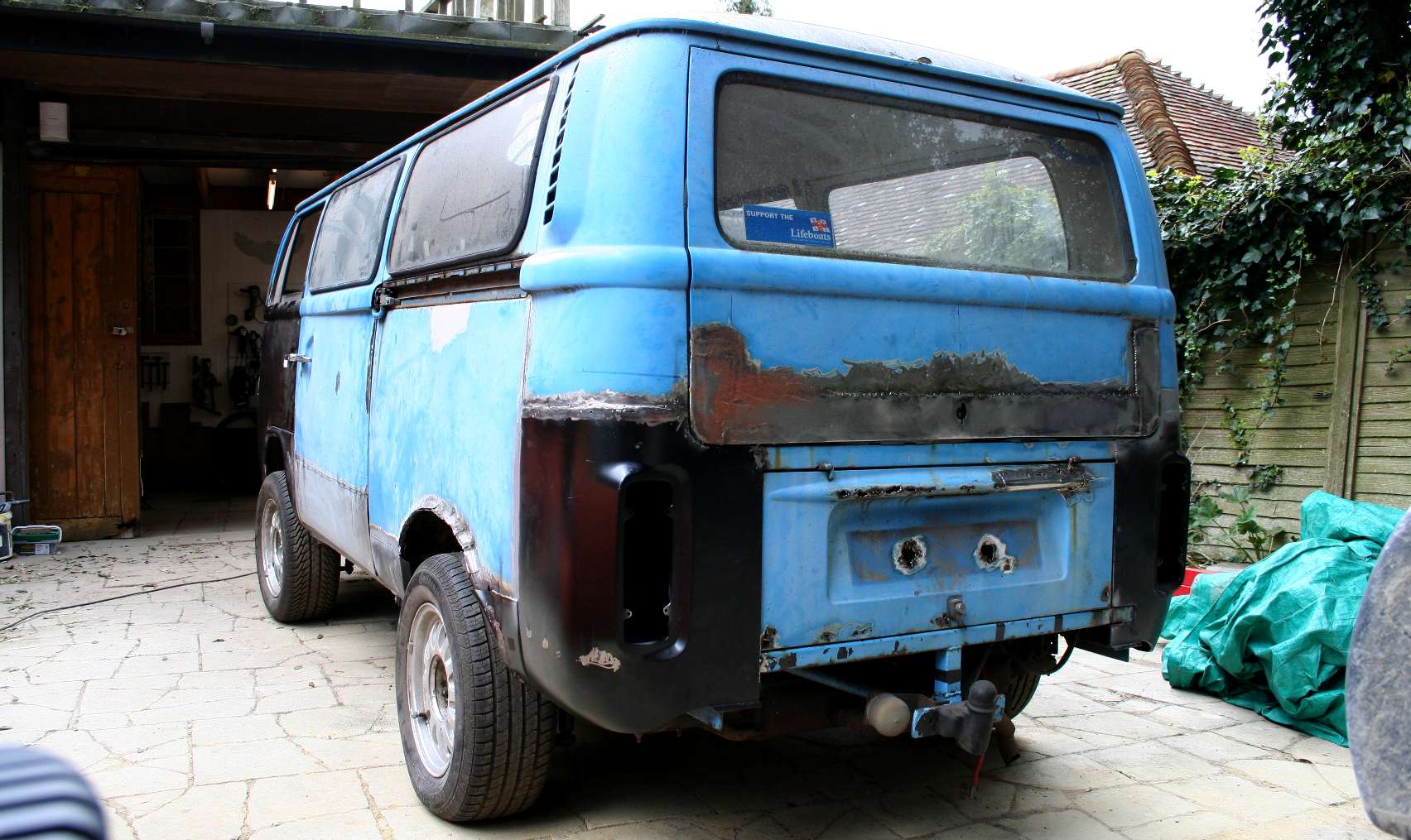 STILL IN NEED - After a few months hard graft, this is what progress looked like. The brakes were sorted, the bodywork repaired and the fuel system cleaned out. It should not take our volunteers too much longer before we see some vinyl designs coming to the fore. Note how much the look of the vehicle has changed with the wide alloy wheels and spacers. This also improves the handling, hence stopping power of this unique tour bus. Copyright © photograph April 2017, all rights reserved.
At the moment we are using a variety of vehicles of different marques for different jobs, including a Jeep for beach hauling duties, a VW Golf for general towing on the public highways and a BMW i3 to be able to demonstrate electric power as applied to land vehicles. The BMW uses similar energy storage and electric power train so that VIP visitors can experience an EV in action and feel the performance that is possible today for themselves. SeaVax is an ocean EV, the only difference is that SeaVax is solar and wind powered. Solar cars have been racing across Australia for decades, even breaking the speed limit on the Australian highways.
Another vehicle we need to avail ourselves of is a rough terrain crane of more than 30 tons capacity. This is important for lifting and positioning the frames and hull parts of the AmphiMax and SeaVax vehicles during assembly.
VIRTUAL OCEAN - If our associates might wish to trial the latest technology as part of our awareness campaign tour, we might include a virtual reality display that could feature lifelike dolphins, sharks and other sea creatures.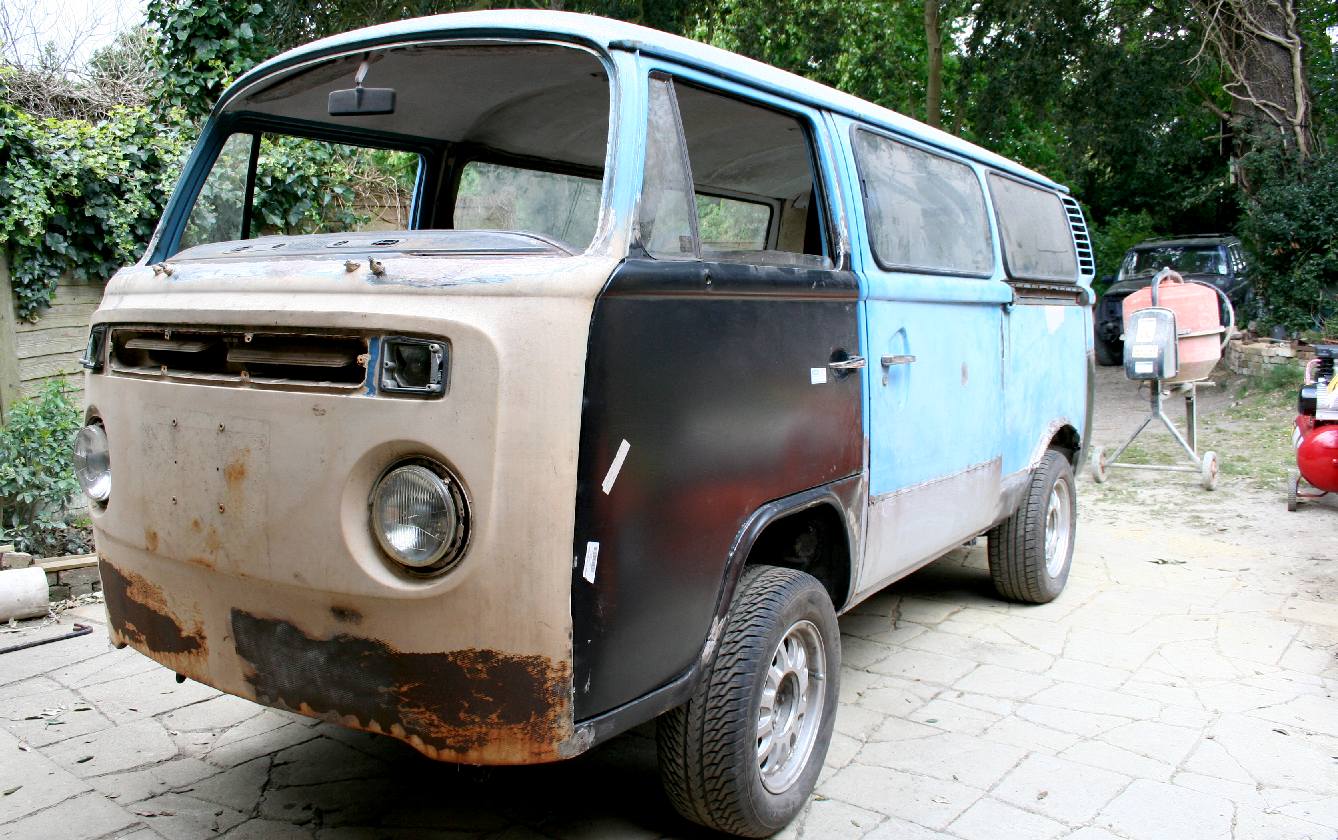 SMOOTH - The bumpers have been removed both front and rear to give the Californian feel and also to eliminate rust traps, but the front panels need some serious preparation before painting to remove a couple of years of surface rust. Copyright © photograph April 2017, all rights reserved.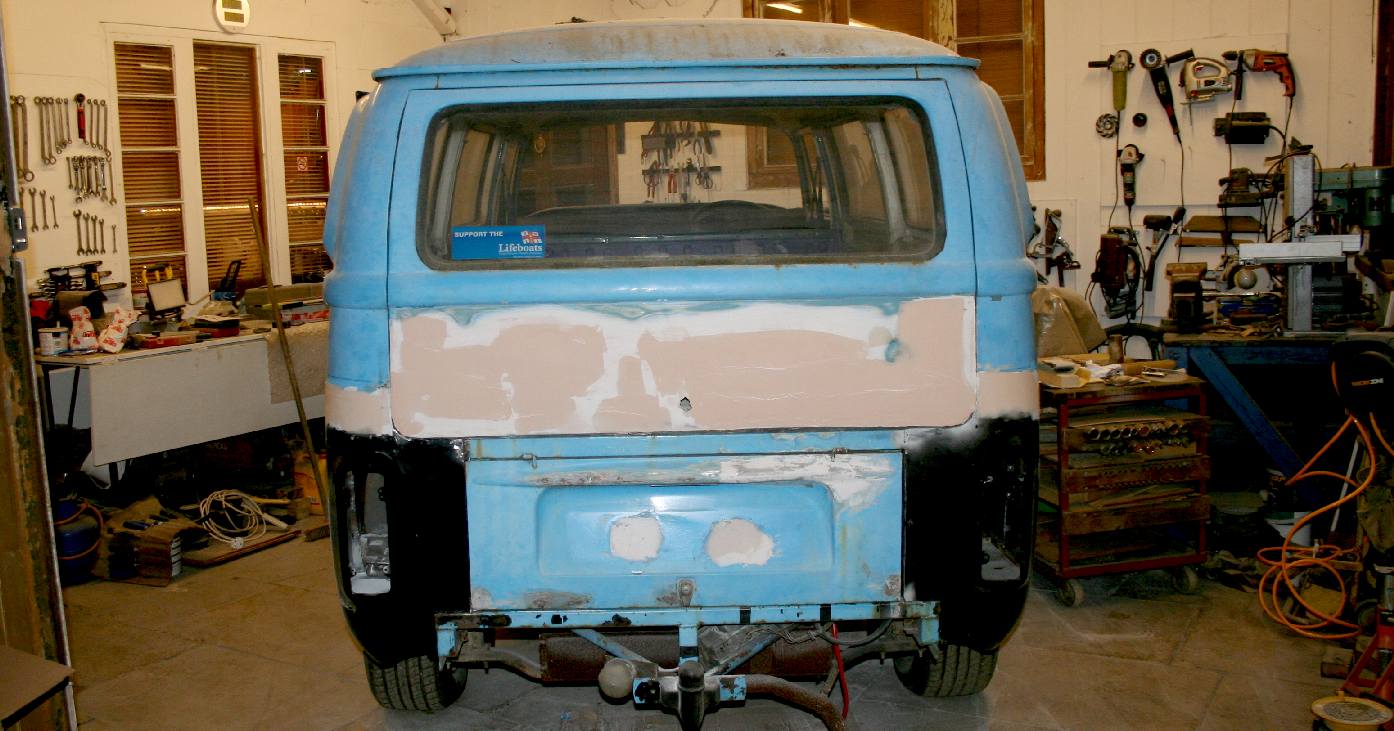 TOWBAR - Hello. That is not how most campers look at the rear. Here, the towbar replaces the lower valance that previously meant jacking up the camper body to remove the engine. With this conversion you can remove an engine in the desert without needing jacks. There is never a desert around when you need one. Copyright © photograph May 2017, all rights reserved.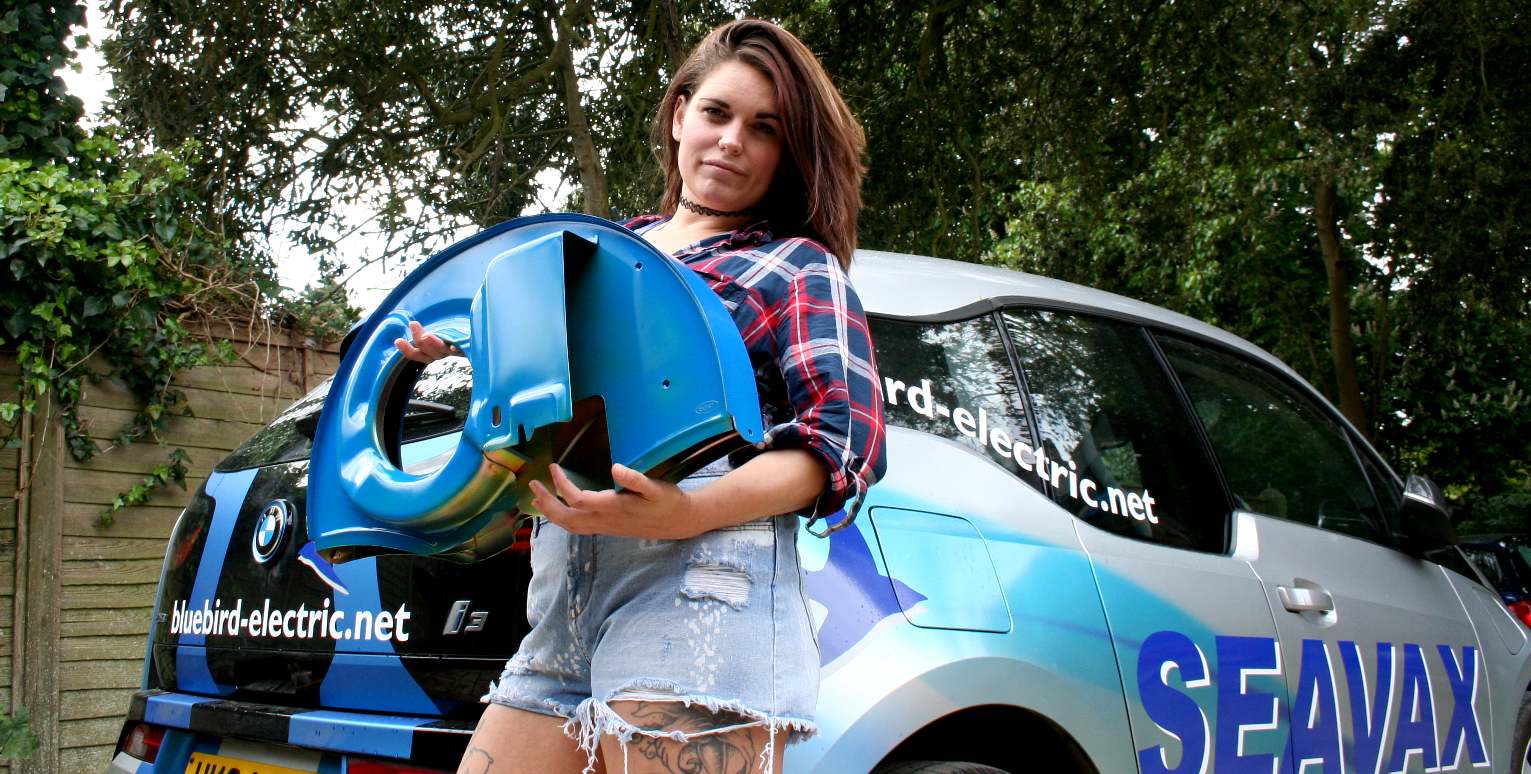 AIR COOLED - Cooling is important with an air cooled engine, but there is no harm in looking cool as well as being cool, hence, the ocean blue paint job to brighten up the engine bay. We like the denim shorts Kyla. Copyright © photograph May 11 2017, all rights reserved.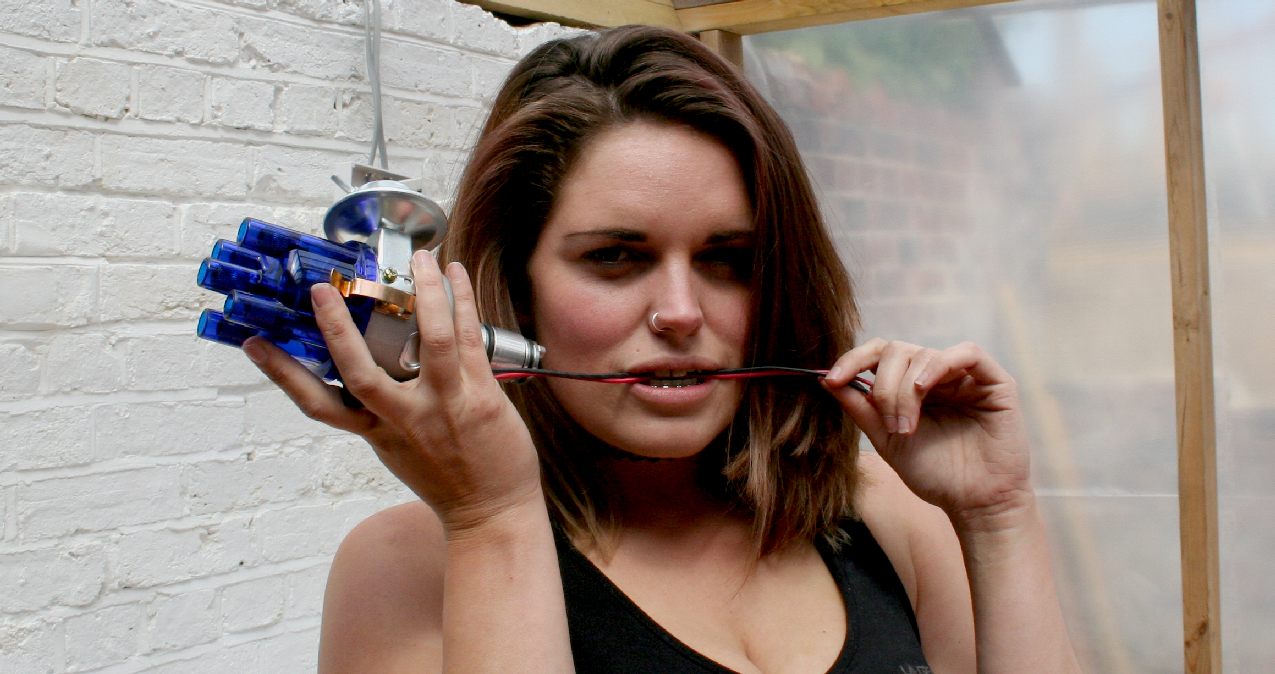 SPARKY - Our component quality control department has an interesting way of testing ohms to earth, but we like it! Kyla is holding a replacement to the Bosch 009 distributor that incorporates contact-less electronic ignition that did not exist 50 years ago when our tour bus was build in Germany. Copyright © photograph May 11 2017, all rights reserved. You will need the permission of the Cleaner Oceans Foundation to be able to use this picture, except for education and private study.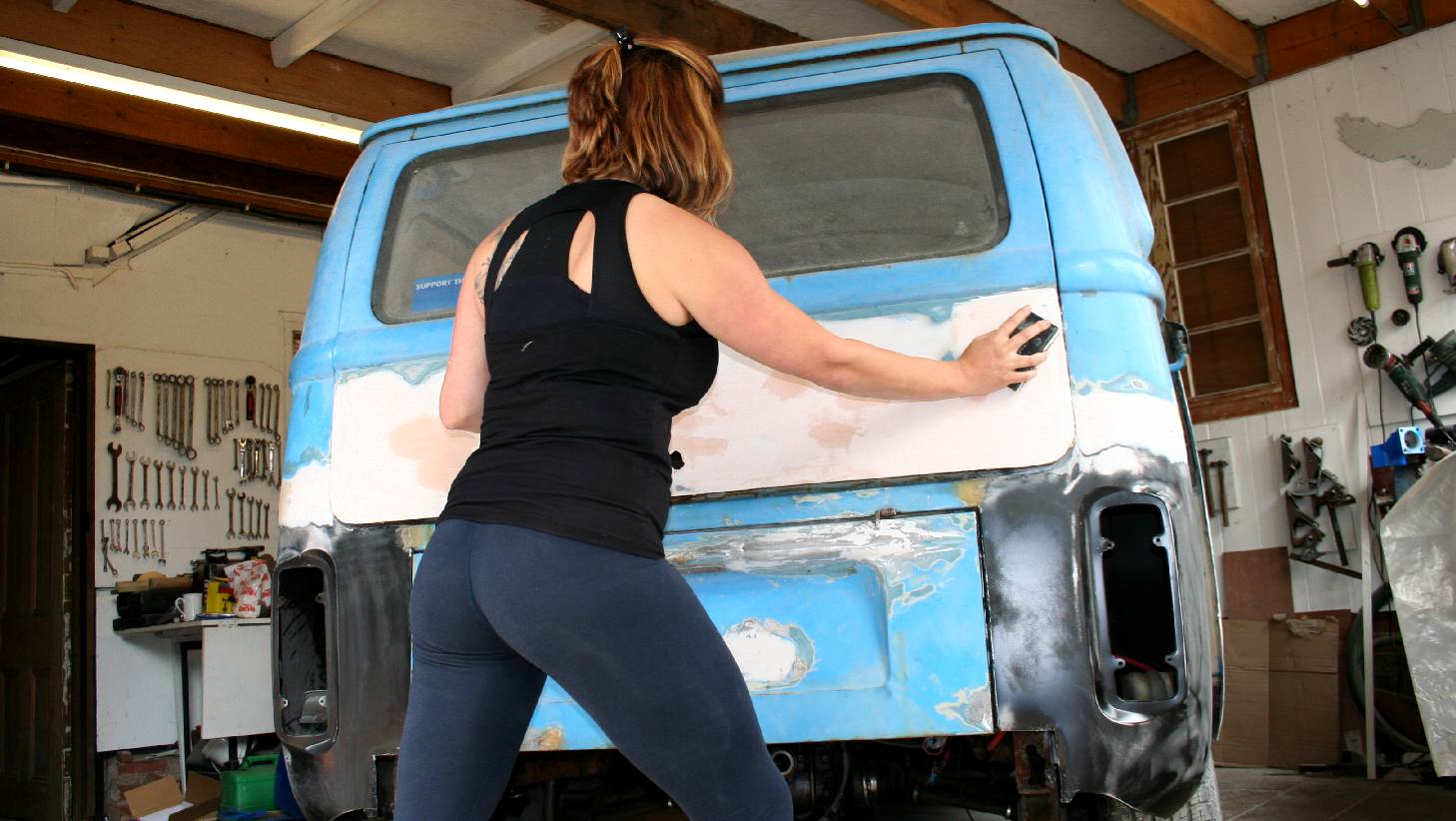 GIRL POWER - Kyla is a weight lifter with very strong legs and shoulders. When shaping body filler you need stamina as well as strength, and of course the skill to be able to feel when the panels are flat, or the curves are curvaceous enough. It helps to have a well equipped workshop. A professional shaper is usually on hand to give guidance to our volunteers. Copyright © photograph May 11 2017, all rights reserved.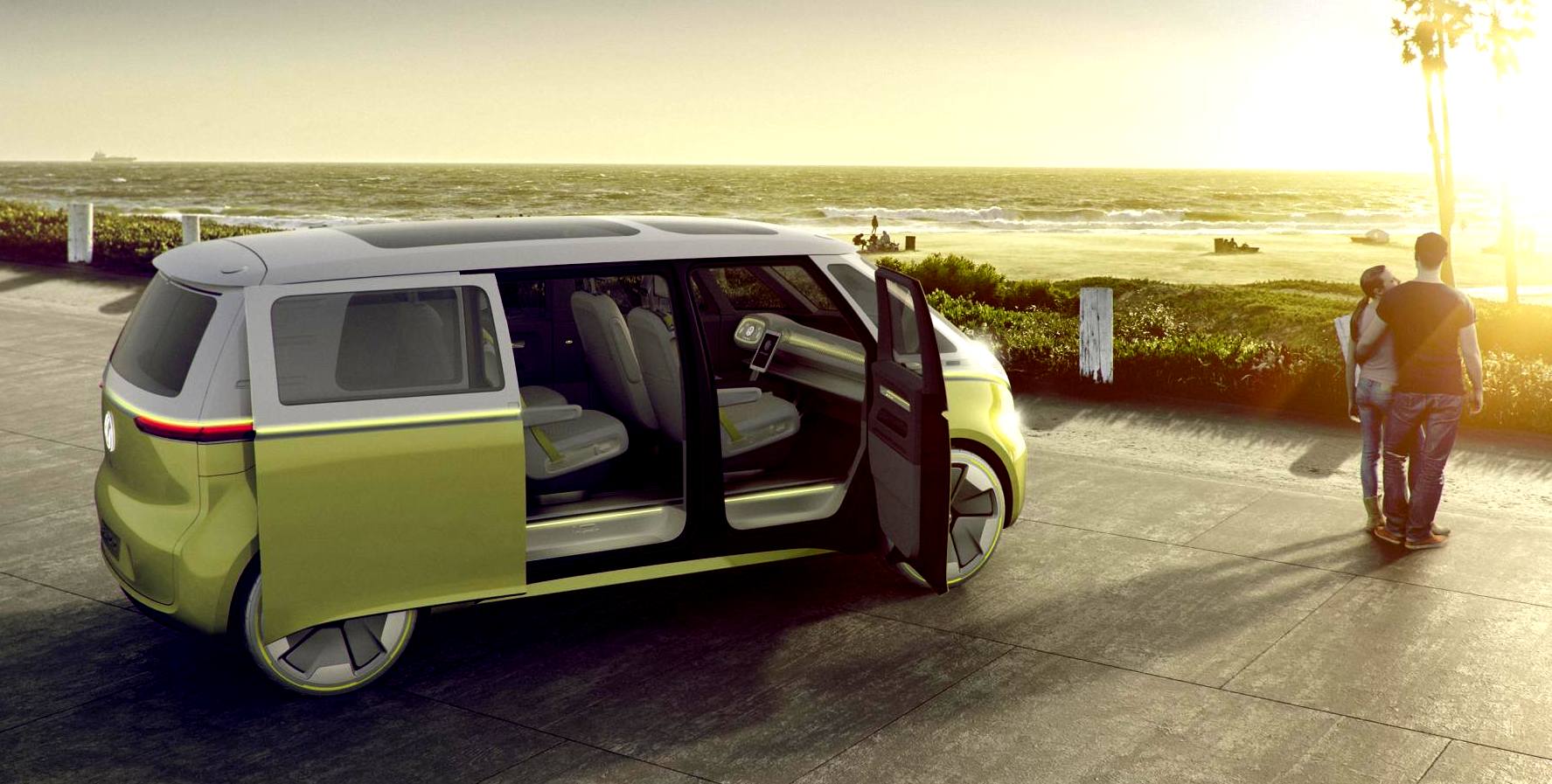 VW BUZZ - This is the latest minibus, or multi purpose transporter from Volkswagen. The T6 is electrically powered by two motors. It has sliding side doors just like our ocean awareness tour bus - and is also a cool looking vehicle - another thing they have in common.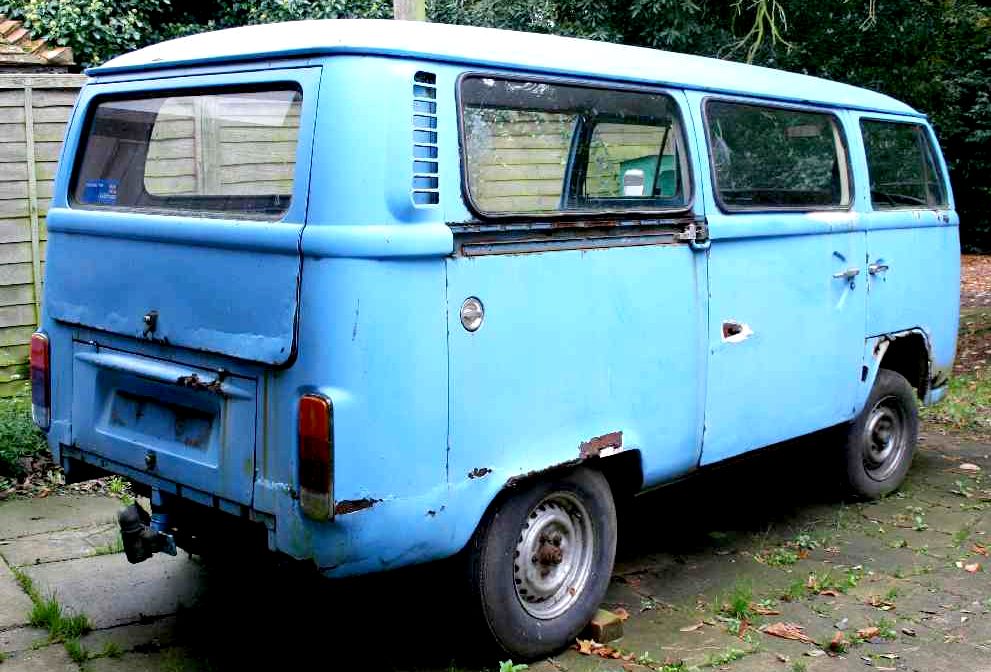 DONOR VW CAMPER - This is how our tour bus started out. What looks like repairable panels soon turned out to be something more serious on closer examination. All the brakes were shot and there was water in the fuel tank.
It is hard to imagine how this vehicle could be used to campaign for plastic reduction when looking at it as it was. When painted this vehicle will be suitably vinyl wrapped to draw attention to marine life that we are slowly killing with our toxic waste.
Wrap advertising is the marketing practice of completely or partially covering (wrapping) a vehicle in an advertisement or livery, thus turning it into a mobile billboard. This can be achieved by simply painting the vehicle surface, but it is becoming more common today to use large vinyl sheets as decals. These can be removed with relative ease, making it much less expensive to change from one advertisement to another. Vehicles with large, flat surfaces, such as buses and light-rail carriages, are fairly easy to work with, though smaller cars with curved surfaces can also be wrapped in this manner. Wrap advertising is available to anybody irrespective of the vehicle you drive, dependent on the effectiveness of the designs applied. It is therefore important to have a well thought out design and eye catching logos with thought provoking slogans.
An antique car, in the general sense of the term, is an automobile that is an antique. Narrower definitions vary based on how old a car must be to qualify. In the United States, an antique car is generally defined as a car over 25 years of age, this being the definition used by the Antique Automobile Club of America. However, the legal definitions for the purpose of antique vehicle registration vary widely. The antique car era includes the Veteran era, the Brass era, and the Vintage era, which range from the beginning of the automobile up to the 1930s. Later cars are often described as classic cars. In original or originally restored condition antiques are very valuable and are usually either protected and stored or exhibited in car shows but are very rarely driven, unlike our bus, which has to earn its keep.
US CLASSIC CAR DEFINITION

Legally, most states have time-based rules for the definition of "historic" or "classic" for purposes such as antique vehicle registration. For example, Maryland defines historic vehicles as 20 calendar years old or older and they "must not have been substantially altered, remodeled or remanufactured from the manufacturers original design" while West Virginia defines motor vehicles manufactured at least 25 years prior to the current year as eligible for "classic" car license plates.

Despite this, at many American classic car shows, automobiles typically range from the 1920s to the 1970s. Recently, many 1980s and even early 1990s cars are considered being "classic automobiles". Examples of cars at such shows include the Chevrolet Bel-Air, Ford Model T, Dodge Charger, Ford Deuce Coupe, and 1949 Ford. Meanwhile, the Concours d'Elegance car shows feature prestigious automobiles such as the Cadillac V16 or pre-1940 Rolls-Royce models. There are also terms as "modern customs", "exotics", or "collectibles" that cover cars such as the AMC Gremlin or Ford Pinto.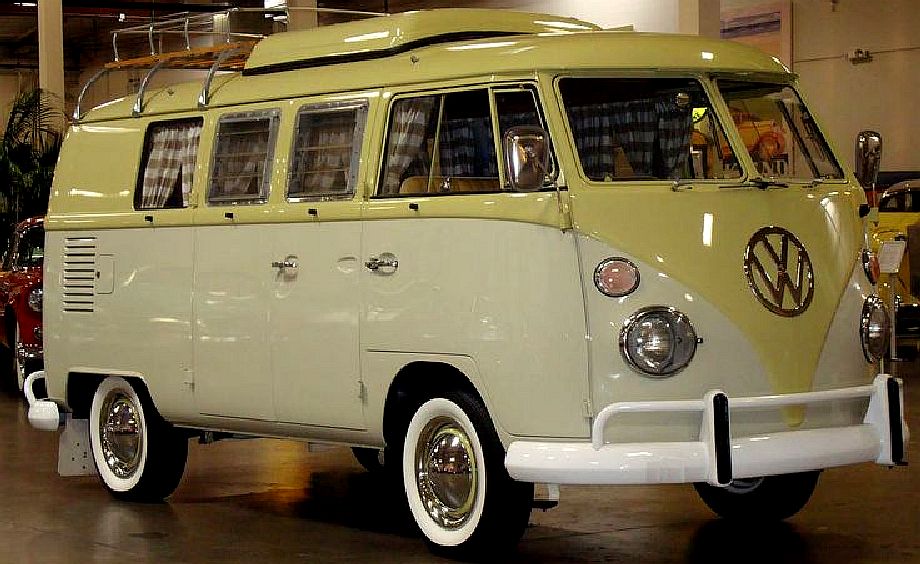 SPLIT SCREEN - This is the vehicle that started it all. The Westfalia is one of the conversions that turned a transporter (or van) into an attractive tour bus for camping that has stayed with us. The only problem with a classic like this is that the performance is lacking and the braking is also not that brilliant, but then if you want an authentic feel of yesteryear and some adventure, this is the wagon for you. Prepare yourself, a good one will run you near $50,000 dollars, with the record price at auction being double that.
UK CLASSIC CAR DEFINITION

There is no fixed definition of a classic car. Two taxation issues do impact however, leading to some people using them as cutoff dates. All cars built before January 1, 1976, are exempted from paying the annual road tax vehicle excise duty. This is then entered on the licence disc displayed on the windscreen as "historic vehicle" (if a car built before this date has been first registered in 1975 or later, then its build date would have to be verified by a recognised body such as British Motor Heritage Foundation to claim tax-free status). HM Revenue and Customs define a classic car for company taxation purposes as being over 15 years old and having a value in excess of Ł15,000.

Additionally, popular acclaim through a large number of classic car magazines plays an important role in whether a car comes to be regarded as a classic. There can be no doubt that a VW camper falls into this category by virtue of the number of clubs and spare (and accessory) parts makers. It is though, all subjective and a matter of opinion.
The elimination of depreciation is a good reason for buying a classic car; this is a major cost of owning a modern car. Picking 'future classics' that are current 'bangers' is a pastime of people into classic cars in the UK. Successfully picking and buying one can result in a profit for the buyer as well as providing transport. An immaculate well cared for prestige model with high running costs that impacts its value, but is not yet old enough to be regarded as a classic, could be a good buy, for example.
VW LINKS & REFERENCE
http://www.vwshows.com/shows.php?&country=united%20kingdom
http://www.classicvolks.com/vw-events-calendar.html
http://www.vanfest.org/vanfest/
http://www.busfest.org/busfest/
http://www.busfest.org/
https://en.wikipedia.org/wiki/Antique_car
https://en.wikipedia.org/wiki/Classic_car
http://www.r-techwelding.co.uk/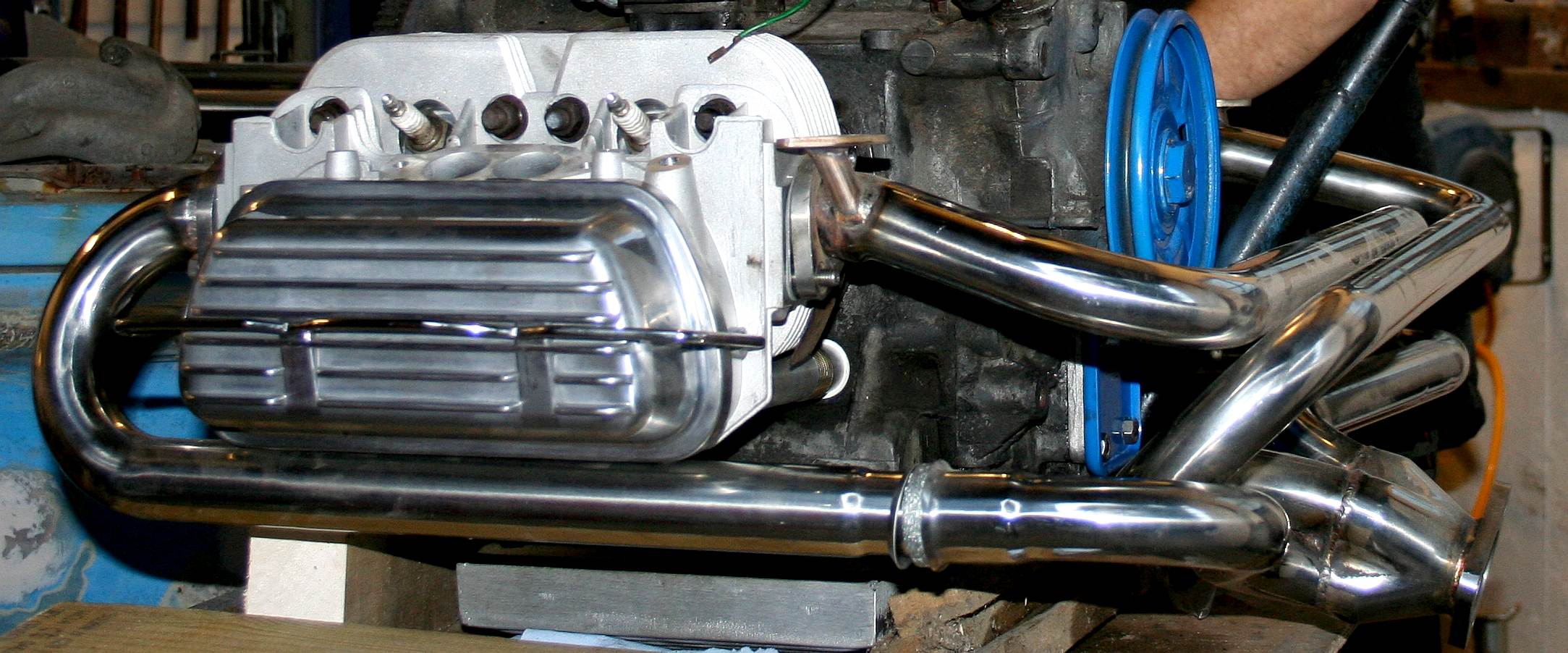 STAINLESS STEEL - Not only will this exhaust system last a bit longer than the original mild-steel counterpart, but it also improves the performance of the engine. Copyright © photograph 1 November 2017, all rights reserved.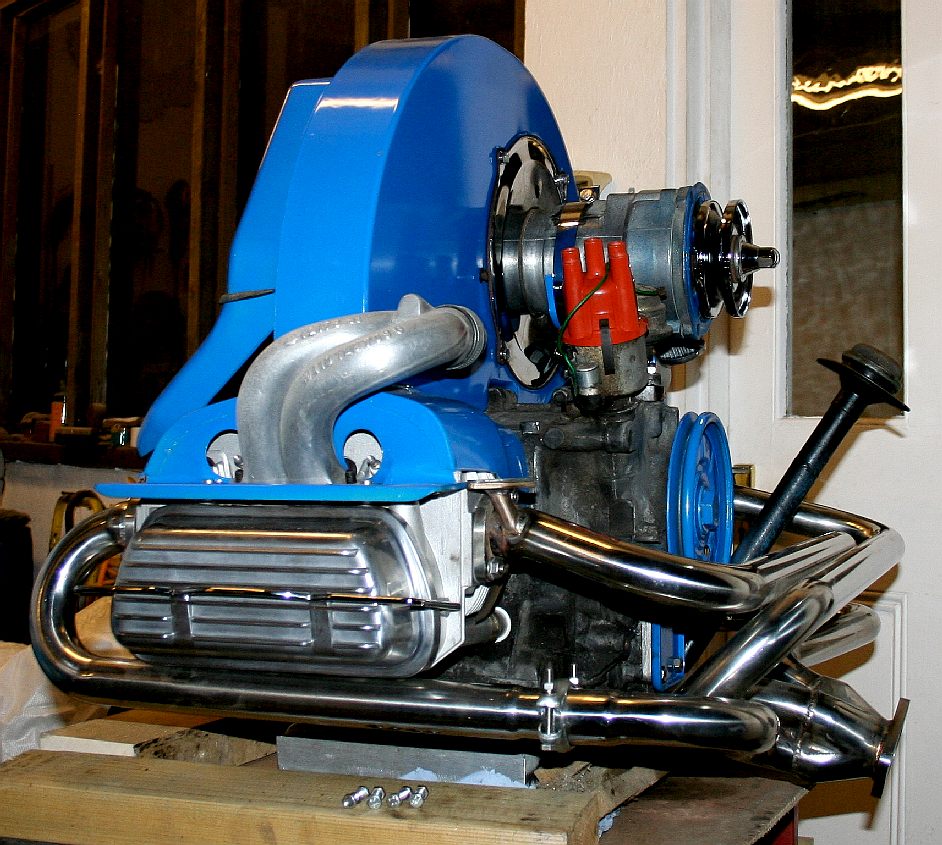 TEST FIT - Some of the performance tinware does not fit as well as the original German made engine parts and requires some fettling and some serious modification. Once you accept this it is not too difficult for any panel beater or welder to make the adjustments. Copyright © photograph 6 November 2017, all rights reserved.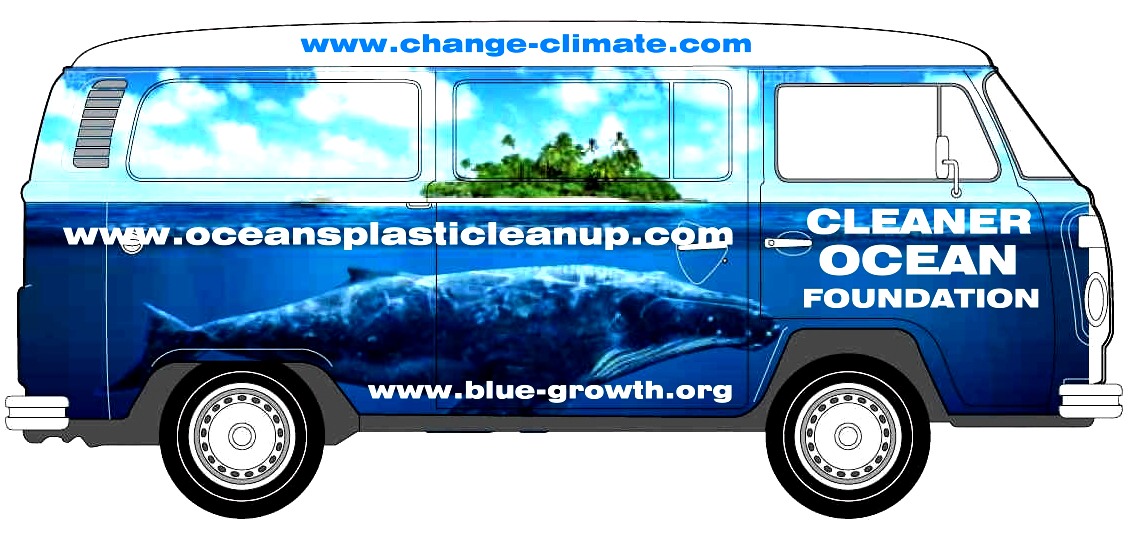 VW HOME - BODYWORK - ELECTRICS - ENGINE REBUILD - GOLF - JEEP HOME
- LOGISTICS
STAINLESS STEEL - SUSPENSION & BRAKES - TOUR BUS - VINYL WRAPPING - WELDING