JAMESON HUNTER - LIMITED
BRICKS & MORTAR - DRAINAGE - FILTRATION - GLASS & PAINT - GANTRY - HATCHES - HYDRODYNAMICS HISTORY - INSTRUMENTS - LABORATORY - LOGISTICS - OUR TEST TANK - PROOFING - REVIEWS - SEAVAX TEST VIDEOS - SLUICE GATE - WAVE MAKING - WIND MACHINE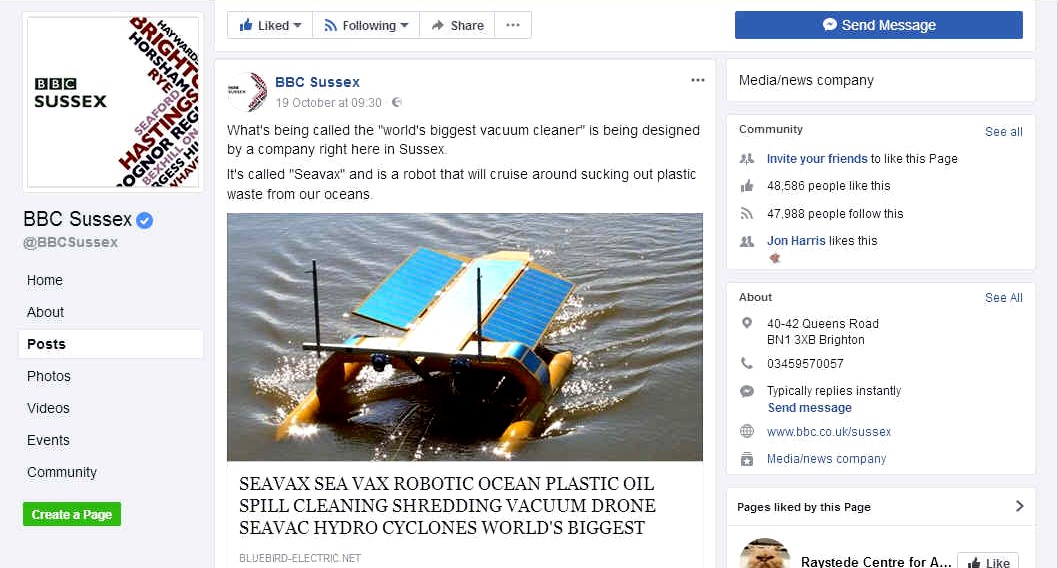 19 OCTOBER 2017 - On this day the SeaVax concept was talked about in a live morning radio interview on ocean plastic.
MAKING A FILM

Film production is good for the economy and good for the record. A documentary divided into six parts is planned for 2018, with other promotional videos for Youtube and other social media also in the pipeline.
Jameson Hunter has been commissioned to produce these films from footage that is sure to be gathered from many contributors, including amateur footage.
Other television and film companies such as the BBC and Sky Discovery, have expressed an interest in filming SeaVax in the water. Due to the high value of the 'proof of concept' model, this is more than likely to be under controlled conditions rather than in open water.
PLANNING CONSENT
In days gone by many films did not get produced in the United kingdom due to the demands of councils that could sometimes be quite unreasonable, expensive and time consuming. Because of this, the Secretary of State, in exercise of the powers conferred on him by the Town and Country Planning Act 1990 made the following Order in relation to film making:
Statutory Instruments - 2015 No. 596

The Town and Country Planning (General Permitted Development) (England) Order 2015
Permitted development

CLASS E. Development consisting of —

(a) the temporary use of any land or buildings for a period not exceeding 9 months in any 27 month period [2 out of every 3 months] for the purpose of commercial film-making; and

(b) the provision on such land, during the filming period, of any temporary structures, works, plant or machinery required in connection with that use.
INTERPRETATION of CLASS E PERMITTED DEVELOPMENT RIGHTS
That is all well and good, but it is the "Development [that is] not permitted" that is the real test of whether or not development is permitted or not. The inclusion of a Section to test the "permitted" status of the/any film making, effectively means that planning consent is required - and so the carrot, or sweetener for film makers is tainted by the sour taste of red-tape again, moving the carrot on a string ahead of the donkey on a stick tied to its head - as a tantalizing appetizer that you'll never take a bit out of.
We assume that the presumed "permitted" status accorded film making at all in the 2015 Order is an effort to coerce councils to do the right thing. However, if you leave a door open you can bet that it will be used to undo the good intentions of the Secretary of State.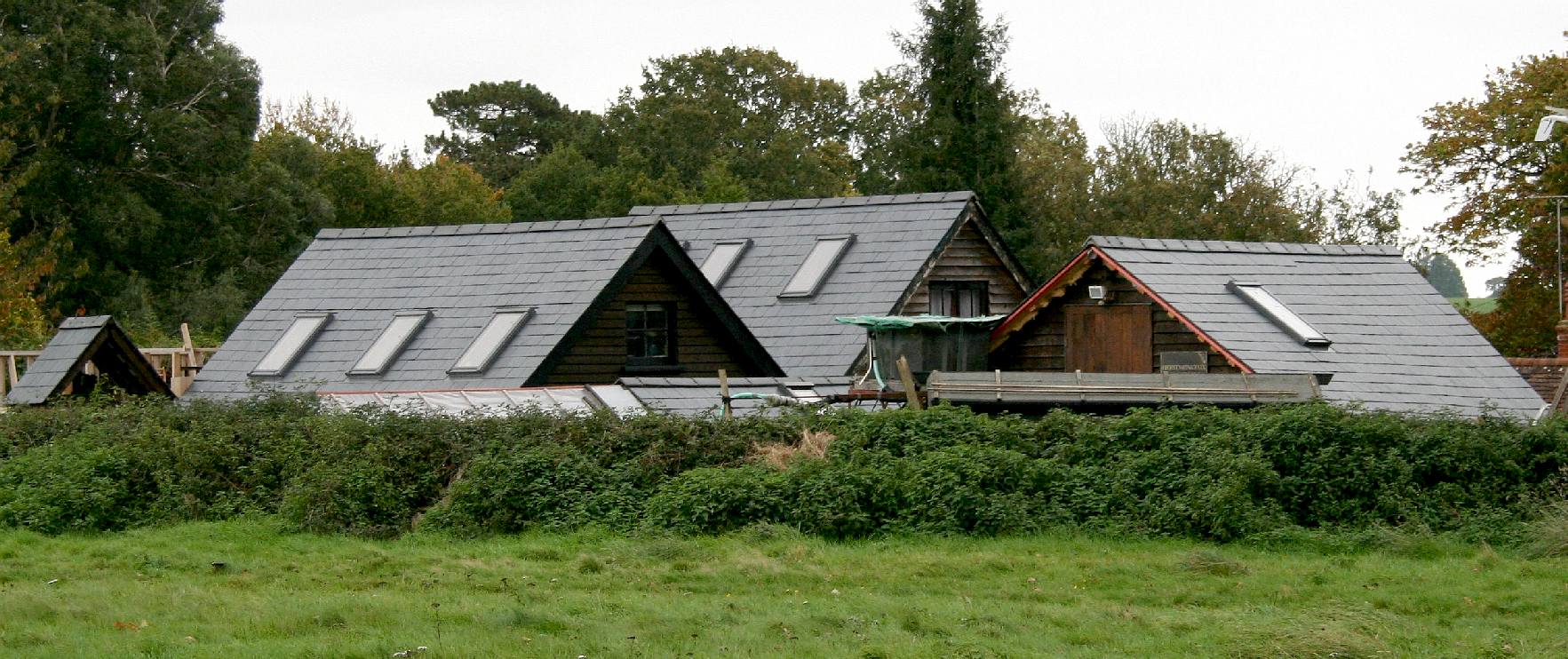 MERRY OLD ENGLAND - This old industrial building set in the Sussex countryside offers a quiet backdrop for filming that does not cause lighting or noise pollution to ramblers or neighbours, where most of the recording is in daylight and out of sight for the most part. The good news is that such use of redundant buildings helps to pay for their upkeep.
In days gone by the noise from this early electricity generating building is unlikely to have carried across this field to the nearby village of Herstmonceux, where the walls were insulated with sawdust. That is until the Second World War, when Charles de Roemer clad the main units in corrugated iron. Here the iron has been removed to reveal the timber construction, though, additional weather protection and insulation has been added to help preserve the last surviving example of rural enterprise that soon led to large coal fired power stations like Battersea in London springing up all over Europe.
E.1 Development is not permitted by Class E if —

(a) the land in question, or the land on which the building in question is situated, is more than 1.5 hectares;

(b) the use of the land is for overnight accommodation;

(c) the height of any temporary structure, works, plant or machinery provided under Class E (b) exceeds 15 metres, or 5 metres where any part of the structure, works, plant or machinery is within 10 metres of the curtilage of the land;

(d) the land or building is on article 2(3) land;

(e) the land or the site on which the building is located is or forms part of —

(i) a site of special scientific interest;

(ii) a safety hazard area; or

(iii) a military explosives storage area;

(f) the land or building is, or contains, a scheduled monument; or

(g) the land or building is a listed building or is within the curtilage of a listed building.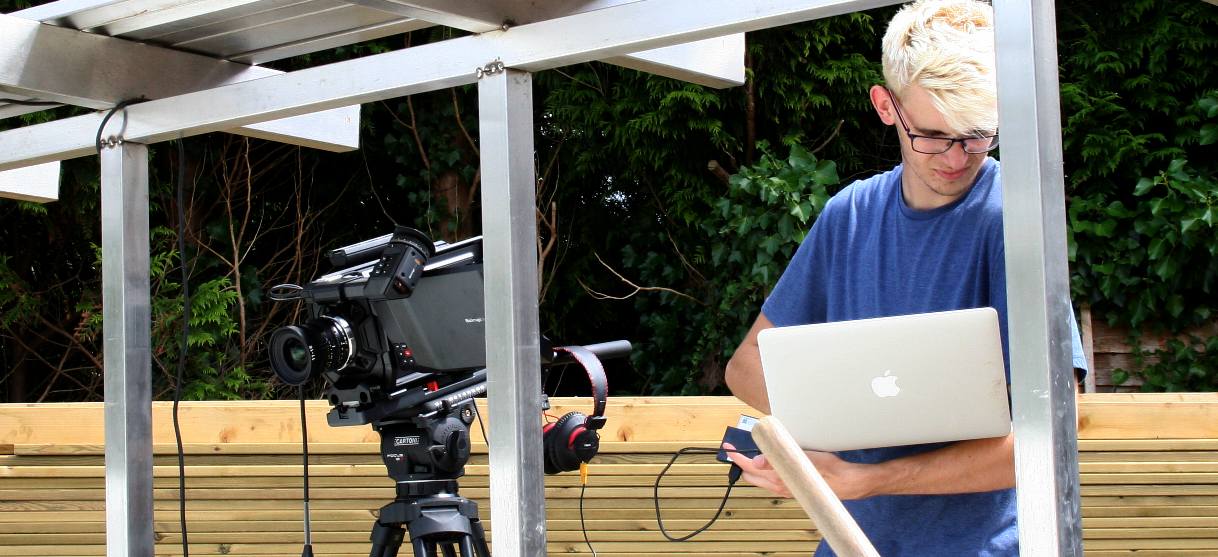 BLACK MAGIC - With the right equipment and a decent eye, most directors can turn out a half-decent documentary with a bit of practice. The Black Magic PL seen here offers high end features at a sensible price for movie quality results in widescreen 4K HD.
INTERPRETATION OF E1
These clauses appear to us to make sense. We would not be prevented from filming at Herstmonceux, Eastbourne, Hastings and many other locations, but where the locations involve three administrative areas, that would mean three applications to determine if we have permitted development rights to film. to our mind anything that requires an application is not a permitted development at all. It is more a carrot to entice film makers in, then hit them in the wallet with refusal and delays.
You can imagine the administrative costs involved in making an application with flood risk, light and noise pollution assessments. It is then no wonder that not many films are shot in England unless it is absolutely essential to the plot. It would be far better to remove the assessment demands and leave that to the film makers discretion, where professionals will always seek to minimize their footprint and place business locally so that a location welcomes repeat business in future.

E.2 — (1) Class E development is permitted subject to the condition that —
(a) any structure, works, plant or machinery provided under the permission must, as soon as practicable after the end of each filming period, be removed from the land; and

(b) the land on which any development permitted by Class E has been carried out must, as soon as reasonably practicable after the end of the filming period, be reinstated to its condition before that development was carried out.

(2) Class E development is permitted subject to the condition that before the start of each new filming period the developer must apply to the local planning authority for a determination as to whether the prior approval of the authority will be required as to —

(a) the schedule of dates which make up the filming period in question and the hours of operation,

(b) transport and highways impacts of the development,

(c) noise impacts of the development,

(d) light impacts of the development, in particular the effect on any occupier of neighbouring land of any artificial lighting to be used, and

(e) flooding risks on the site,


INTERPRETATION OF E2
You can see @ E.2 (2) that if your filming is to span a year with 30 minutes here or 20 minutes there, that most of the time of the film producers will be spent form filling. Otherwise paragraphs (a) and (b) seem sensible. The Order is then more of a guide to film directors as to the difficulties they are likely to encounter, rather than a "Right." A warning shot across the bows to steer your cameras clear of England.
JULY 2016 - Chris Close checks the progress as SeaVax scoops up plastic from this test tank basin in Sussex that is normally used as a recreational pool.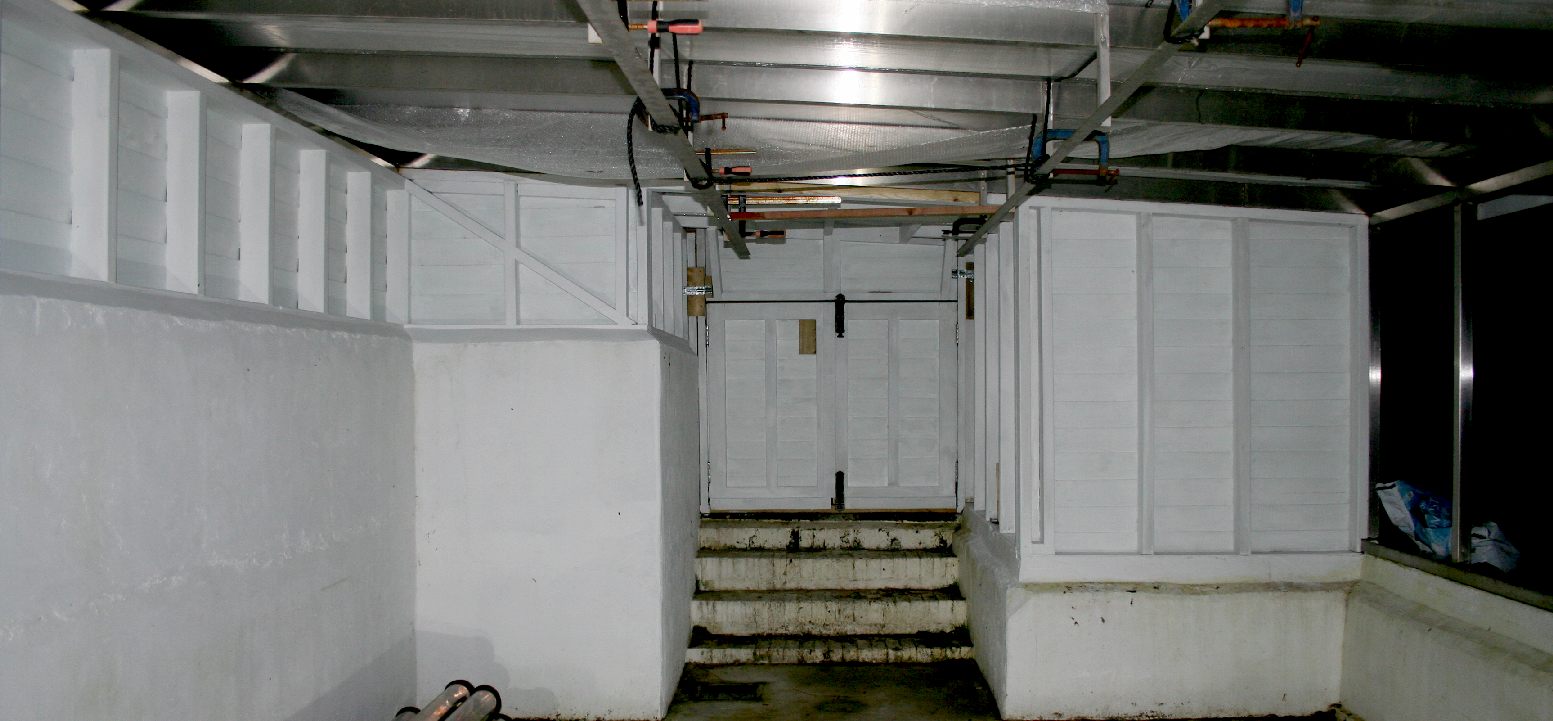 SOLAR HEATING - Wind breaks will ensure more consistent data from model boat tank tests and keep cameramen and crew comfortable. In addition, there will be no light pollution for adjacent property owners and walkers in the fields to the north.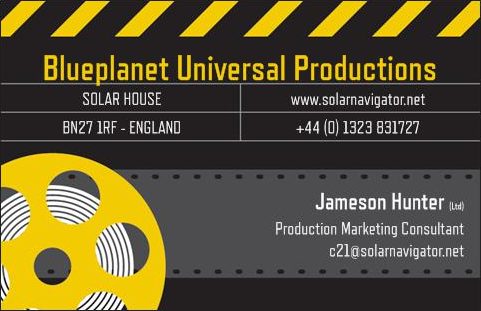 LINKS & REFERENCE
http://www.legislation.gov.uk/uksi/2015/596/contents/made
http://www.solarnavigator.net/films_movies_actors/producers/Jameson_Hunter_Limited_9318600_Company_Film_Scripts_Production.htm
http://www.cherrymortgages.com/historic_britain/Films_Production_Sets_Filming_Documentary_Studios.htm
BRICKS & MORTAR - DRAINAGE - FILTRATION - GLASS & PAINT - GANTRY - HATCHES - HYDRODYNAMICS HISTORY - INSTRUMENTS - LABORATORY - LOGISTICS - OUR TEST TANK - PROOFING - REVIEWS - SEAVAX TEST VIDEOS - SLUICE GATE - WAVE MAKING - WIND MACHINE
This website is copyright © Cleaner Oceans Club Ltd (COCL) (Company No: 4674774) 2017
Solar Studios, BN271RF, United Kingdom. COCL is a charity without share capital. The name Miss Ocean™ is a trade mark of the Cleaner Oceans Foundation™. The names AmphiMax™, RiverVax™ and SeaVax™, are a trade marks used under license. Site Navigator