OCEAN SYMPOSIUM SEPT 2018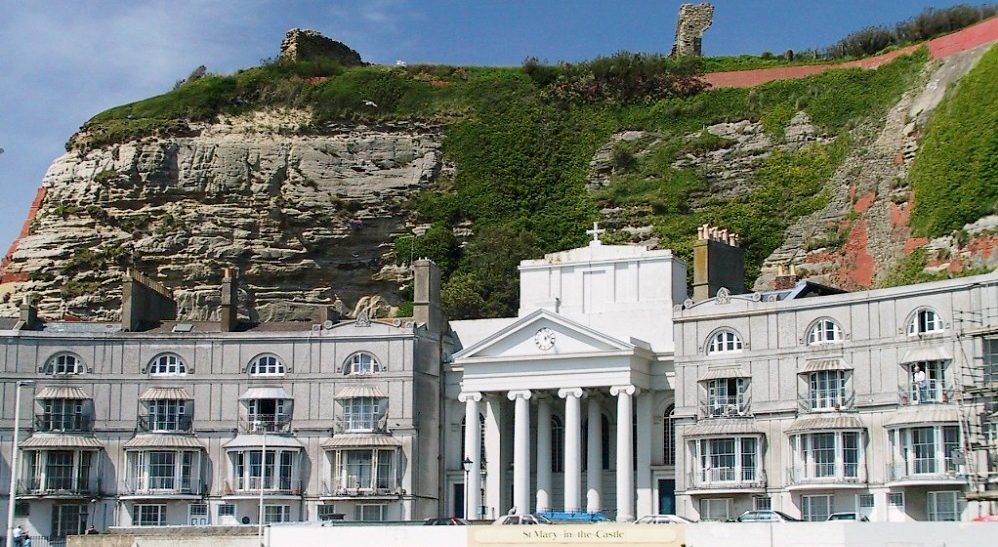 HISTORY - In 1824 the Earl of Chichester, Thomas Pelham saw an opportunity for development of his land at the bottom of the West Hill to house the 'discriminating population' of Hastings. He engaged Joseph Kay as architect and work began, including the excavation of a large section of the cliff face. The development would include a crescent with grand town houses overlooking the seafront, and a neoclassical fronted church as its centrepiece; beneath the crescent a shopping arcade would complete the grand design. The arcade was opened in the same year with the church being completed four years later in 1828.

In 1951 St Mary in the Castle was made a grade II* listed building and was followed by a period of decline. St Mary in the Castle was deemed surplus to requirements as a Church of England place of worship in 1970 and by 1986 was close to being put on the dangerous buildings register. After a campaign by a group of locals to save the building, Hastings Borough Council acquired the freehold to St Mary in the Castle and number 7 Pelham Crescent.

In 1988 the Pelham Arcade was recognised as a grade II listed building and English Heritage, with the support of the Queen Mother, embarked on plans to restore St Mary in the Castle. After extensive restoration works the building reopened as an arts centre in 1998.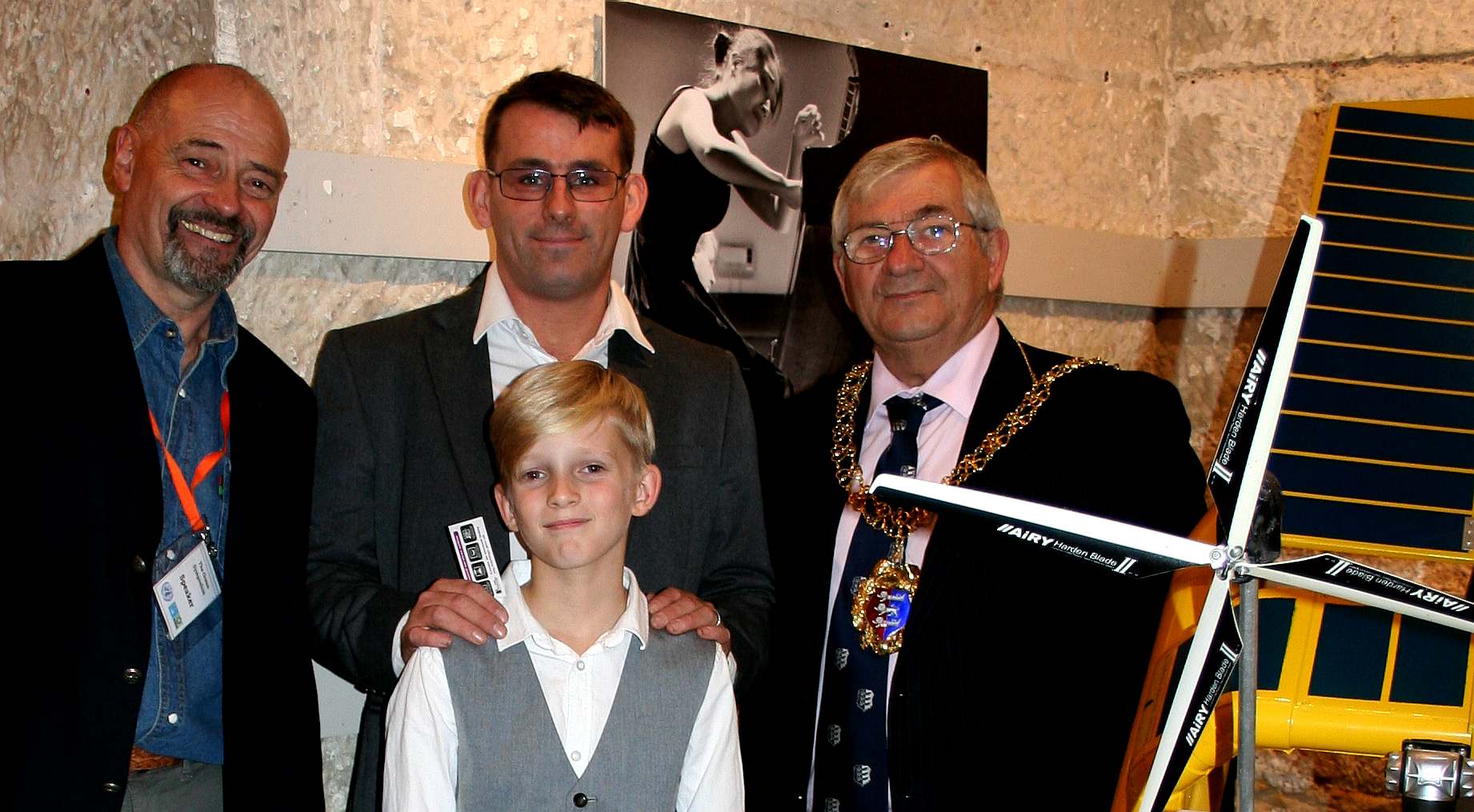 SYMPOSIUM HASTINGS - Three of our volunteer crew were at this event in Hastings thanks to the sterling efforts of Gonzalo Alvarez, Sarah Ward and other members of the Bexhill branch of the UK United Nations Association. The youngest team member was Ryan Dusart, 10, who helped to man the stand in the Crypt, and explain how SeaVax works to visitors. The Mayor of Hastings, Councillor Nigel Sinden, is seen here before he welcomed delegates and declared the event open. Copyright © photograph September 22 2018. All rights reserved. You will need the permission of the Cleaner Ocean Foundation to reproduce this picture except for educational use in school and colleges or for private research.
A visit to Hastings is always a pleasant seaside experience for our team. This is the plaice to enjoy fish and chips and wonder among the historic net sheds and the largest beach launched fishing fleet in the world. St. Mary in the Castle is a superb venue for this local United Nations Association event.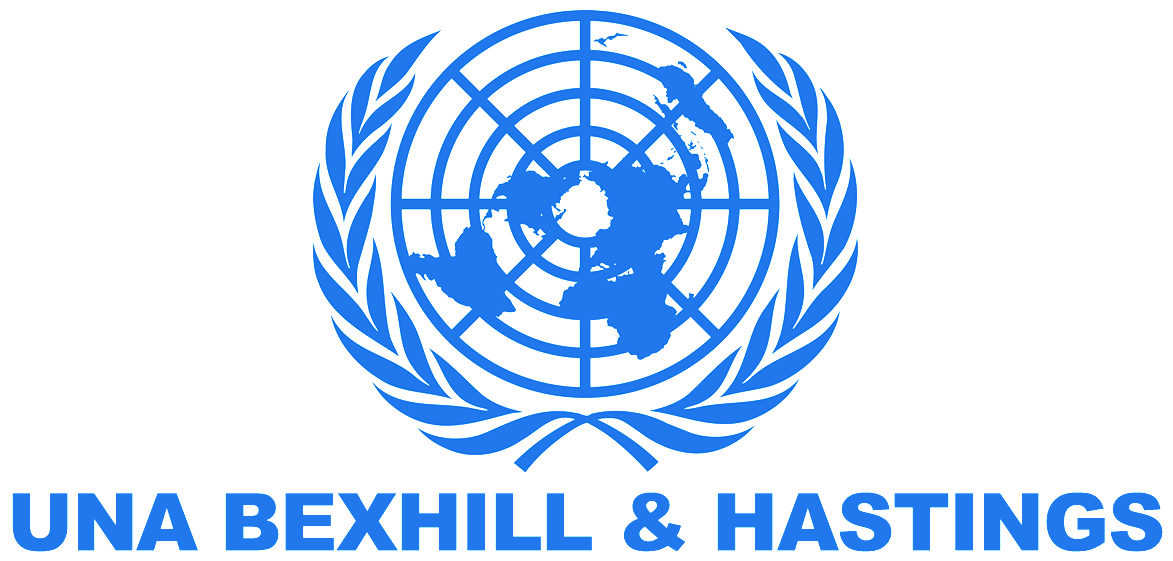 INTERESTED IN ATTENDING ?
Please contact: Mrs Maria Crees - maria.crees@sky.com
OCEAN SYMPOSIUM PROGRAMME

9 : 15 Doors open. Registration.

10 : 00 Welcome by Co-Chairs of Symposium.

Health and Safety announcements.

10 : 05 Official Opening Rt Hon Amber Rudd MP

10 : 15 Welcome of Delegates by The Mayor of Hastings

10 : 20 UN Ocean Conference Video
OCEANS AND GLOBAL ISSUES

10 : 25 "UN Global Sustainable Goals; implications for our communities" by Natalie Samarasinghe, Executive Director, United Nations Association, UK.

10 : 45 "Oceans, Marine Resources and Commonwealth Nations" by Dr Nicholas Watts, Institute of Commonwealth Studies, University of London.

11 : 05 Discussion (Chair: John Fowler, Chairman of the United Nations Association, Bexhill and Hastings). Panelists: Natalie Samarasinghe, Dr Nicholas Watts.

11 : 35 Coffee break
MARINE CONSERVATION

12 : 05 Wildlife Trust Video 2

12 : 10 "Ocean pollution, microplastics and effects of Climate change" Dr Tim Ferrero, Senior Specialist for Marine Advocacy, Hampshire and Isle of Wight Wildlife Trust.

12 : 20 "Marine Conservation Zones" Dr Sean Ashworth, Deputy Chief Fisheries and Conservation Officer, Sussex Inshore Fisheries and Conservation Authority.

12 : 30 Discussion (Chair: to be confirmed)

Panelists: Dr Tim Ferrero, Dr Sean Ashworth, Dr Corina Ciocan, Lecturer in Environmental Sciences and Marine Biology, University of Brighton, and Paul Linwood (Chairman of the Sussex Marine and Coastal Forum and Sewage Policy Manager, Southern Water)

13 : 00 Lunch break

14 : 00 Wildlife Trust Video 3
FISHERIES AND REGIONAL MARINE PROJECTS

14 : 05 "Blue Economy and fisheries" Dr Adriana Ford, Coordinator of the Greenwich Maritime Centre, University of Greenwich.

14: 25 Blue Marine Foundation – Morven Robertson – UK Project Manager

Hastings Fisheries Local Action Group (FLAG) and LIFE - Jeremy Percy – Executive Director, Low Impact Fishers of Europe (LIFE)

Announcements (new projects, partnerships, policies and initiatives)

Cleaner Ocean Foundation (Blue Growth) – SeaVax innovation Project – Nelson Kay – Workshop Project Manager

15 : 20 Final Round Table (Chair: Dr Sean Ashworth)
Panelists: Dr Adriana Ford, Dr Nicholas Watts, Natalie Samarasinghe, Dr Tim Ferrero, Dr Corina Ciocan and Jeremy Percy.

The Ocean Charter, Symposium Declaration, UN SDG Targets, and Future Strategy.

16 : 10 Closing Words, John Fowler, Chairman of the United Nations Association, Bexhill and Hastings

16 : 15 Symposium Closes
"Communities of Ocean Action and Living Seas"

St Mary in the Castle, Hastings

Saturday 22nd September 2018
THE OCEAN SYMPOSIUM STEERING GROUP

- Gonzalo J. Alvarez – Marine Biologist - United Nations Association (Co-Chair of the Ocean Symposium)

- Sarah Ward – Marine Biologist - Living Seas Officer, Sussex Wildlife Trust (Co-Chair of the Ocean Symposium)

- Martin Fisher – CEO Rother Voluntary Action

- Dr Tim Ferrero – Senior Specialist for Marine Advocacy, Hampshire and Isle of Wight Wildlife Trust.

- Jan Cutting – Active Communities Lead, Rother Voluntary Action
PARTNERS

United Nations Association Bexhill and Hastings
Sussex Wildlife Trust
Hampshire and Isle of Wight Wildlife Trust
Rother Voluntary Action
Hastings Voluntary Action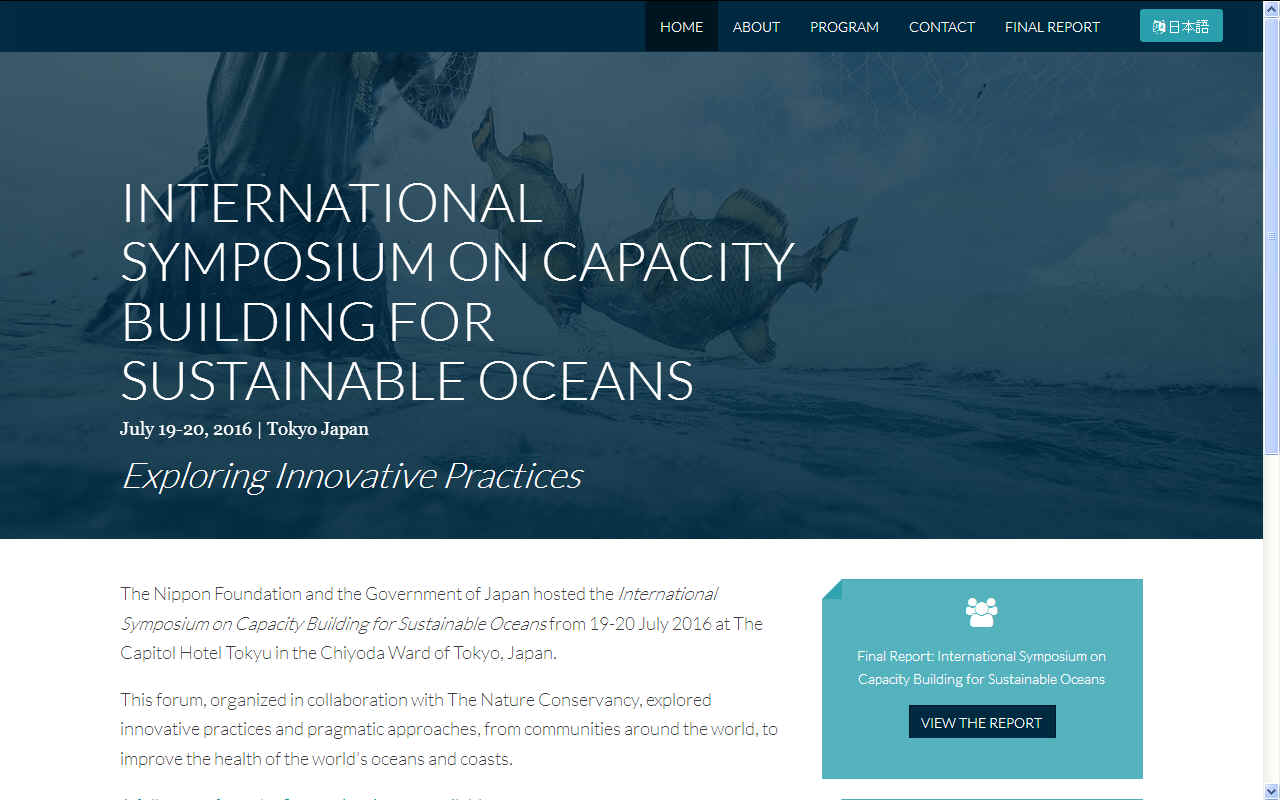 TOKYO - During the two days of the International Symposium on Capacity Building for Sustainable Oceans, community leaders and representatives from international organizations, UN agencies, academic institutions and governments gathered to discuss how building and maintaining capacity throughout local communities is integral in achieving ocean health. The final report includes the main findings from the Symposium as well as detailed information from each session. These findings will serve as a starting point for the Nippon Foundation to consider developing a new program to support capacity building for achieving ocean health.


The Nippon Foundation and the Government of Japan hosted the International Symposium on Capacity Building for Sustainable Oceans from 19-20 July 2016 at The Capitol Hotel Tokyu in the Chiyoda Ward of Tokyo, Japan.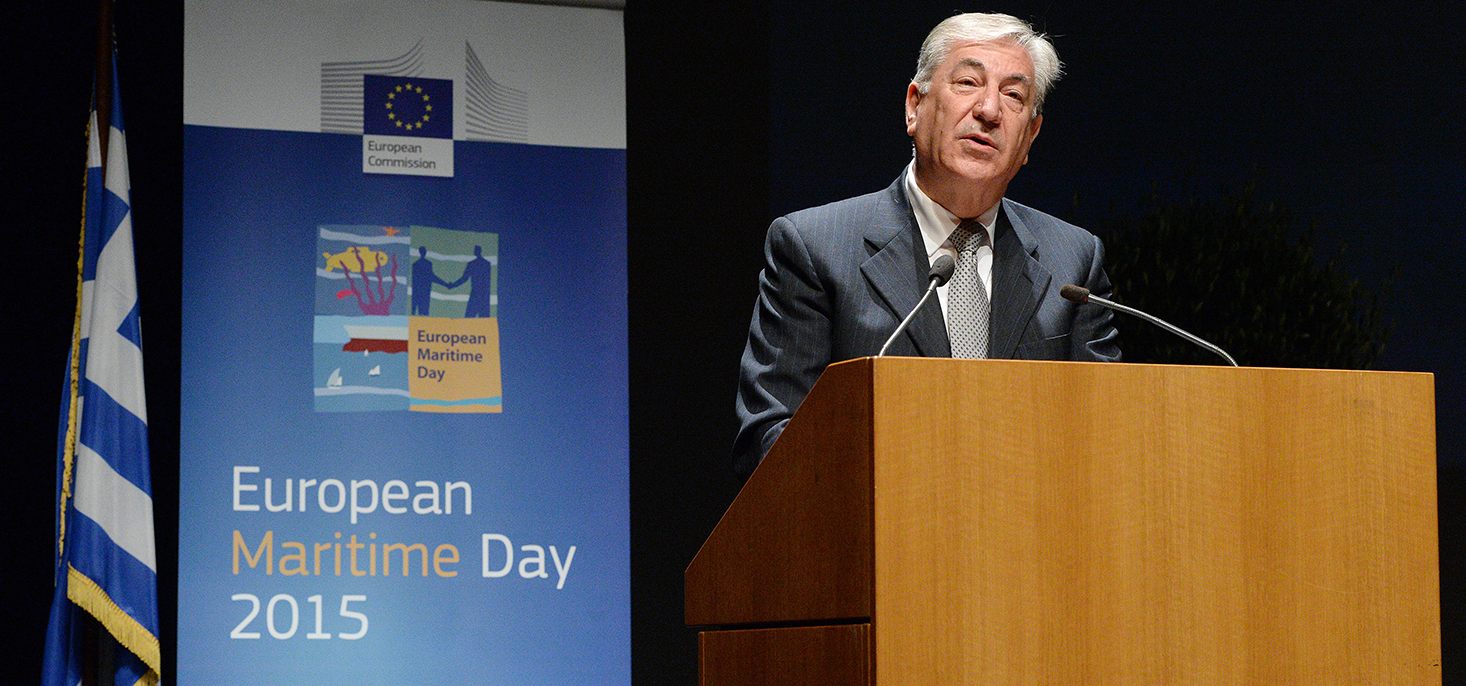 ATHENS JUNE 2015 - "We share a conviction that our seas and coasts hold the key to our future and we are here to discuss what that future should be," Karmenu Vella, EU Commissioner for Environment, Maritime Affairs and Fisheries told the 8th European Maritime Day (EMD) in Athens on 28 May. Burgas in Bulgaria is the venue for the EMD in May 2018
CLEANER OCEANS FOUNDATION
A volunteer advocate (also a consultant marine engineer) will be attending this event on our behalf, should anyone be interested in discussing the potential for collaboration on the SeaVax™ autonomous ocean workhorse (feed the world project) or the AmphiMax™ (virtual boatyard project). We are looking for corporate sponsorship by way of risk-share on the AmphiMax, the build of which has commenced with the purchase of a suitable diesel engine and detailed design of the cab hydraulic controls and frame.
If for any reason you are unable to speak with our delegate at this event, please contact us using either of these mediums:
SeaVax Project
Solar Studios
BN271RF
United Kingdom
Email: growth @ blue-growth . org
Phone: +44 (0) 1323 831727
LINKS & REFERENCE
http://oceansymposium.com/
http://www.blue-growth.org/Events_Blue_Growth/Symposium_Ocean_Seas_Hastings_September_United_Nations_Association_St_Marys_Castle_2018.htm
This website is copyright © Cleaner Oceans Club Ltd (COCL) (Company No: 4674774) 2018
Solar Studios, BN271RF, United Kingdom. COCL is a charity without share capital. The name Miss Ocean™ is a trade mark of the Cleaner Oceans Foundation™. The name SeaVax™, is a trade mark used under license. Site Navigator
ACIDIFICATION - ADRIATIC - ARCTIC - ATLANTIC - BALTIC - BAY BENGAL - BERING - CARIBBEAN - CORAL - EAST CHINA SEA
ENGLISH CH - GOC - GULF GUINEA - GULF MEXICO - INDIAN - IOC - IRC - MEDITERRANEAN - NORTH SEA - PACIFIC - PERSIAN GULF - SEA JAPAN - STH CHINA - SOUTHERN - PLASTIC - PLANKTON - PLASTIC OCEANS - SEA LEVEL RISE - UNCLOS - UNEP WOC - WWF