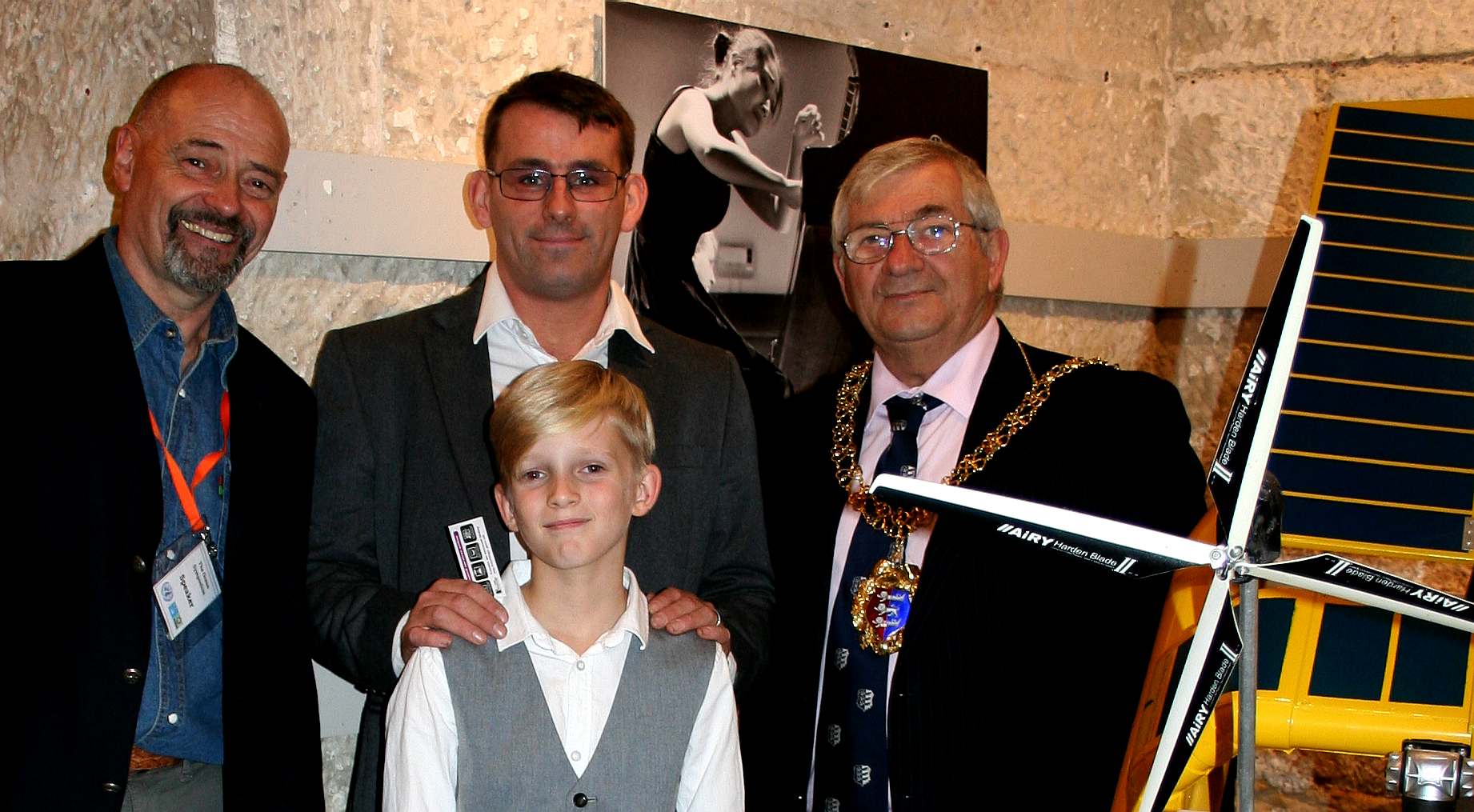 SPEAKER - Nelson attended the Ocean Symposium in Hasting, giving a presentation of the concept and where it should lead if funding can be achieved for the proposed 12 month stages of a 10 Year Plan. The Mayor of Hastings, Councillor Nigel Sinden, visited the SeaVax stand in the crypt below the hall, pictured here with SeaVax project director Chris Close and cleaner ocean student, Ryan Dusart, who at the age of 10 helped man the display for much of the day speaking about the project with dozens of the visiting public to the event. The Mayor opened the event by welcoming the delegates to Hastings. Councillor Sinden is a solar advocate in his capacity as a leading Councillor for Hastings and Rye, taking quite a shine to the SeaVax solar array. Copyright Photograph © Cleaner Ocean Foundation 22 September 2018.
ABOUT
Nelson Kay was one of the key conceptual designers of the SeaVax and AmphiMax development vehicles and a project driver. His services in relation to conservation issues are provided to not-for-profit organizations on a free basis. This includes conception and development of strategies for the sustainable use of planet earth, aiming for a truly circular economy.
He is an advocate of electric vehicles, where they hold the potential to provide zero carbon transport in the fight to halt global warming.
As a volunteer to such projects, Nelson is a gifted metal fabricator and woodworker, skills that allow him to take ideas from his drawing board and bring them to life as fully working prototypes: vehicles or machinery. He enjoys sharing these skills with other volunteers, showing mature students the practical side of theoretical design.
Nelson has lived in and around the East Sussex area for most of his life and loves the Sussex coast and countryside. He attended Eastbourne College of Further Education, Sussex Downs Lewes College and Brighton College, studying engineering, welding and computer aided design. He is mostly self-taught, where in his day there were no courses in fabricating or conceptual design. There are today, but you cannot teach creativity or vision, you can only encourage people to use their imagination to ignite that spark in all of us, to become imagineers.
Nelson trained as a BSAC scuba diver at Fort Bovisand near Plymouth, Devon and with the Newhaven & Seaford branch of the British Sub Aqua Club. He is a multi-talented all rounder in a world where versatility counts.
His heroes are John Harrison (inventor of the marine chronometer) Barnes Wallace (WWII designer of the bouncing bomb) and lately, Greta Thunberg.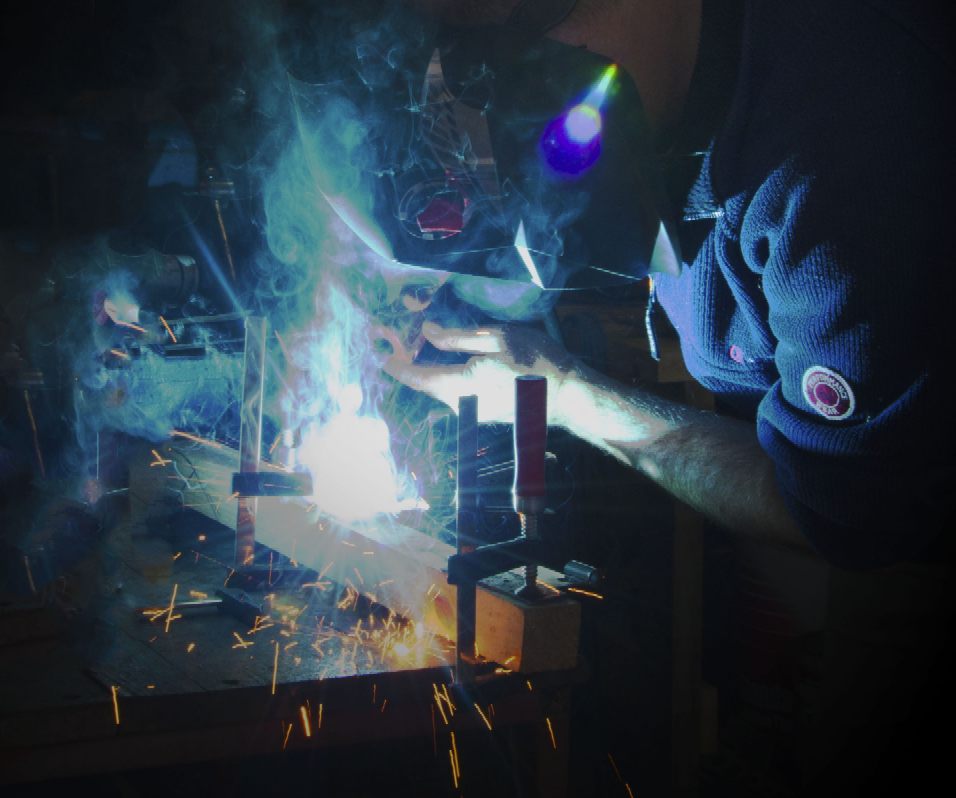 MASTER FABRICATOR - Nelson is seen here making a part in steel. This photograph by Karl in 2014 really captures the energy release that accompanies every joining using electric MIG, power wire fed welding equipment. Welding by electricity can be TIG (Tungsten Inert Gas) or Arc using flux coated sticks. The TIG method is similar to gas welding using oxygen and acetylene to produce a very hot flame. In the TIG method, the oxygen and acetylene is replaced by argon gas, with electricity supplying the heat as an arc of electrons flowing from the tungsten torch tip to the work piece. If you cannot weld, you may as well give up if you want a career in practical prototyping. So knuckle down and practice.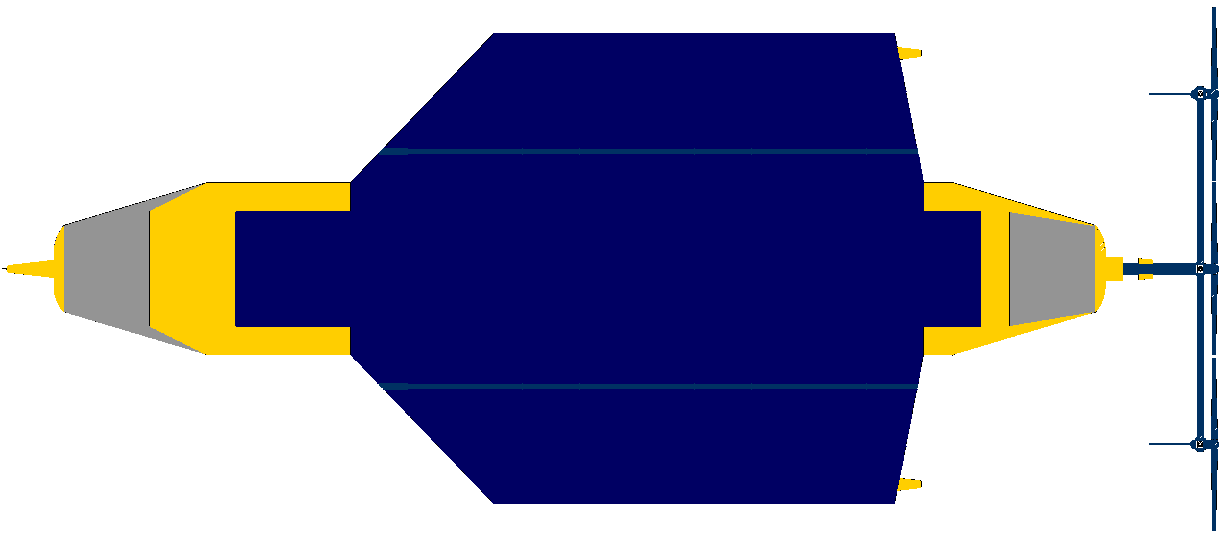 ZERO CARBON CHALLENGERS
Looking forward to 2020-24, Nelson is helping to put a team together for potential funding bids that could see a solar and wind powered ferry or even a longer range cruiser hit the water in 2022 and 2023 respectively. These vessels are based on a solar and wind energy harvesting system that was constructed in 1/4 scale on a Ford Transit in 2019 and should be completed late in 2020 or early 2021.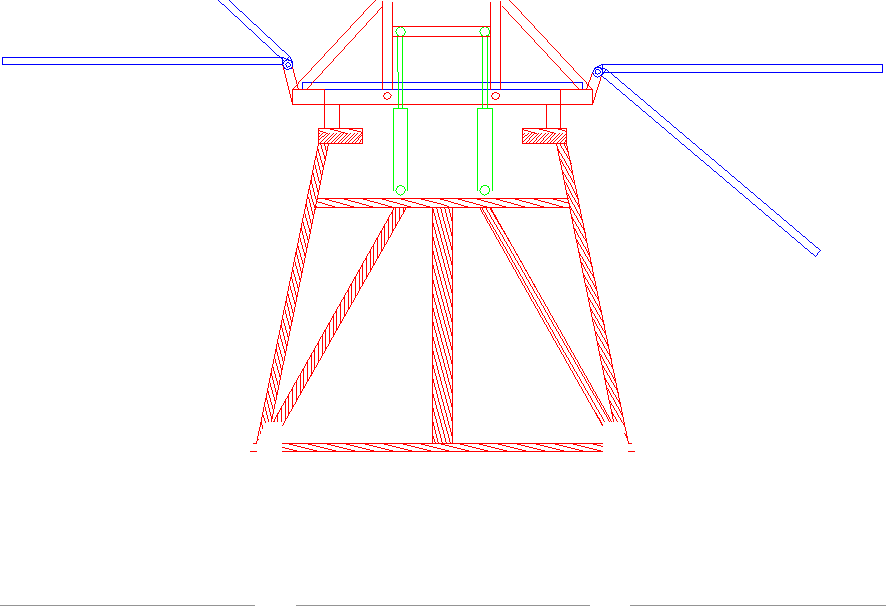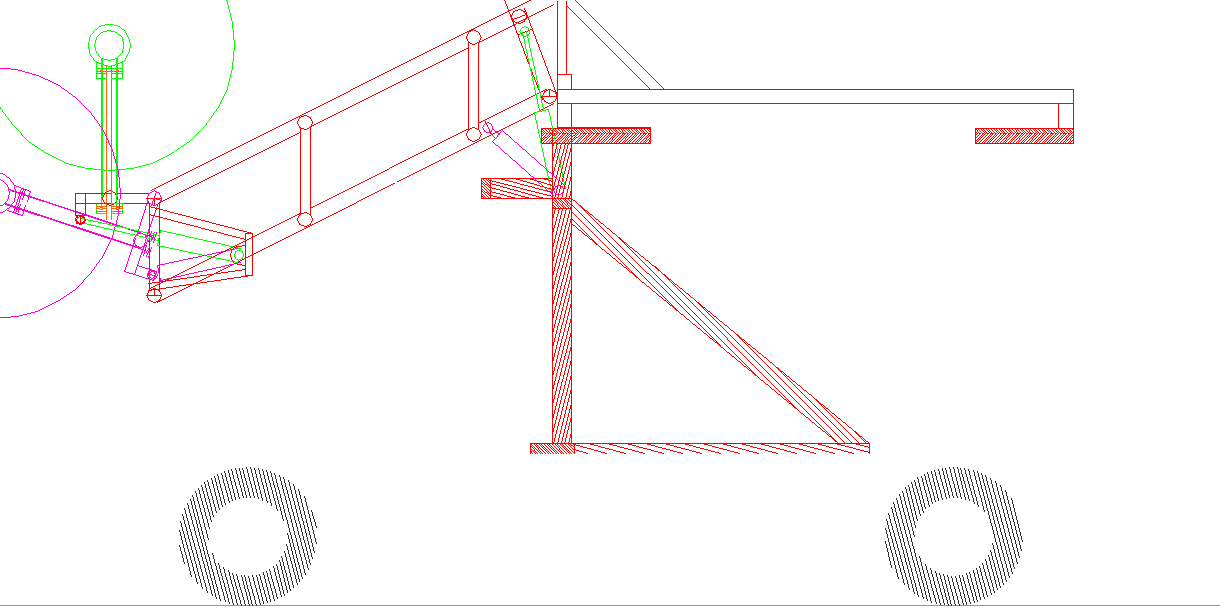 ADAPTATION - Nelson modified a Ford Transit van to accept a heavy duty roof mounted frame, with internal structural modifications to allow hydraulic actuators to lift and lower a wind turbine and open and close a solar panel array to track the sun. This is exactly the same system (only larger) that will be fitted to ocean transports, only scaled up by an appropriate factor. Copyright © diagrams March 12 2019. All rights reserved, Cleaner Ocean Foundation Ltd.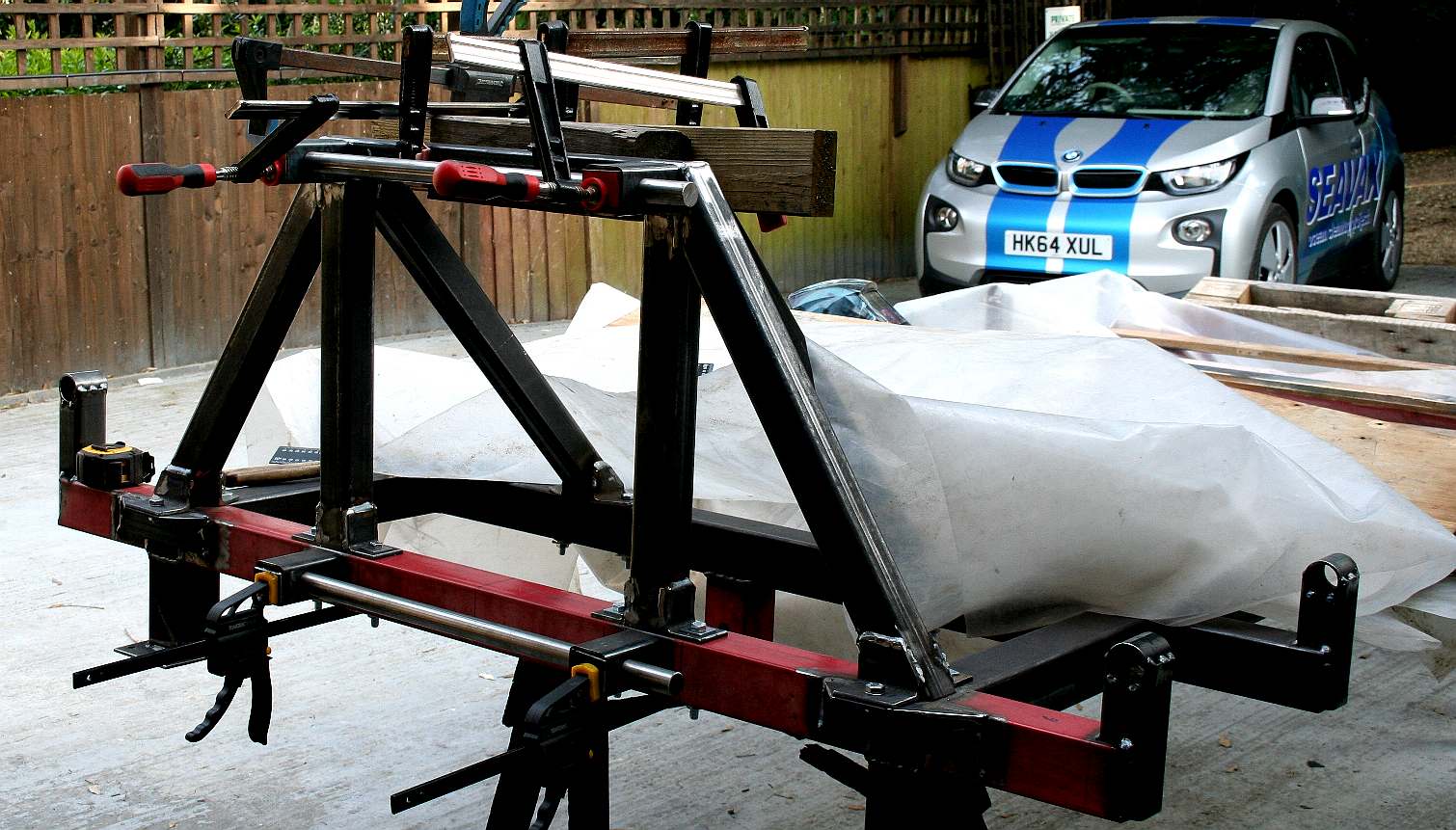 ROOF MOUNTED FRAME - This is the steel frame being constructed in May of 2019, before fitting to the Ford Transit donor vehicle. Copyright photograph © 7-05-19 Cleaner Ocean Foundation Ltd, all rights reserved.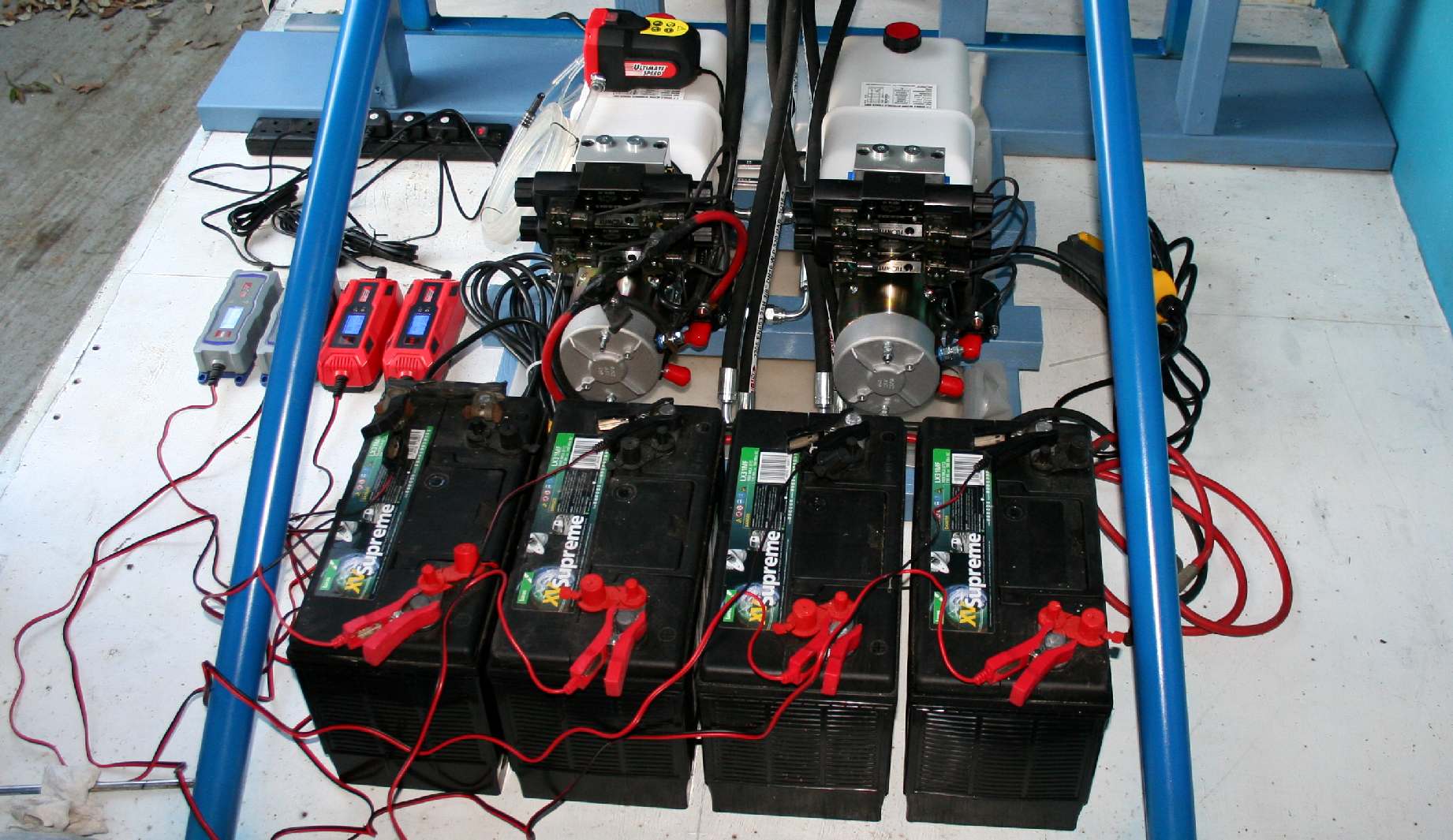 POWERING UP - Inside the Ford Transit we see two hydraulic pumps mater to 24 volt motors that are powered by four heavy duty marine leisure batteries. The batteries are to be charged by the solar panels and wind turbines, with mains monitoring between operations. Copyright © photograph 21 June 2019 Cleaner Ocean Foundation Ltd. All rights reserved, save for educational and research purposes.
PROJECT SEAVAX - TEAM to 2019
This project began in 2015 when a fellow solar designer from Australia suggested that Nelson's earlier work on solar powered vessels and high efficiency hulls might be adapted to cleaning ocean waste. Reports from the UN highlighted the problem that eluded a solution - and that triggered design brainstorming at Bluebird Marine Systems Ltd, a company that worked on this project on a not for profit basis until 2017. Nelson is a consultant to the SeaVax project, coming up with a workable concept, to include a large beach launching and recovery vehicle named AmphiMax as a contingency plan against high boat yard costs.
Chris Close became involved at a very early stage and became the project director, freeing up time for the concept to mature and not shy in rolling up his sleeves in his spare time. Eventually, a launch and recovery system was developed from trailer, to a powered trailer, and thence to a full amphibious portable dock, or virtual shipyard. This concept has taken a back seat, but remains an option.
As most entrepreneurs soon discover, the real struggle in not having the idea, it is securing funding to make it happen, after you have exhausted your own piggy bank. Crowd funding is brilliant to push development, but for a project this size, there needs to be the political will. At present the G20, UN and EU are not interested in cleaning the oceans directly, all confirmed in writing by these organizations. There is though signs of hope as research grants are coming online that may provide some impetus. Lobbying continues.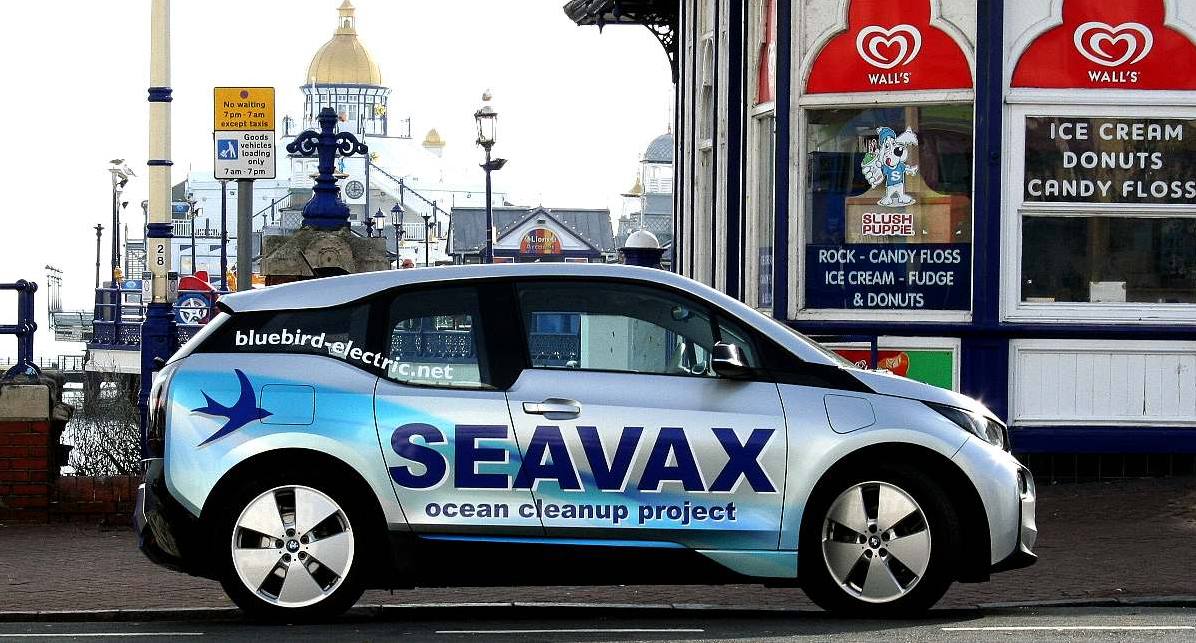 i3 - Once you have driven one of these little beauties you'll not want to get back into a petrol or diesel car. The performance is staggering for a town car, with 170 horsepower on tap. The sooner these cars are on the roads at more affordable prices the better. You soon get used to plugging in once every three or four days, and there is a generator onboard should you forget, increasing the range by another 100 miles, or until the next petrol station. We need more charging points, or battery exchange to make the transition to all electric motoring.
VERSATILE - [LEFT] Speaking at the marine exposition in Hastings in 2018 [RIGHT] Wearing his bushman hat in 2017, Nelson is seen here on a roof installing purlins, rafters and loft insulation on one of the Foundation buildings, keeping water out of the workshops and (hopefully) plastic out of the oceans. He is an obvious contender for Mister Ocean where his efforts have been continuous and ongoing.
Briggette Dusart fully endorsed time spent on the concept, when directors loans and third party contributors helped to pay to kickstart the project and produce a 1/20th scale working model to prove the concept.
In 2016 Avaaz offered to help raise funds to take the concept further and that led to a Horizon 2020 application in 2017 that only got to a reserve position - triggering more lobbying and other thoughts as to ways to raise the profile of such projects in the hope of attracting additional funds.
In 2016 the team constructed a robot lab and water test tank and built a model of the launch vehicle named AmphiMax, since it will be the world's largest amphibious vehicle when completed.
Lloyd Stebbings is a boat builder by trade, an expert in composites and restorer of historic vessels, he is keen to help with the build of any size SeaVax prototype as he enjoys eating fish, but would enjoy it more if toxin free. Lloyd will become active in the project when funding is achieved.
In 2017 Danny Goldsmith came onboard. Danny is a Naval Architect who is keen to help conserve our oceans. He will become active on the project when planning the construction stages of SeaVax.
Emily Hoad is a marine biologist and oceanographer live to the issues relating to effective filtration that is one of the key technologies to develop as part of 10 year plan, as SeaVax progresses from TRL1 to TRL 9 and beyond. Emily joined as a team member for the summer of 2018 helping Nelson to formulate a scale for marine biota that will be further developed as part of sensor calibration for the collector heads of the Pilot SeaVax.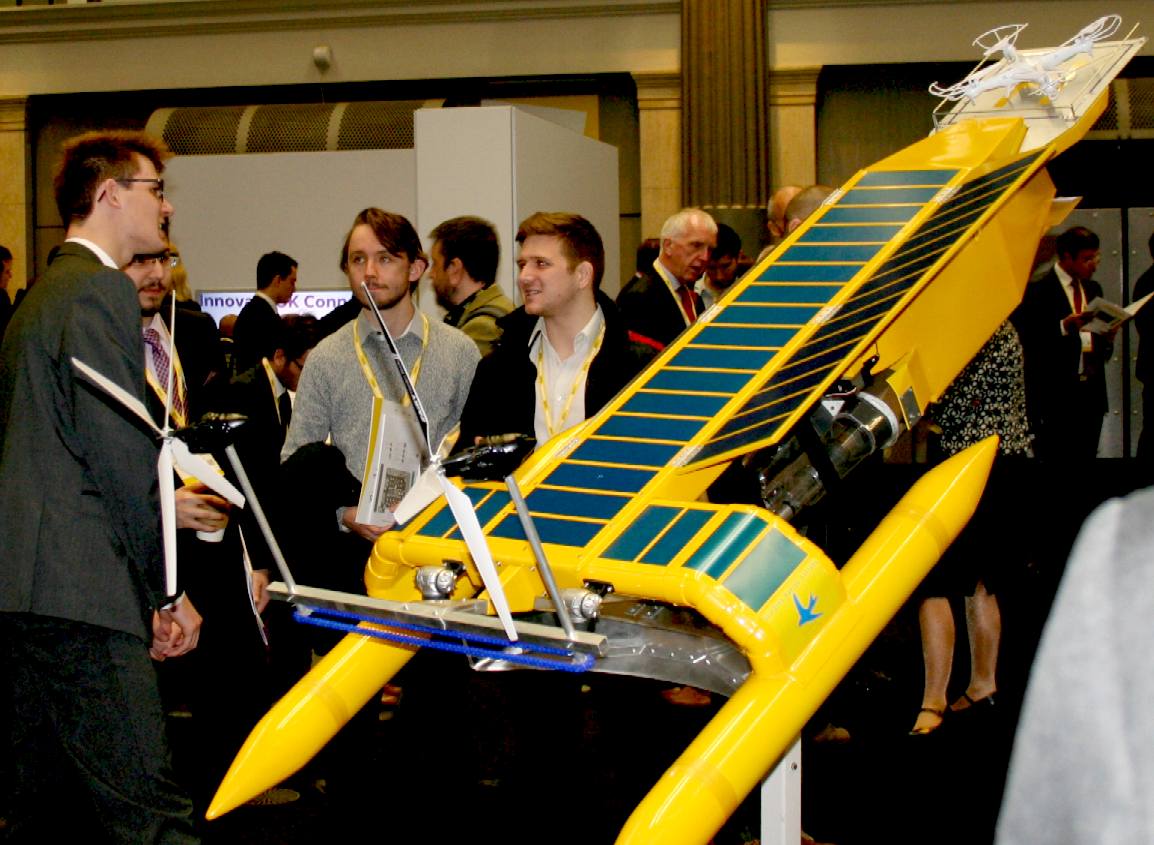 JAMIE HUGHES - Seen here on the left, the youngest member of the SeaVax team in 2015 at Innovate UK, Old Billingsgate, London. Jamie extols the virtues of this splendid proof of concept model mostly built by Nelson on a shoestring budget, explaining the features to visitors to the event. Part of Nelson's duties when in the workshop is showing students how to make things, giving them the chance to build their skill levels on a one-to-one basis. Such opportunities are limited due to the calls on his time.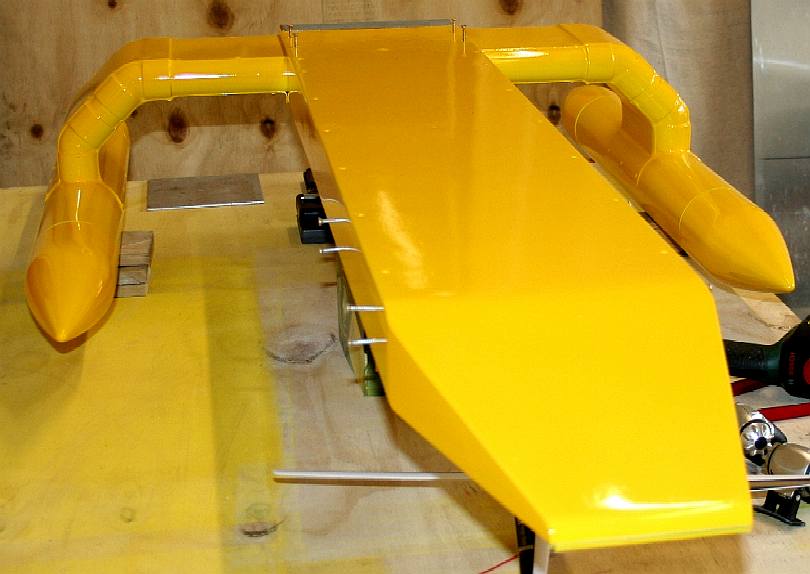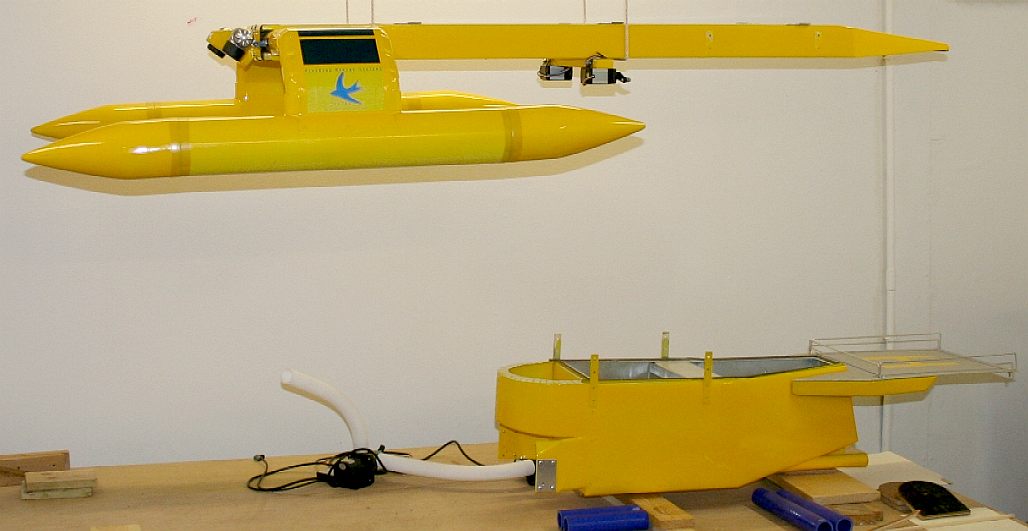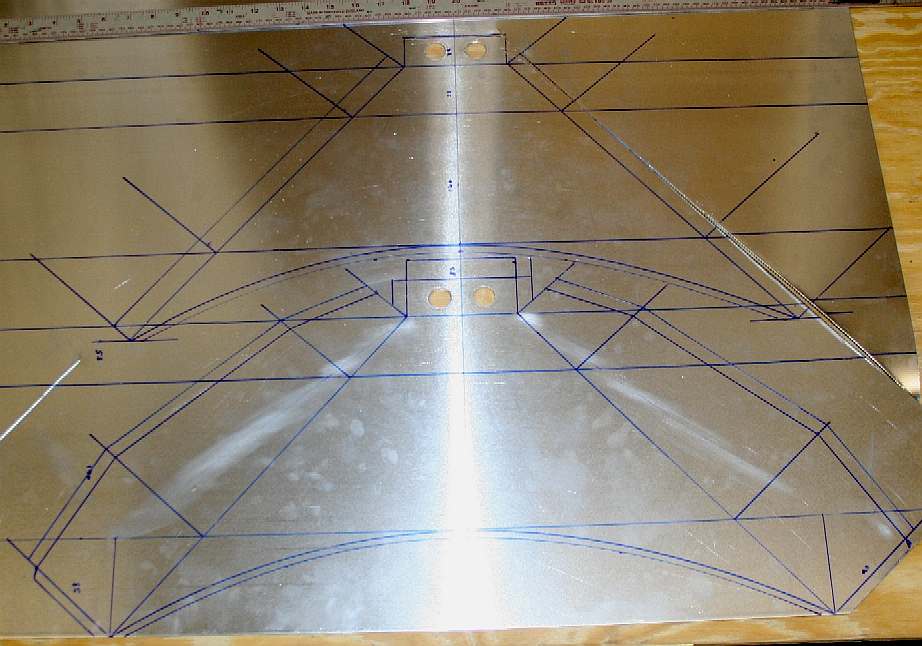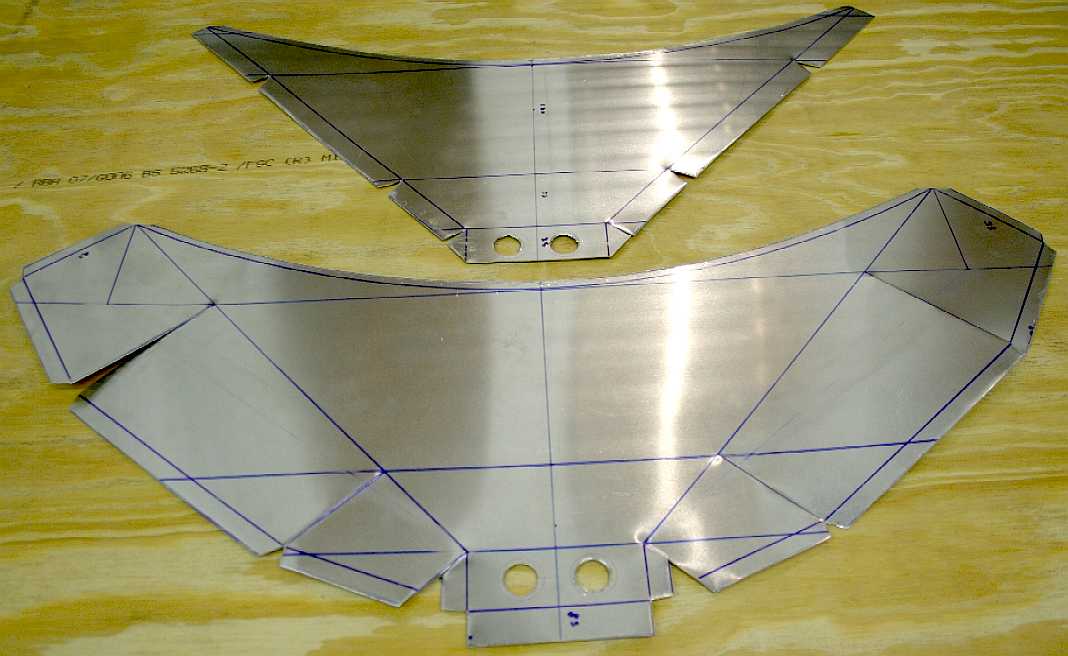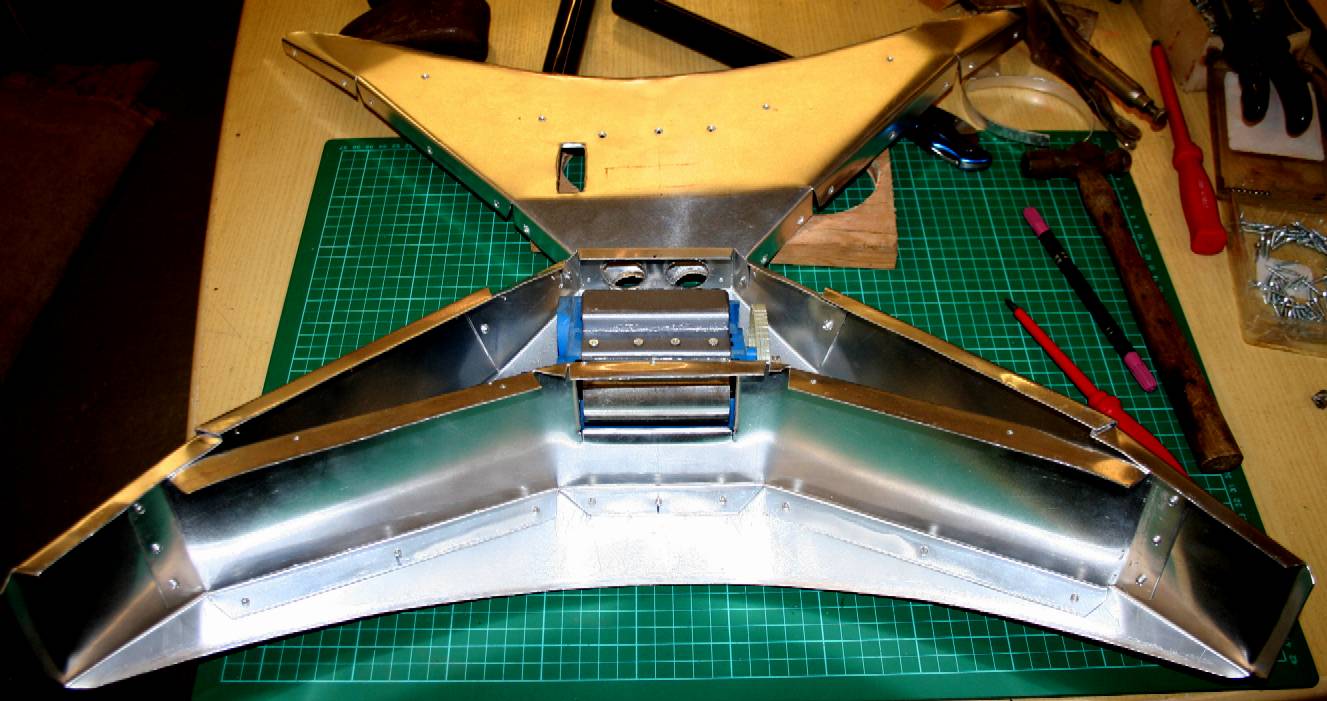 COLLECTOR HEAD - From sheet metal to a fully formed water scoop with a powered shredding machine inserted. This was how a flat piece of aluminium was turned into a working part of the test tank model. Forming and bending metal is all part of the prototyping skills that every craftsman must master. Copyright © photographs 2015 Cleaner Ocean Foundation. All rights reserved.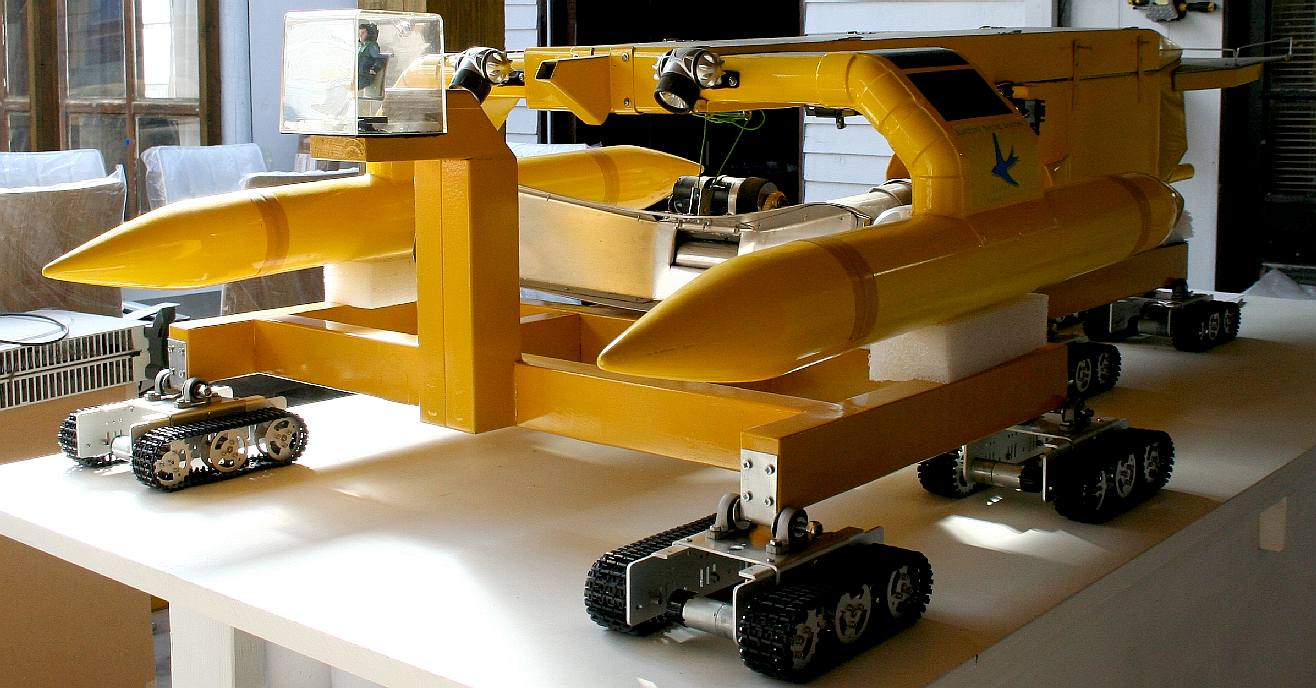 OCEAN CLEANING RIG - The SeaVax ocean plastic cleaning vessel is seen here on an AmphiMax beach launcher in 1/20th scale for testing in our water basin. The caterpillar tracked bogies and electric drives and gearboxes all had to be waterproofed for tank testing, to be able to simulate a launching in realistic conditions. This rig can launch and recover over 50kg across simulated pebbles and sand at inclinations of 30 degrees. Copyright © photograph 25 June 2018 Cleaner Ocean Foundation. All rights reserved.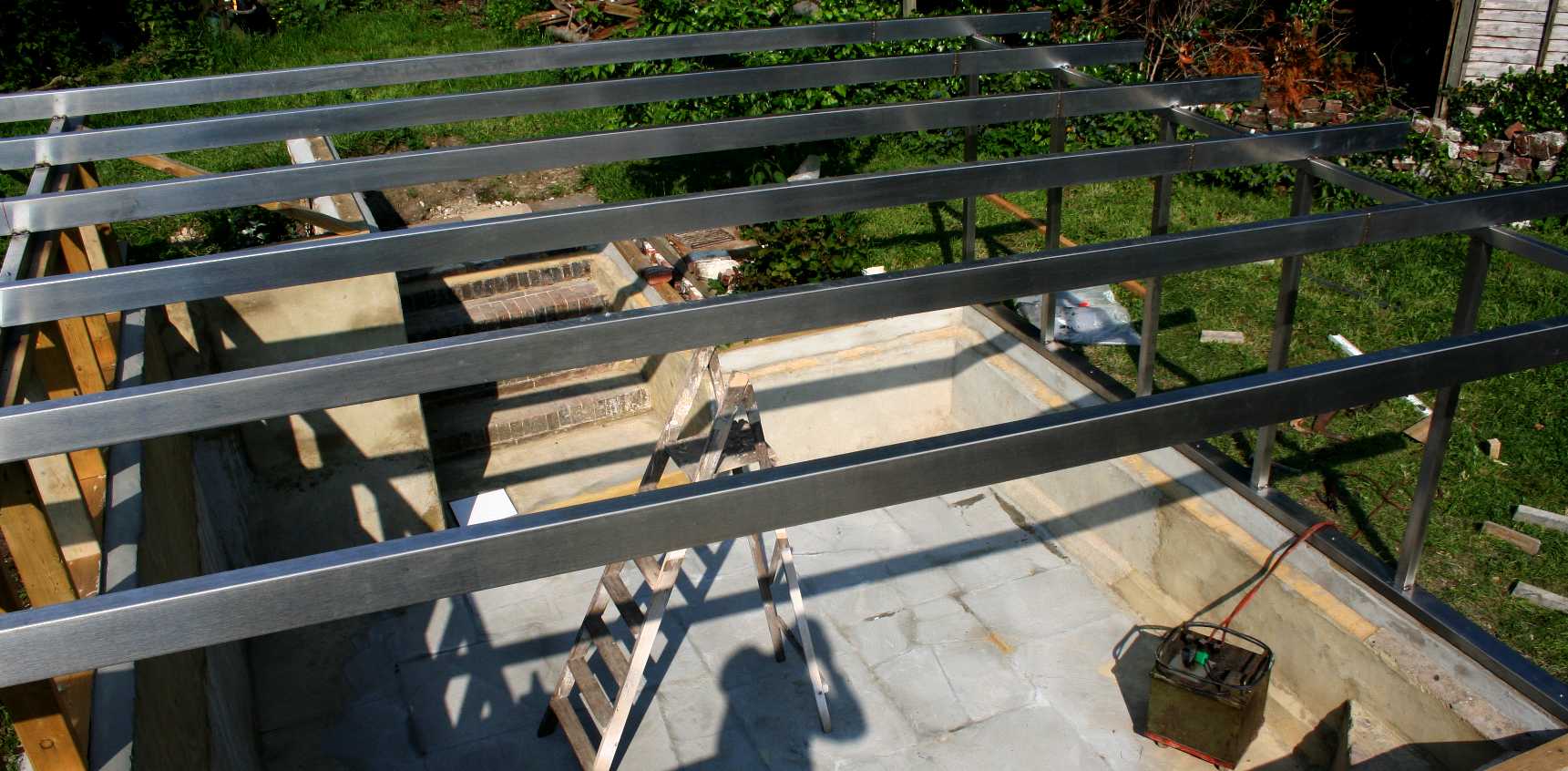 TEST TANK CONSTRUCTION - These stainless steel support beams for a water test tank were welded in position by Nelson with an old Oxford Bantam arc unit using high nickel content welding rods. He's been using this transformer since 1978 for joining outside in windy conditions where MIG welding can be temperamental if the shielding gas in blown away. Copyright © photographs Cleaner Ocean Foundation Ltd. All rights reserved.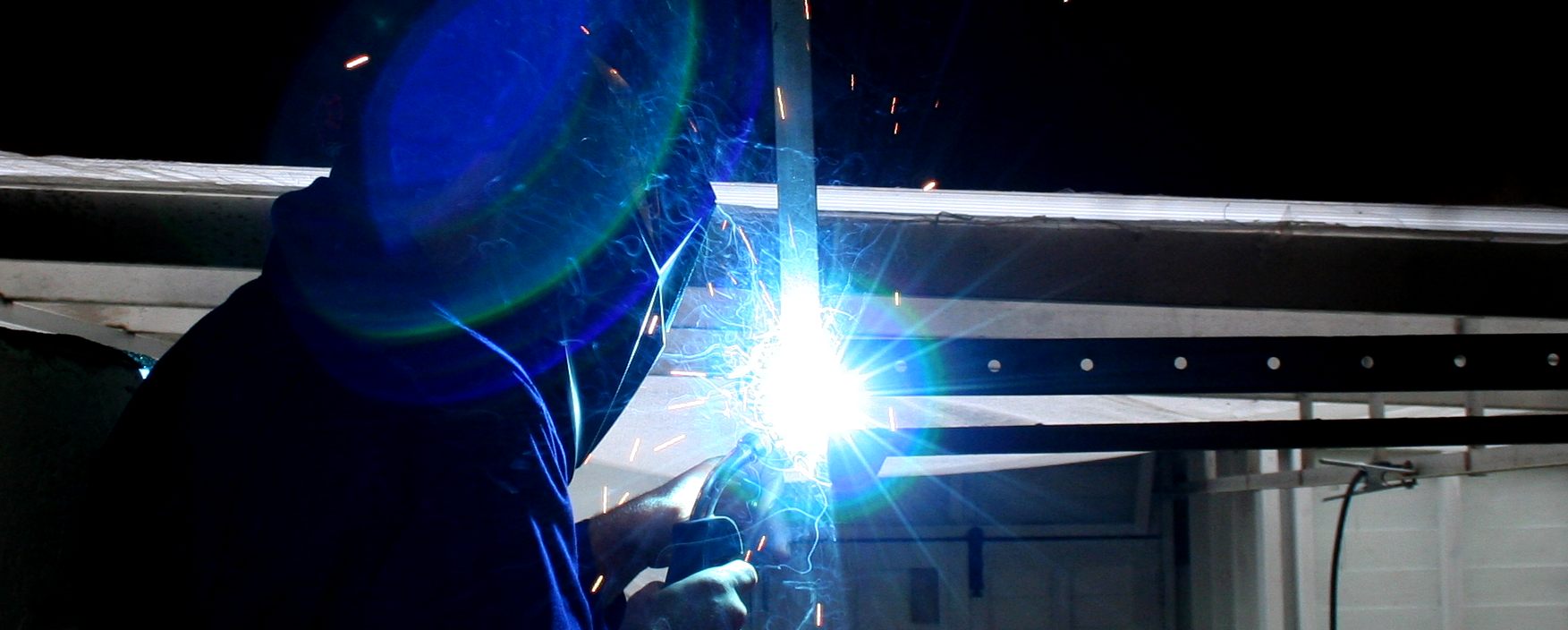 TEST TANK RUNNERS - A carriage was welded to the frames in the picture above to enable transport of the SeaVax tank test models from the control area to the water. Copyright © photographs Cleaner Ocean Foundation Ltd. All rights reserved.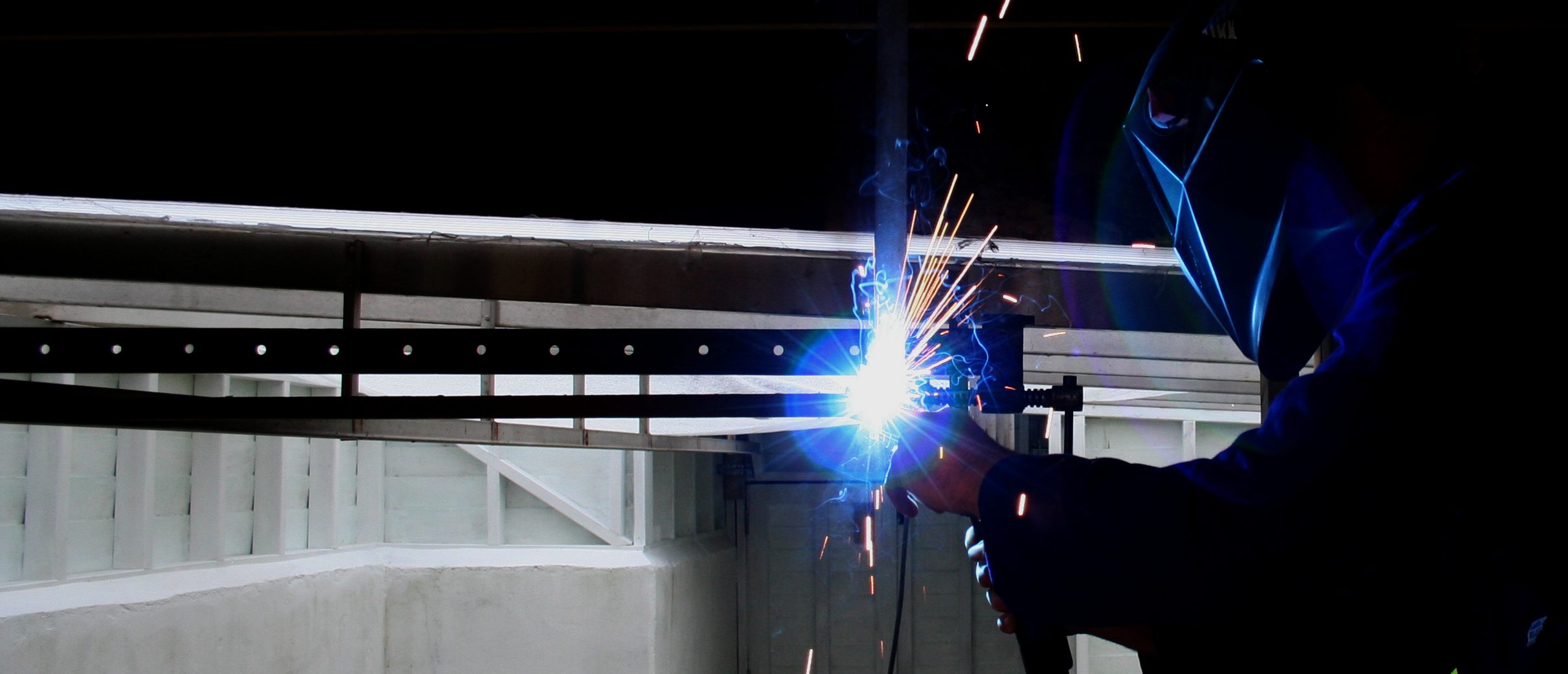 PRODUCTION - As a production welder Nelson makes short work of construction jobs like this. Welding in aluminium is another skill that is useful for boatbuilding and other prototyping. Copyright © photographs Cleaner Ocean Foundation Ltd. All rights reserved.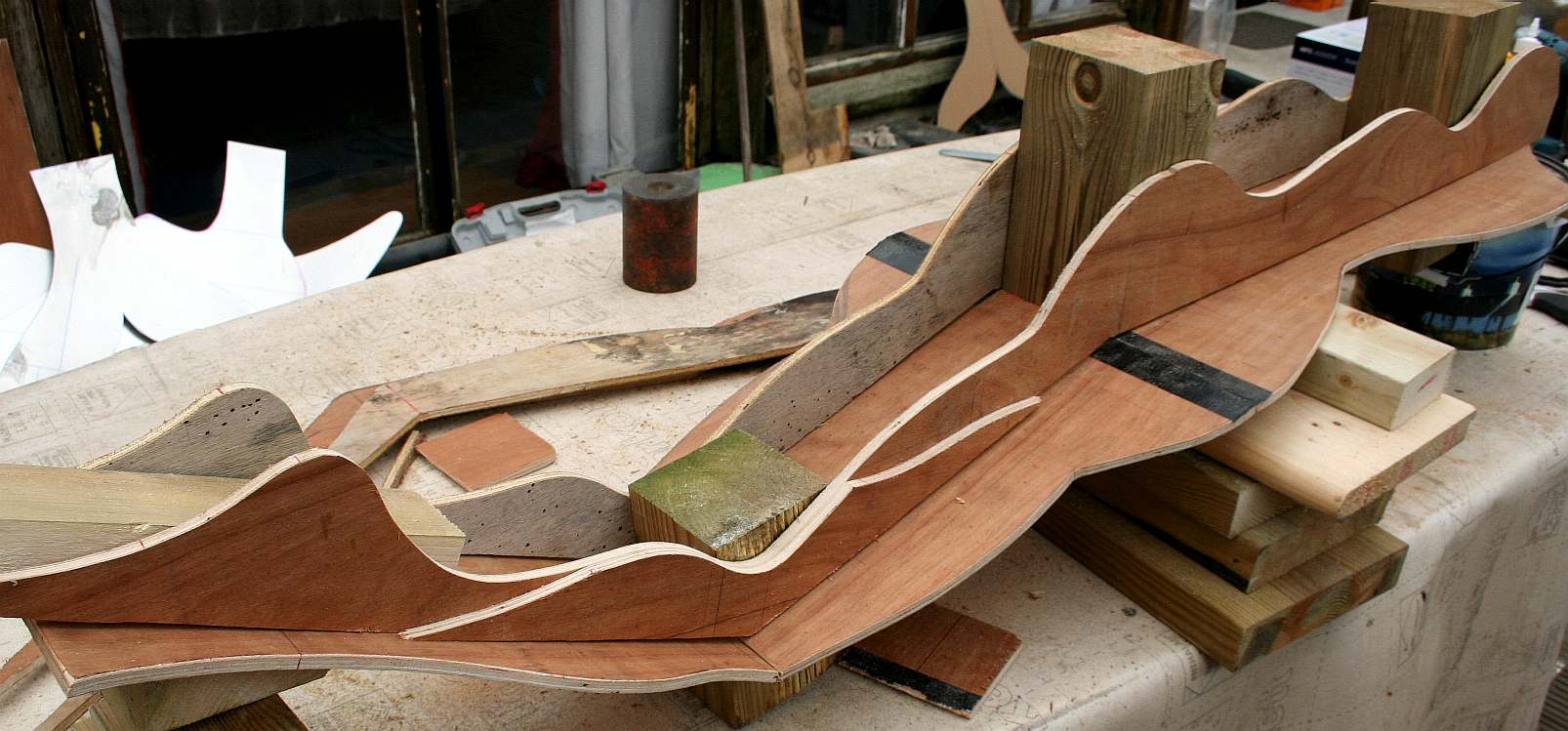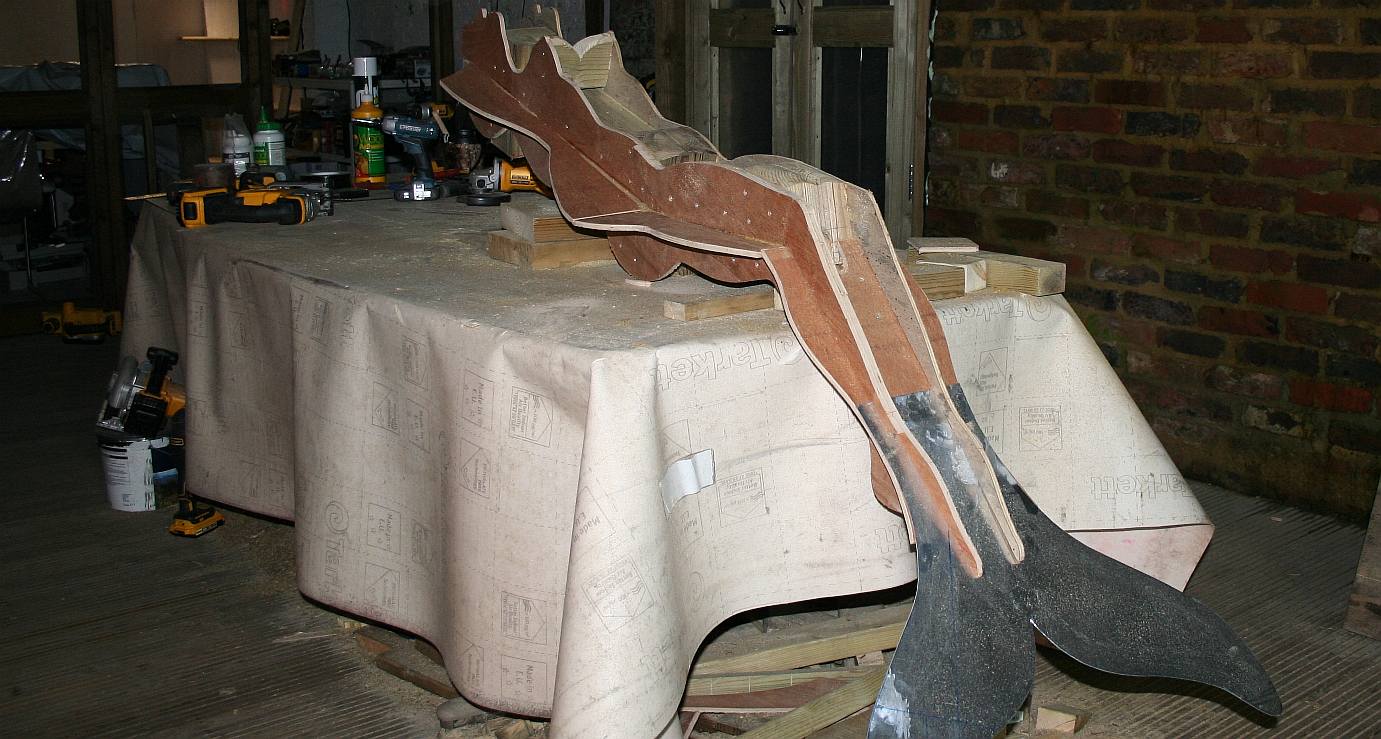 WOODWORKER 2018 - In his spare time Nelson enjoys being creative in other ways. These pictures show the making of a statue that is to double as a figurehead for the SeaVax during a launch ceremony. Starting from a wooden yoke and working up to composites and eventual gold leaf the Ocean Angel is taking shape. Copyright © photographs 17 April 2018 Cleaner Ocean Foundation Ltd. All rights reserved.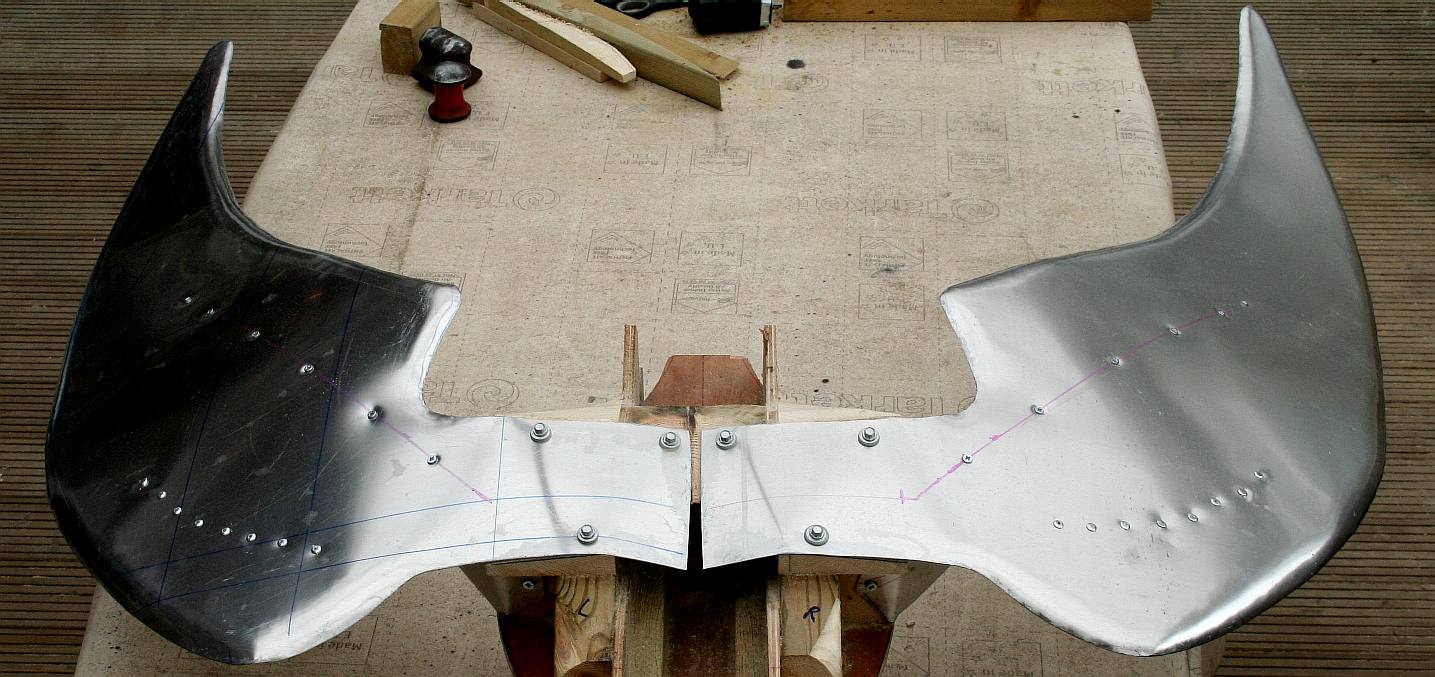 PANEL BEATING 2018 - Although to be sheathed in epoxy and woven roving, to begin with the wings and tail fins have to be formed from sheet aluminium to provide strength. In the pictures above you can see how left and right wing brackets end up virtual mirror images, meaning that the folds are reversed. It is impossible to fit a straight folded section to a curved wing, you need to fan and fold each tab to fit the curve one-by-one. The same techniques used to make the Ocean Angel statue can be applied to make giant animatronics, such as dinosaurs and sharks, except that the joints would be mobile, hence timber would be replaced with steel and adhesive replaced with welded joint articulation. Ordinary polyester resin and chopped strand matt is used to reinforce high load areas, with a dab more catalyst to speed up cure time. The statue is to be fitted permanently as a water feature in the entrance to the Cleaner Ocean facilities, once SeaVax is launched. Copyright © photographs 11 April 2018 Cleaner Ocean Foundation Ltd. All rights reserved.
The SeaVax project will be looking for a temporary launch site when it starts again.
The next stages of the SeaVax project are to complete improvements to the water test tank loading mechanism and to fit out the adjacent marine biology laboratory. These targets will likely roll over past 2024 as fund raising takes priority. Oddly enough, in a world choking from plastic, it is harder to raise funds than actually construct SeaVax.
The SeaVax project encompasses many of the Sustainable Development Goals that the UN are hoping to achieve in one. To begin with Seavax is solar and wind powered, meeting SDG 7 aims and in the longer term SDG13, as in research into zero emission ocean transport. The objective is to develop the innovative technology (SDG9) to help in the fight alleviate hunger and provide food security (SDG2) and the vessels clean rivers and oceans (SDG6). Lastly, WOAA sits well with SDG17 in that the proposed World Ocean AntiPlastic Alliance encourages international cooperation in seeking to clean the oceans as per SDG14.
EVENTS & NETWORKING
Nelson also attends brokerage and briefing events in the search for suitable development partners. In 2018 he attended Oceanology International in London, European Maritime Day in Bulgaria, a Horizon 2020 event on Food Security and attended another on Robotics in October 2018. He is booked for many more such events, to include European Maritime Day in Lisbon, Portugal. Nelson's other skills are networking and public speaking as part of general project management.
In 2019 Nelson attended Ocean Business - National Oceanography Centre, Southampton, April 8 - 10, Our Sustainable Planet - UN Association, Hastings Museum, Sussex, England, September 26 and SYAT - Ship and Yacht Advanced Technology for leisure vessels and port solutions, Grado, Italy, 3-4 October, the Climate, Oceans and Coastal Communities Conference 10 October and the Clean Growth Platform in Lewes, hosted by Brighton University in December.
Events for 2020 include Oceanology International in London 17-19 March, and the European Maritime Day in Cork, Ireland 14-15 May. Let us not forget that Scotland is hosting COP 26 in Glasgow between 9-20 November.
ELIZABETH SWAN - The graceful lines of this lithe ocean sprinter cannot be fully appreciated from these pictures of the 1/20th scale tank test model under construction, the rights to which have been recently acquired by Jameson Hunter on behalf of the Cleaner Ocean Foundation. This small ship has an active hull that allows displacement changes to keep a submerged central hull operating at peak performance for minimal water resistance. Reduced wave drag means faster transit times, something that is crucial for large ocean vessels that are transporting goods around the world to keep the global economy healthy. This vessel is also solar and wind powered, but much faster than the SeaVax. If all ships were zero carbon like this, just imagine what that would mean for climate change and acid oceans. the boat is named after the Governor's daughter in Disney's Pirates of the Caribbean, played by Kiera Knightley. The concept was further developed by Nelson after making a small model from paper and cardboard one evening that defied conventional wisdom in terms of water drag. Further testing and development is planned into 2020.
CLIMATE CHANGE
Where solar powered vehicles are now relatively common, Nelson's other passion is zero carbon ocean transport. He was a pioneer in this field proposing working designs for a solar powered circumnavigation as early as 1994. Then in 2012 a friend from Switzerland completed the first world record with PlanetSolar, so proving the concept.
One design that he is contributing toward for Jameson Hunter, is the Elizabeth Swan, a solar and wind powered vessel, that in theory, is more than capable of cruising at a 10 knot average 24 hours a day and 365 days a year, more than doubling the transit speed of most solar boats today. Nelson's dream come true would be to set a clean energy circumnavigation in a boat that he helped to design and build.
Such a platform could pave the way for pollution free cargo and passenger ships of the future that could help reduce CO2 and acid oceans. If combined with zero carbon electric cars, perhaps with a low cost service stations network, that might act as a load leveler for the National Grid working in conjunction with wind and solar farms to eventually phase out coal and nuclear powered generating stations.
AFFORDABLE HOUSING - Wooden homes are warm and economical to install as self-builds, but even recently (2019) councils use their powers to enforce to resist such development, where they prefer executive homes for the uplift in rates and to protect favoured landlords investments in high priced rentals that working people cannot afford. Appeals typically cost more than the homes that have been built and ruin the lives of citizens trying to lead a low carbon lifestyle. This is one reason there is a shortage of sustainable housing in England. In Nelson's view these are questionable policies that green politicians might want to review. The unit above cost £15,000 to install as a flat-pack in 2006, it would be in the region of £25,000 in 2019. In Nelson's opinion, Councils should be looking to spend their Community Infrastructure Levies (CIL) on land acquisition via compulsory purchases, to secure a rolling stock of land for those wishing to join the climate change revolution.
AFFORDABLE HOUSING
In 2011 Nelson designed a low cost flatpack unit made of timber to help youngsters escape a life of renting, but mainly as a carbon lock and virtually energy self sufficient unit in line with SDG11 of the United Nations goals for 2030. At the time there were no takers. He wonders if perhaps those local authorities approached in 2012 should have been a little more proactive, where the present housing shortage is staggering.
In some cases of hardship, Nelson is available as an advocate in enforcement planning appeals concerning flatpacks and self-build housing, having set the benchmark caselaw precedent for timber mobile homes (see above) in Sussex, England.
FOOD, CARBON & PLASTIC FOOTPRINTS
What impact are you having on the planet? Being obsessed with engineering efficiency, as in machines that work well, Nelson uses only what he needs. He hates food and energy waste that translates to a higher carbon footprint. His food bill is typically less than £30 a week, including smoothies. But his protein intake is high without eating too much red meat. He only weakens once or twice a year in the burger department, hoping that one day someone will produce a really tasty vegetarian substitute. He eats fish about once a week, but mainly nuts and cereal products and bread, though his milk intake needs curbing where loves organic yogurts. He eats a lot of fruit, bananas being his favourite. One of the secrets of eating well and sustainably is not to waste anything. Where others throw chips away from the night before, Nelson reheats them in a way that brings them back to life. He says you have to keep an eye on old food in the fridge and be sure to eat whatever is getting out of date, no matter what you fancy. It's just good housekeeping. Anything you throw away multiplies your food footprint. On Sundays he only eats a bowl of cereal by choice.
Those who can, might consider changing their diets from red meat to poultry, from poultry to fish and from fish to vegetables and grains, or you might go the whole hog and become a vegan. There is no need to become obsessed about it, just be kind to the planet when you can. He says a big well done to those already doing their bit.
Being single and having no dependents Nelson can be frugal with heating. His accommodation and workspace is largely solar heated in any event. He only drives in connection with conservation issues and uses an electric car wherever practical. He is kind and caring but recognises that he would not make a good partner because of his workaholic tendencies. He is a non-smoker and non-drinker and would recommend that everyone should do their best to stay away from alcohol and tobacco, except for the occasional toast at Christmas. Nelson loves snow and cozy winter nights in with a good movie. Nelson loves movies: Indiana Jones, Titanic, King Kong. Yes, mostly adventure. But Blades of Glory always get him laughing, Erin Brockovich quells his need to put things right against all odds, as does Jason Bourne.
As to plastic, just about everything you buy these days is wrapped in the stuff. Nelson reuses old plastic paint buckets to save purchasing those sold at Wickes and B&Q for £1 one pound. They are so cheap it is tempting to join the disposable society we are becoming. He disposes of all single use plastic responsibly.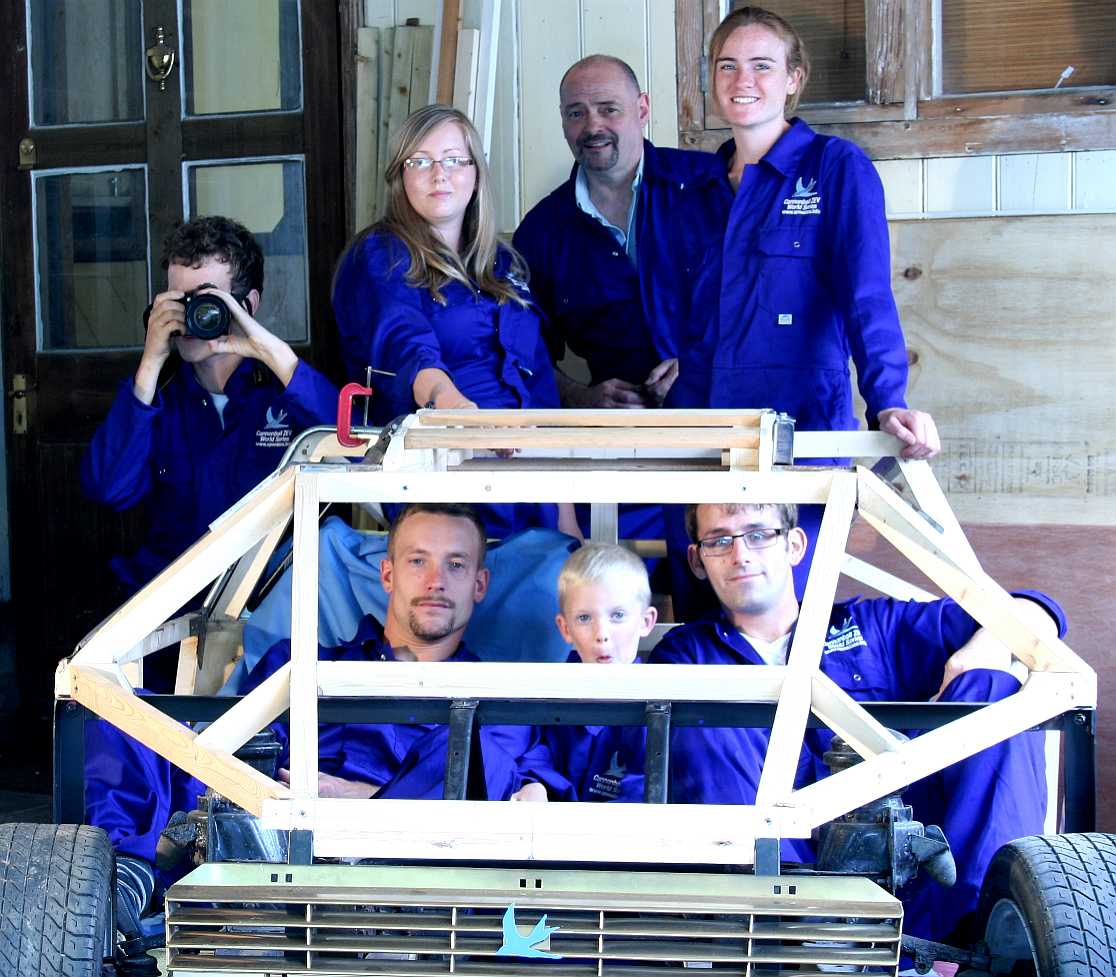 CITY CAR - A solar assisted electric car with battery cartridge exchange built in. The EcoStar DC50 is seen here in an early stage of construction with the team that helped Nelson to build her in 2014, including Christina Dusart, Terry Valeriano and Chris Close. The young man in the front is Ryan Dusart, a budding roboteer who is now learning how to program using Raspberry and Arduino computers. This vehicle was designed by Nelson to give experience to the volunteers who were keen to pick up new skills. Four of the helpers are now involved in the SeaVax project.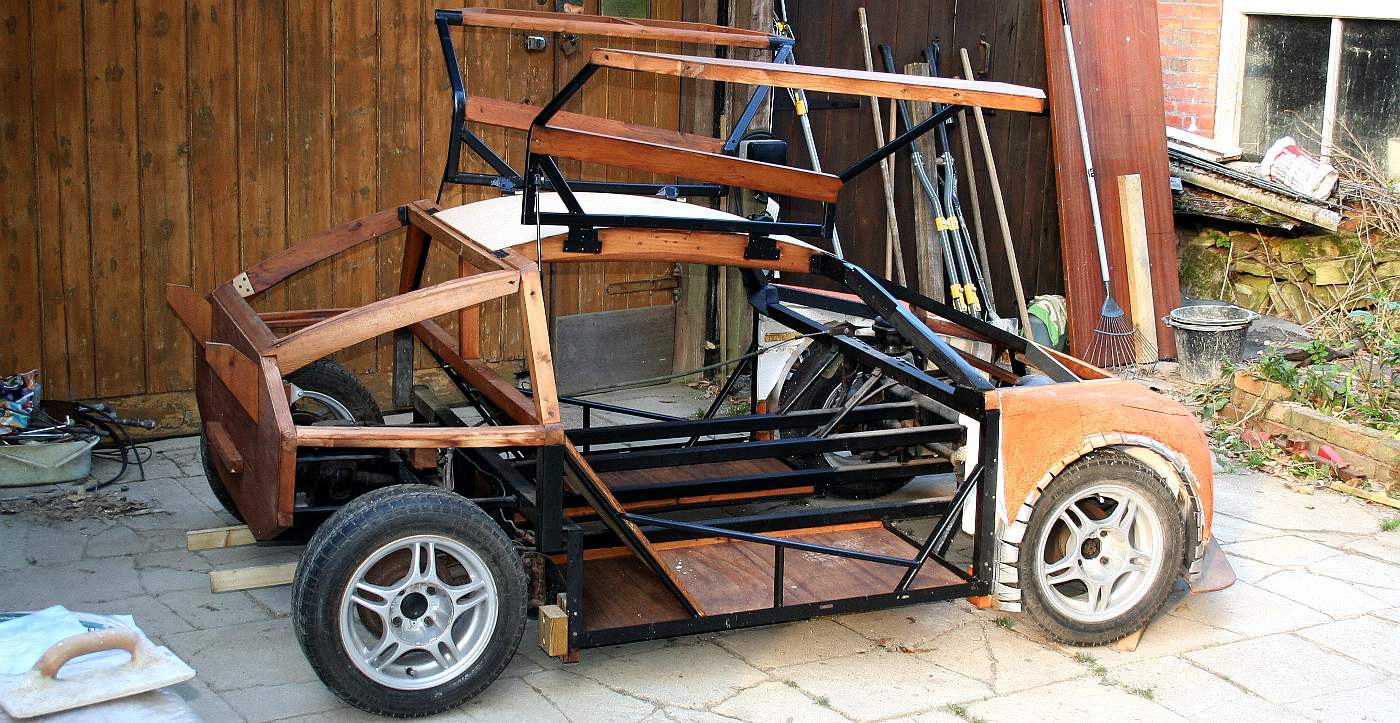 GULL WING - This incredibly compact electric car features gullwing doors and when fully loaded, four wheel drive and 300hp (200kW), making it potentially one of the nippiest electric city cars around. The most important feature is a battery cartridge that enables this concept car to offload old cartridges unassisted and load a fresh one using built in servos. The loading system has been timed at 80 seconds using small motors, but this could come down to 20 seconds with the latest brushless motor technology - making this (potentially) the fastest electric vehicle recharging system in the world. Dedicated service forecourts for vehicles so equipped could be a major contributor in the fight against climate change.
In the quest for affordable clean energy (SDG7) cars like this could be the way, especially for sustainable cities as per SDG11. Copyright photograph © July 5 February 2017. You will need the permission of the Cleaner Ocean Foundation to be able to use these pictures, except for educational use and private study. The DC50 project was put on ice in favour of SeaVax, though may one day get a carbon fibre body and who knows what mechanicals.
RESTORATION - This 1978 camper van is being restored for ocean awareness events. Nelson teaches students how to weld thin panels and structural chassis members. He also demonstrates body filling and spray painting techniques. This vehicle has been customized with a wider track and eco alloy rims, oil sump cooler and a stainless exhaust system. The bodywork has been modified to fit a special towbar designed so that servicing of the engine is easier. The vehicle will be wrapped over the white 2-pack. Copyright photographs © September 2018 and August 2019.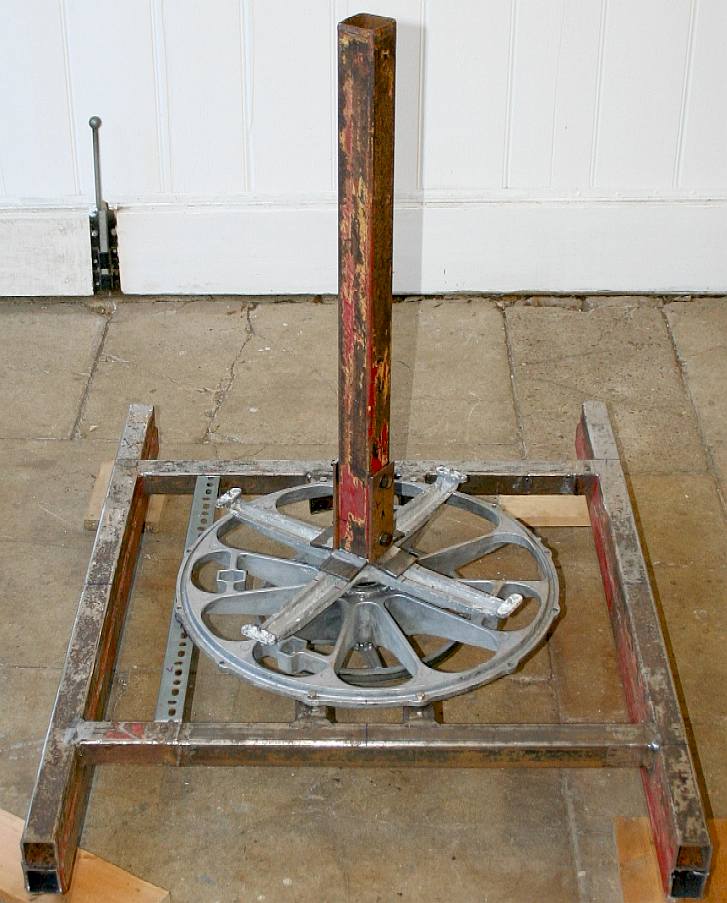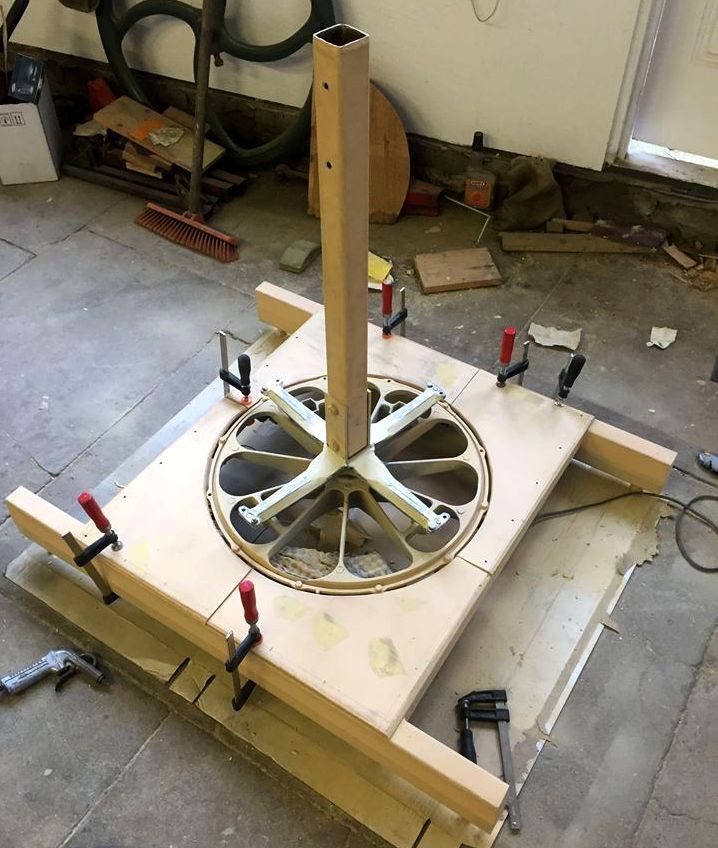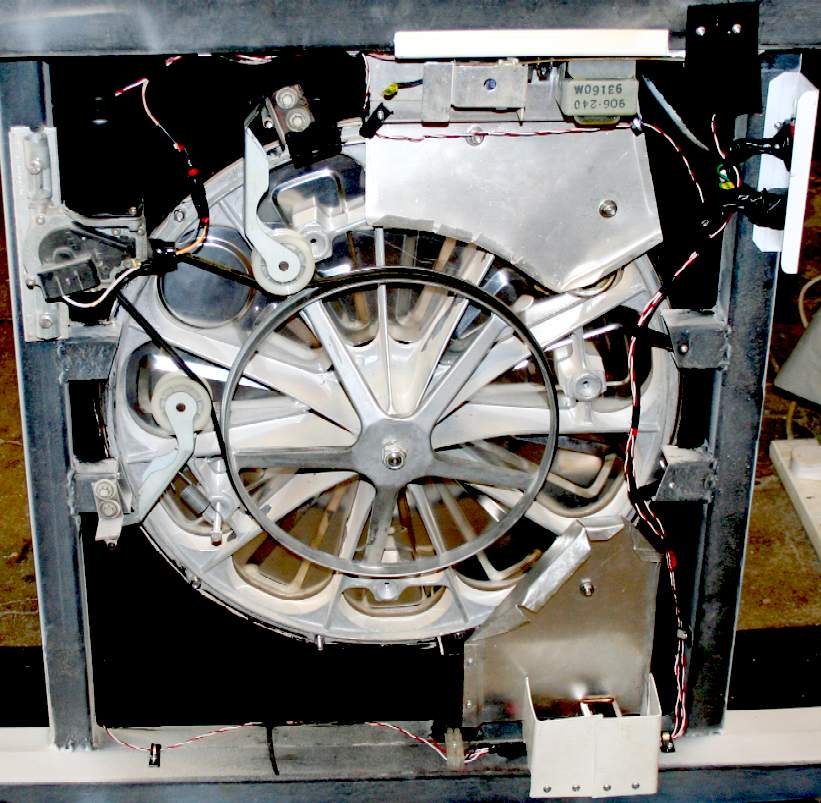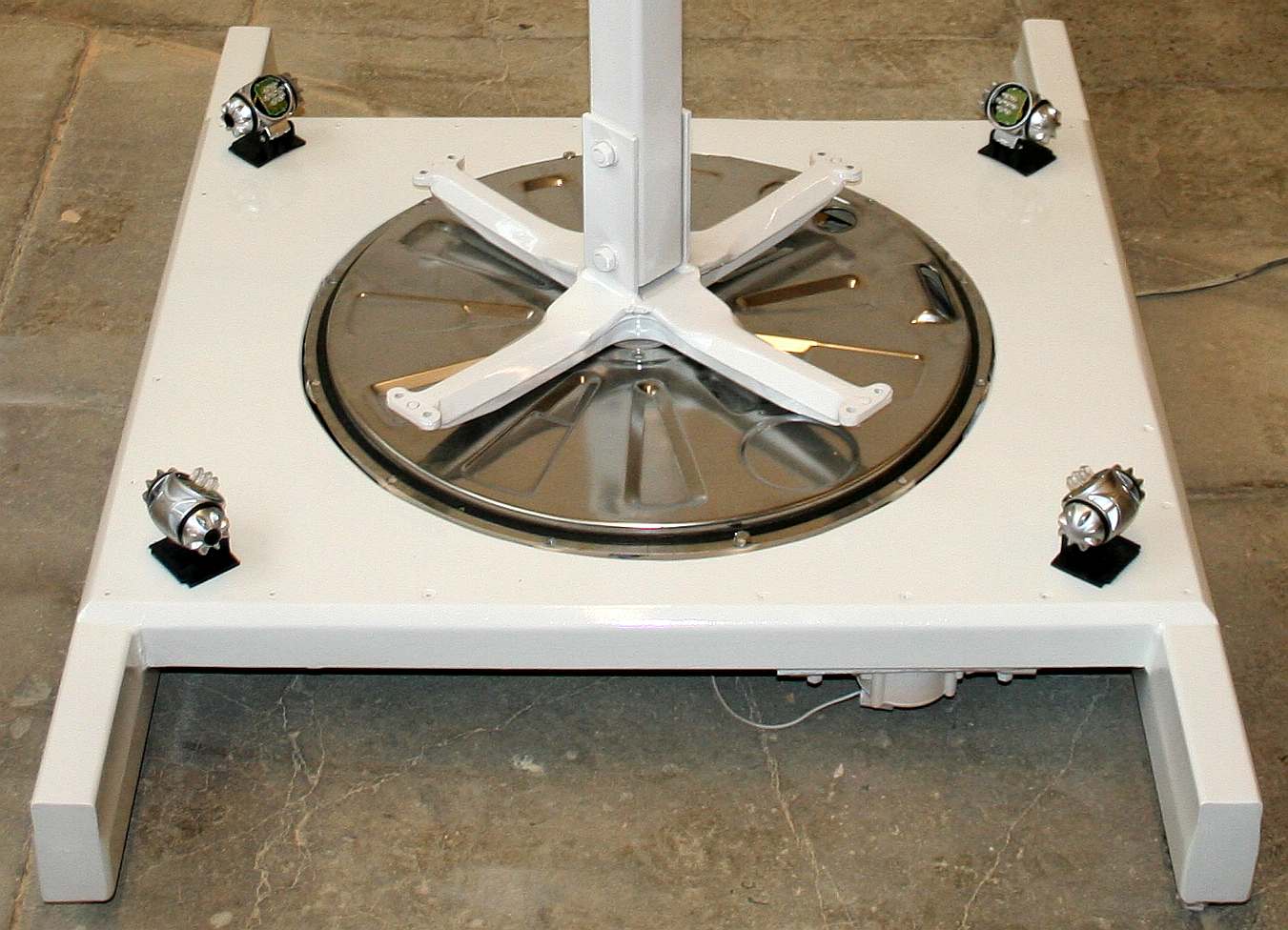 SHOW TIME - A small engineering project on a very tight timescale. For the SeaVax project we needed a stand that would fit onto the roof rack of a Nissan Micra. October 2015 was a hectic time in the workshops with painting and wiring to complete a stand in time for a show in London where we won a competition to display at the Innovation event sponsored by the Dti. A pile of scrap steel and redundant parts were turned into this show stand at little cost save for some 2-pack paint and four LED lights. LED development is another example of technology that holds the potential to save significant amounts of energy for planet earth, where they are so much more efficient that Thomas Edison's (and Joseph Swan's) incandescent light bulbs.
Looking at his steerage in such matters, you might agree with us that Nelson is a progressive Thought Leader who likes a bit of a creative challenge, not to be confused with Kay Nelson, the Hollywood costume designer or the events manager from Ohio.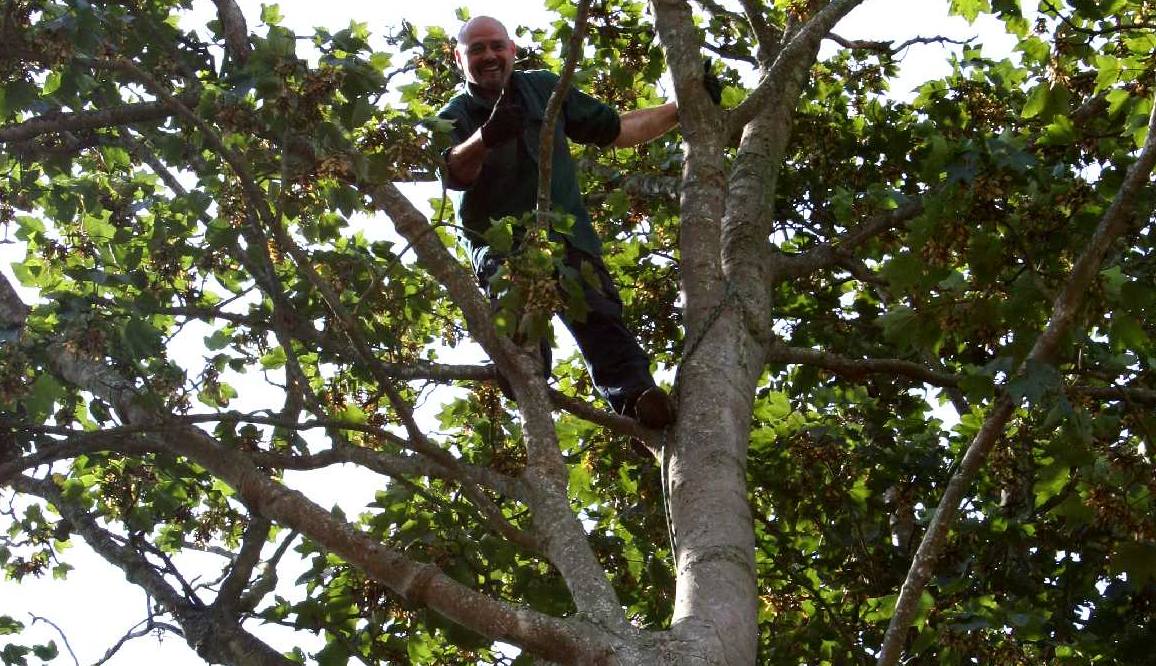 CLIMBING - Getting back in touch with his roots in 2016, Nelson loved the view of the Sussex countryside from this tree in his back yard. It reminds him of one of his favourite films: Medicine Man, about a researcher who discovers a cure for cancer in the Amazonian rain forest then loses it - but we are left with the hope that he will find it again. Sadly, this tree was damaged at the base of its trunk and needed to be reduced in height significantly to give it any chance of survival. It helps to have practical skills when giving nature a helping hand.
DIVER - Nelson trained to BSAC Class 2 at Newhaven & Seaford club, Brighton and Plymouth, Fort Bovisand. In those days it was wet suits, until learning to weld underwater. These days it's dry suits and a Kirby Morgan, with communications, including lights and cameras. The picture above is of the casements at Fort Bovisand, that made for damp sleeping quarters. A hearty fry up for breakfast cured that, followed by a jog along the twisty lanes and a wooly bear.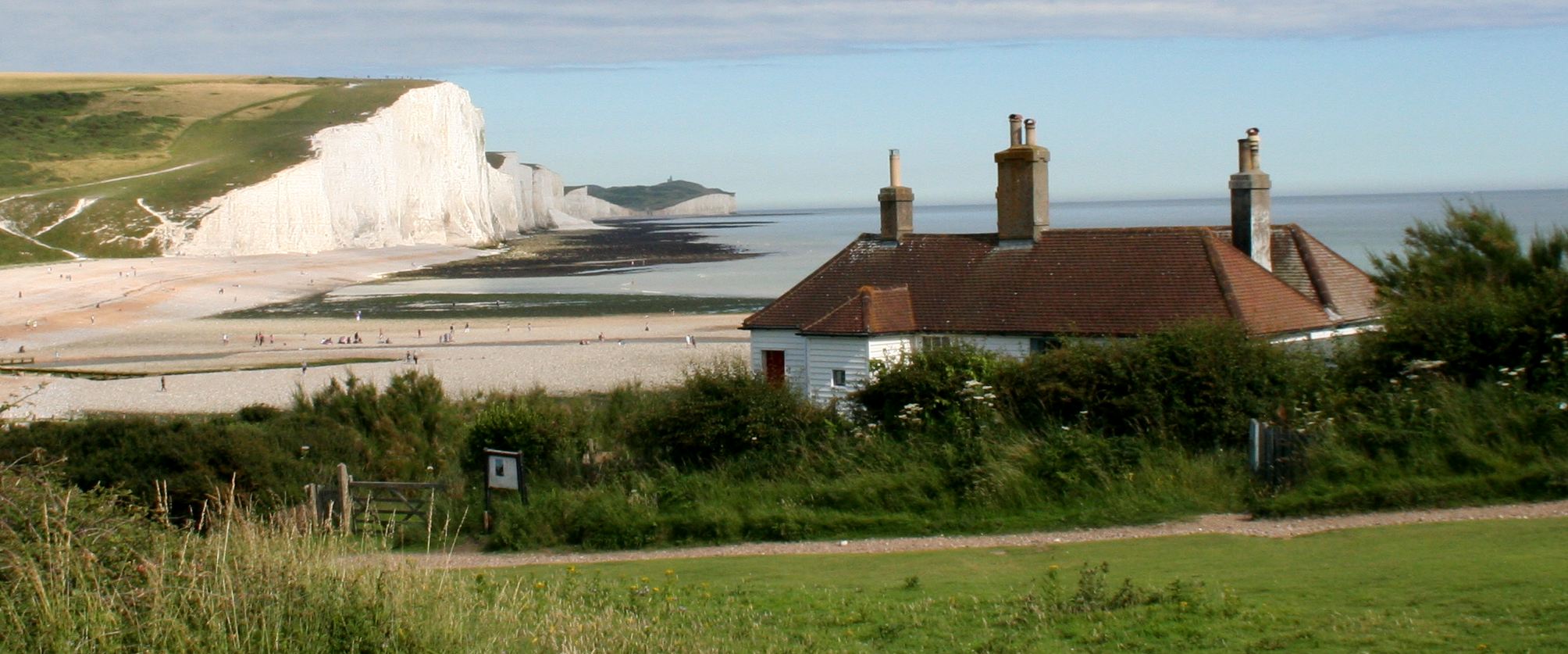 FAVOURITE WALKS - This famous view is also one of Nelson's much-loved walks. These are the old coastguard cottages, now privately owned, seen from above when walking to the beach from the car park. Who would not want to live with such a beautiful view, the sea winds and waves lapping on the beaches below. See the picture below for a view looking up from the beach. Copyright © 18 July 2016, all rights reserved.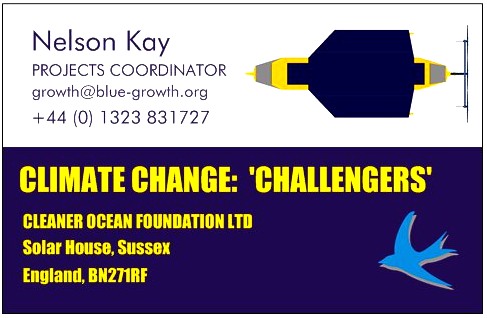 LINKS & REFERENCE
https://www.bsac.com/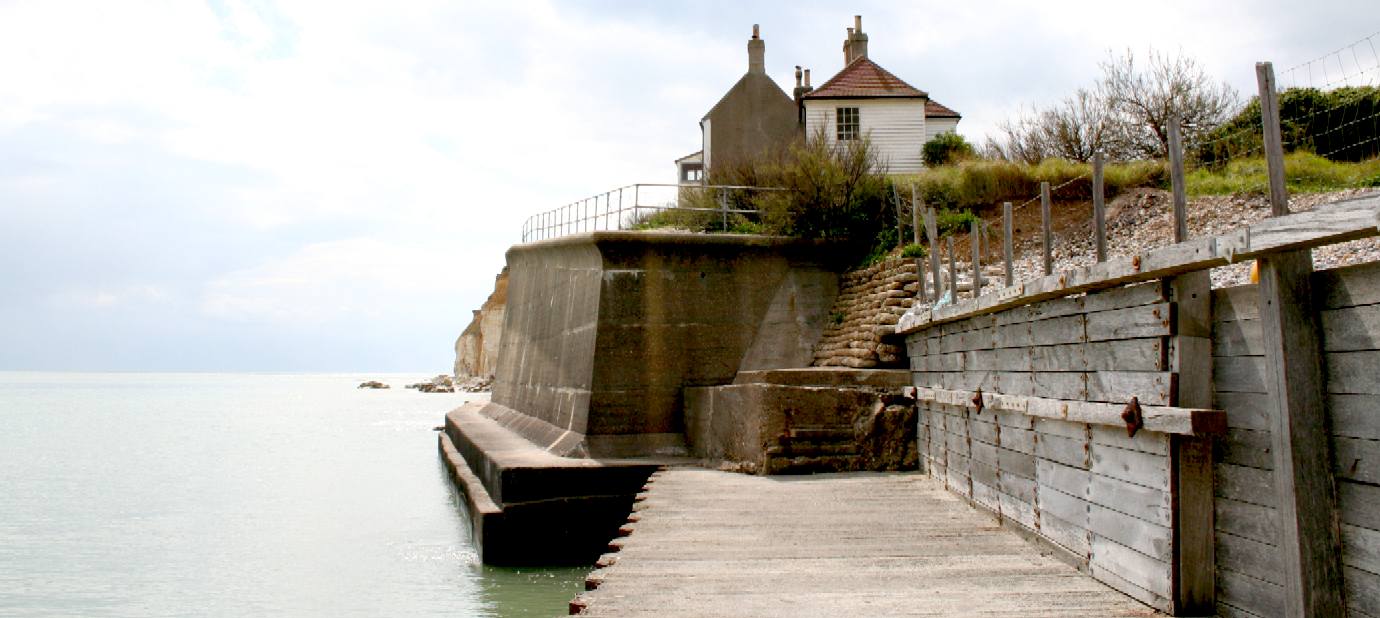 SUSSEX COAST - The views from Cuckmere Haven along the south coast are some of the most breathtaking. These are the old coastguard cottages at the foot of Seaford Head, one of Nelson's favourite panoramas and a place to come at any time of year to forget the devastation that human civilization is causing to the planet and to think positively about a solution, except that is for the plastic littering the beach even here. Copyright © 30 May 2006, all rights reserved.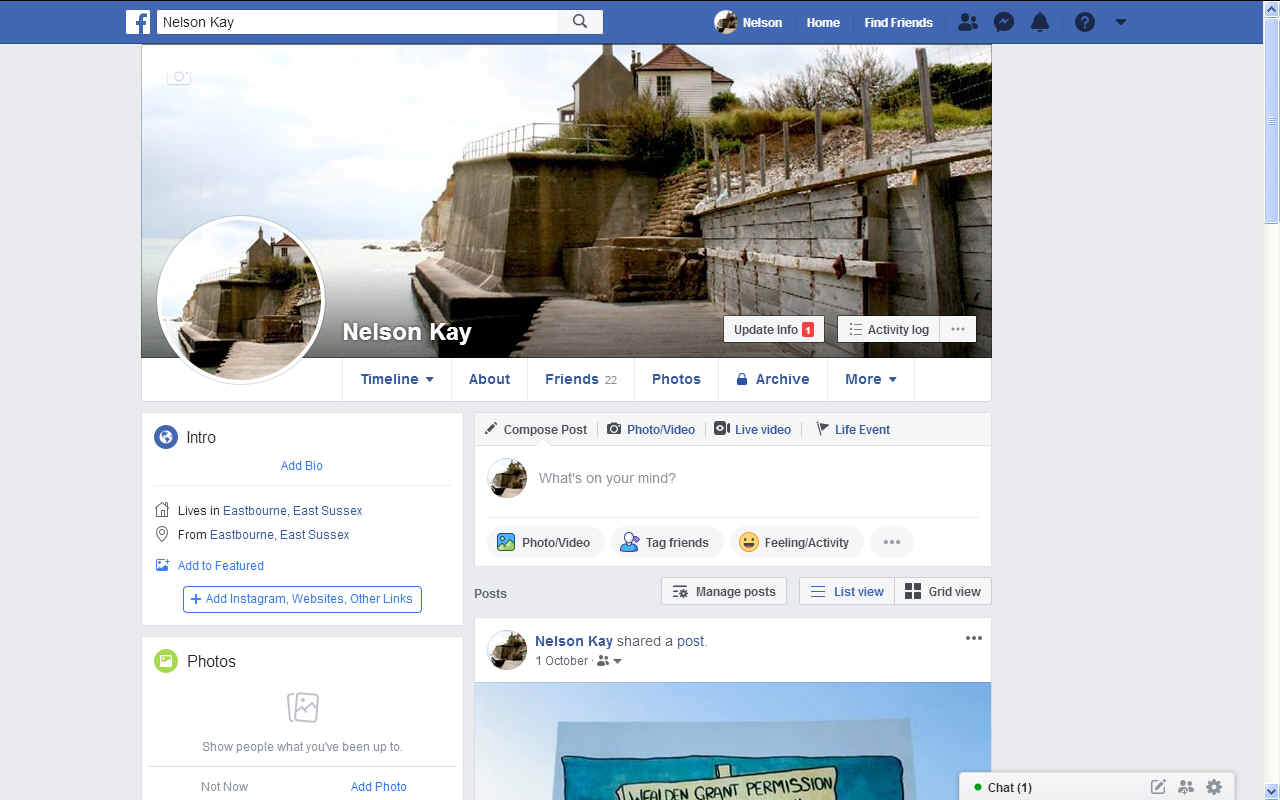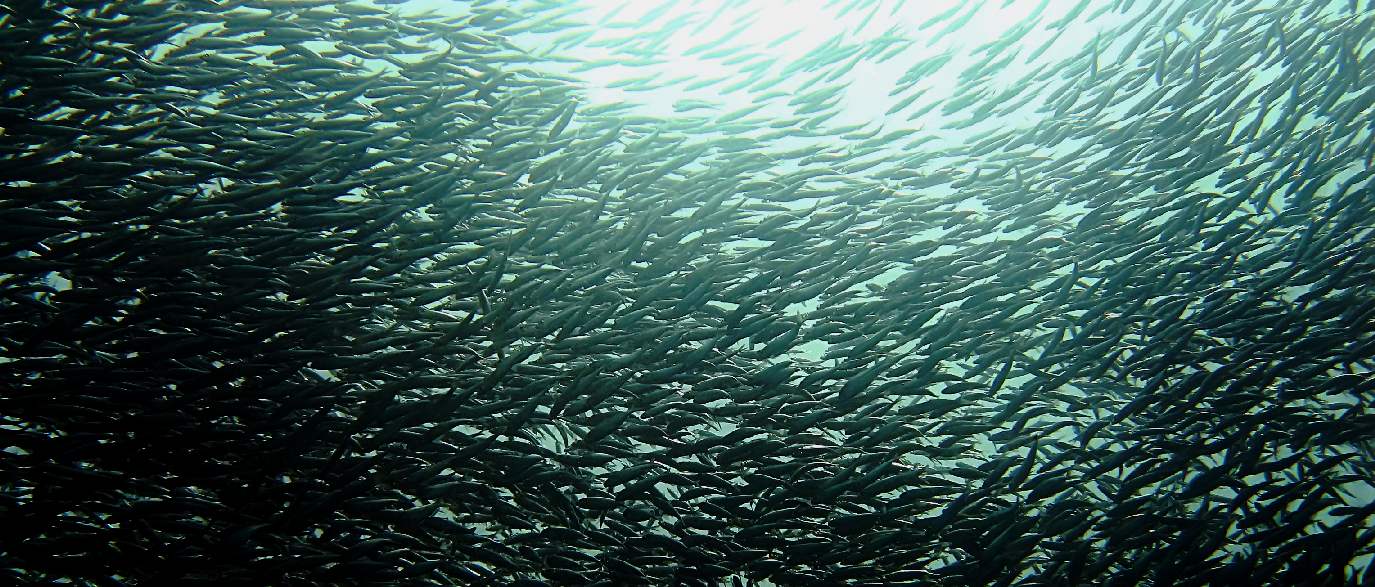 WHAT FUTURE OUR OCEANS? - The versatility of SeaVax™ is enhanced using a modular approach that helps us to develop these ocean going machines into an economic tool for the long-term prosperity of all fishing nations in the drive for a truly sustainable, circular economy.
Copyright © 2020 Cleaner Oceans Foundation.