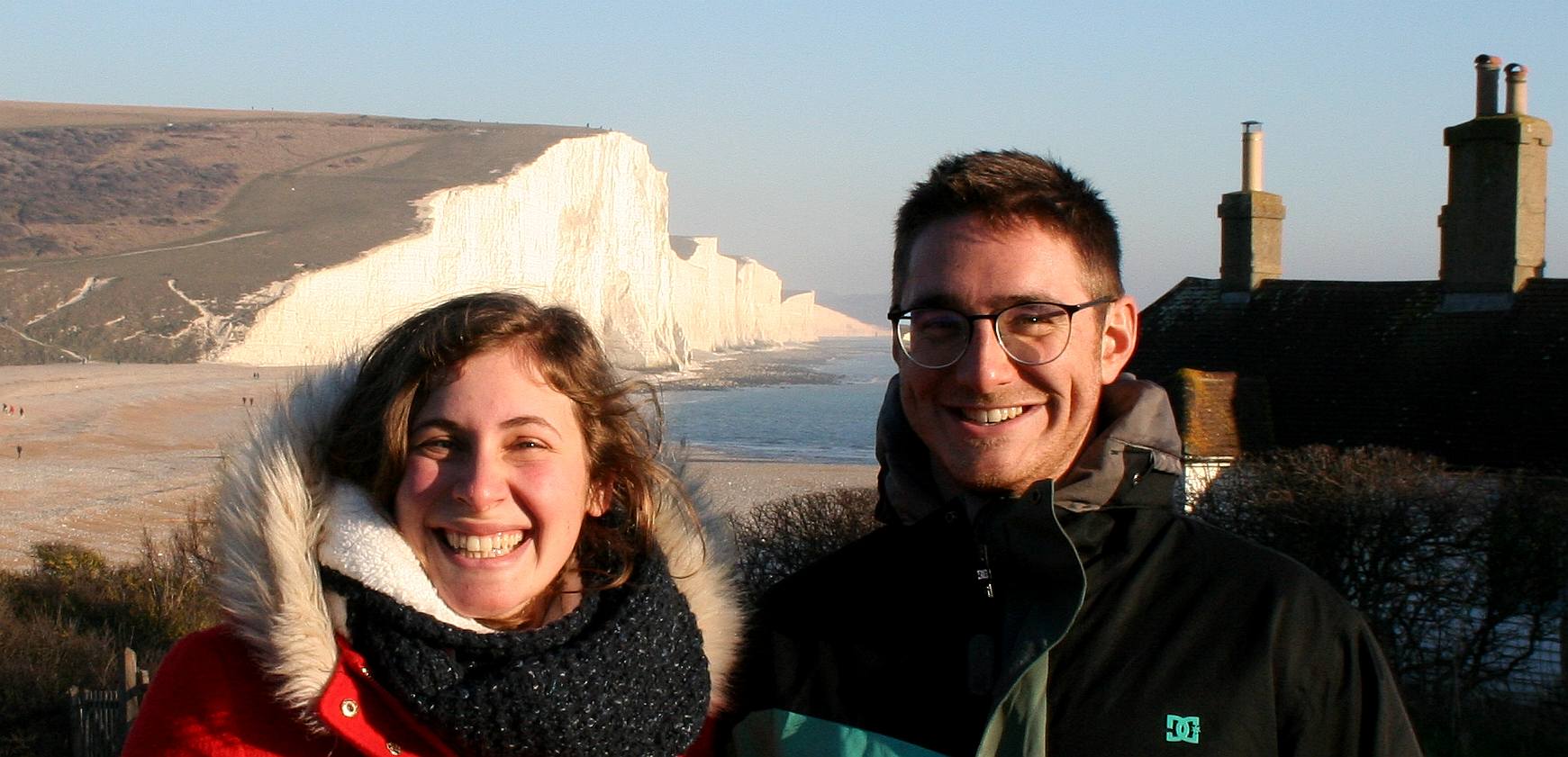 ECO ENGINEERS - Engineering is an art that can help us to change the world for the better. Lolita and Benoît are seen here at Seaford Head in Sussex, one of the most famous beauty spots in England. The chalk cliffs in the background are the Seven Sisters. Copyright © photographs, February and March 2019. All rights reserved, Cleaner Ocean Foundation Ltd.
ABOUT LOLITA
Lolita D'Ortona is a bio-engineering student in the final year of her Masters Degree at Liège University in Belgium. Her mission in England is to work with the SeaVax team to design the lifting frame and wind turbine mounting head, to include the control robotics and hydraulic mechanicals.
This is a huge undertaking for an engineering student, but by applying her expertise as part of a team effort, and with equal enthusiasm from all the project members, Lolita hopes to help the Foundation move the project on from the conceptual and development stages to the open sea as a 1/4 scale prototype of a SeaVax based vessel that the team are looking to build in 2020. See the diagram below.
Lolita became involved in the SeaVax project in the spring of 2019. She will be working with mechanical engineers and fabrication technologists to construct a prototype in one quarter scale using steel and MIG welding equipment. This is a major development stage, in the quest to clean up our oceans using only energy from nature. Conservation is the name of the game.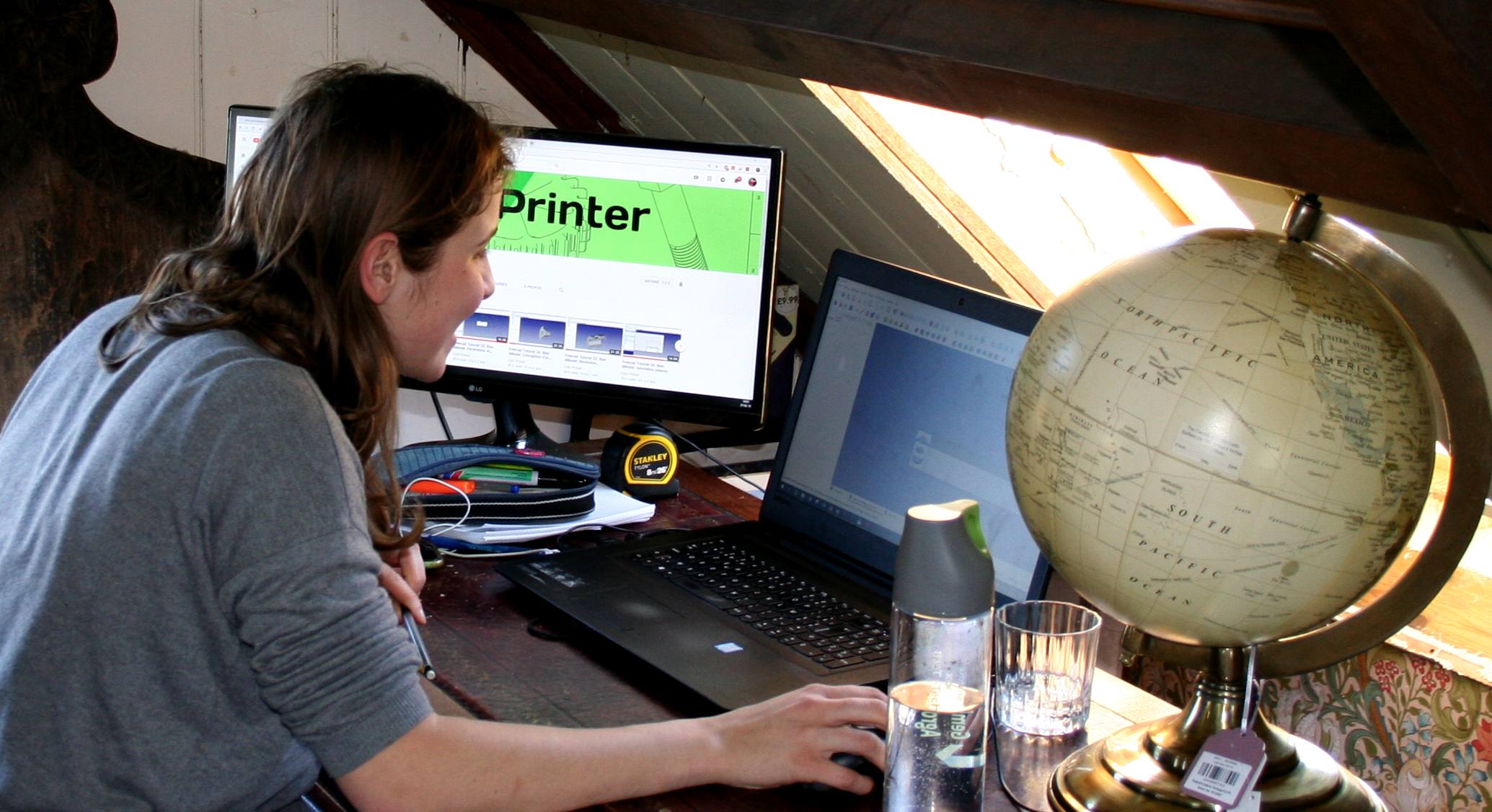 CAD - Hard at work designing the framework that will lift two 400w wind turbines roughly 3 meters higher into the air to search for more energy. Lolita uses computer aided design software to build the structure in 3D for movement and stressing. Copyright © photographs, February and March 2019. All rights reserved, Cleaner Ocean Foundation Ltd.
LOLITA'S RESEARCH >>>>
BACKGROUND

Before steam turbines and diesel engines, harnessing energy from the wind with sails was the only way of propelling large cutters along the trade routes to deliver cargoes of tea, cotton and other goods from one country to another. Sails are prone to wear and need a sizeable crew to man a modest ship to trim the sails of a vessel that could not sail directly into the wind, but had to tack a zig-zag course if heading into the prevailing air stream. There are now some interesting sailing boats with automatic rigging equipment and masts that rotate.
The current state of energy capture at sea using wind turbines relies on vertical darius or axial flow generators that are mounted rigidly on deck at a relatively low level in relation to sea level and traditional sails. Some axial flow turbines can be turned to capture the wind as a vessel changes headings.
THE PROBLEM
At a low level on deck the positioning of wind turbines presents a potential danger to any crew, who might accidentally venture too close to the revolving blades. In addition, deck mounting reduces the energy that can usefully be captured unless the turbines can escape the ocean boundary layer and as many deck obstructions as possible, where such obstructions are sure to interfere with energy capture.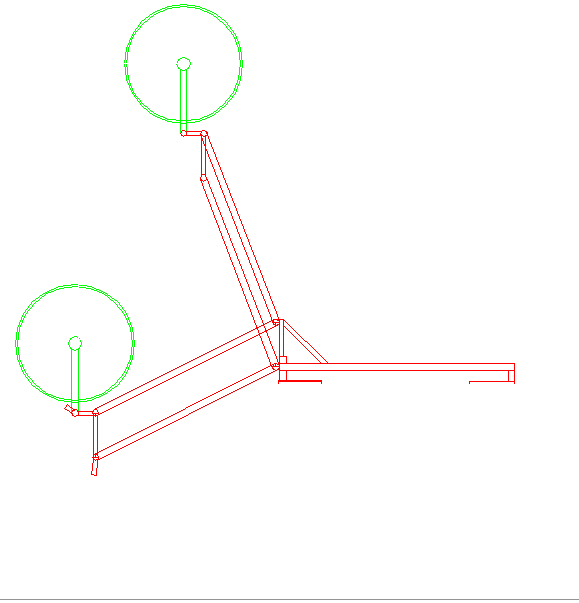 MAST HEIGHT - In this diagram you can see the boom raised a little over three meters where the twin turbines should be operating in cleaner air. On the ocean the height difference should see a significant improvement in performance, especially when combined with solar panels where shading is a big issue.
THE SOLUTION

One potential solution that we are developing is a rig that uses hydraulic rams to raise a vertical boom high above the base frame and supporting vehicle, in this case the support vehicle is a Ford Transit with a high roof.
ABOUT SEAVAX

SeaVax will be a fully autonomous machine that has the ability to differentiate and separate marine biota from man-made polymer. It will collect micro to macro sized plastic via non-invasive ocean filtration with minimal –ve impact for maximal +ve effect using only energy harvested from nature.
The SeaVax project encompasses many of the Sustainable Development Goals that the UN are hoping to achieve in one. Where Seavax is solar and wind powered, meeting SDG 7 aims and in the longer term SDG13, as in research into zero emission ocean transport. The objective is to develop the innovative technology (SDG9) to help in the fight alleviate hunger and provide food security (SDG2) and the vessels clean rivers and oceans (SDG6). Lastly, WOAA sits well with SDG17 in that the proposed World Ocean AntiPlastic Alliance encourages international cooperation in seeking to clean the oceans as per SDG14.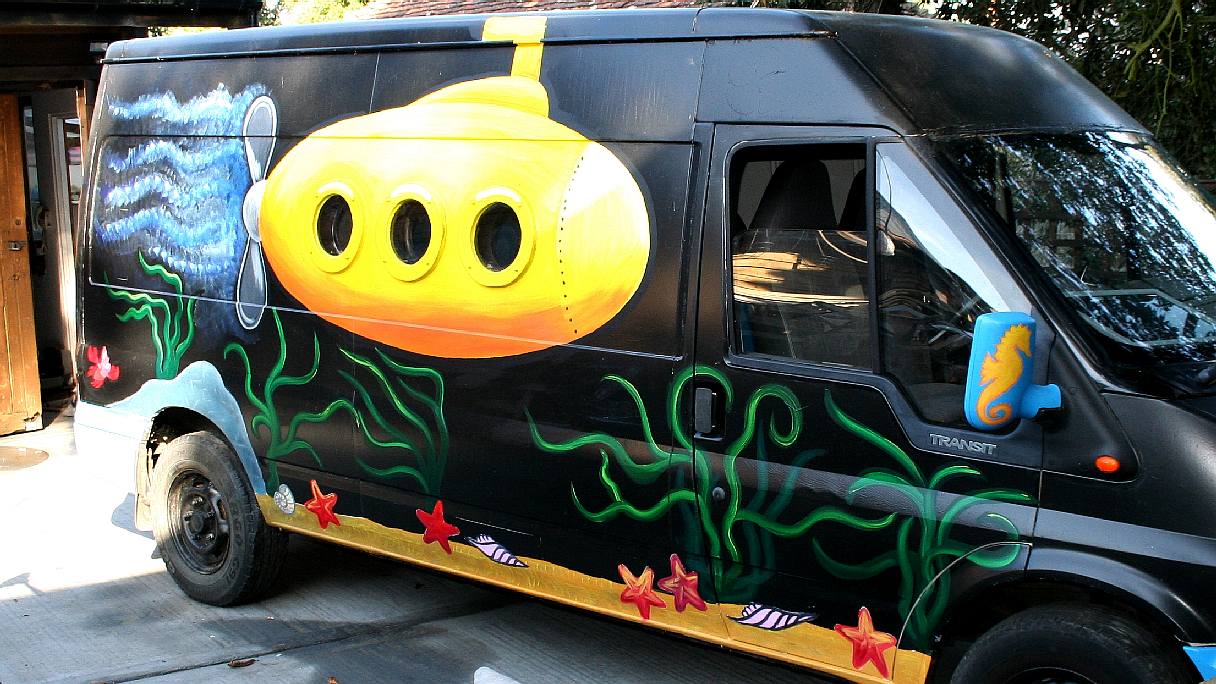 FORD TRANSIT - This is the Ford Transit that was spruced up with artwork by Emily Hoad, a marine biologist who worked with us in 2018. The van will double up to carry comestibles for the crew during ocean awareness events and during on site construction of SeaVax vehicles, with just a little more artwork to complete the underwater scene. Copyright © photographs, 17 August 2018. All rights reserved, Cleaner Ocean Foundation Ltd.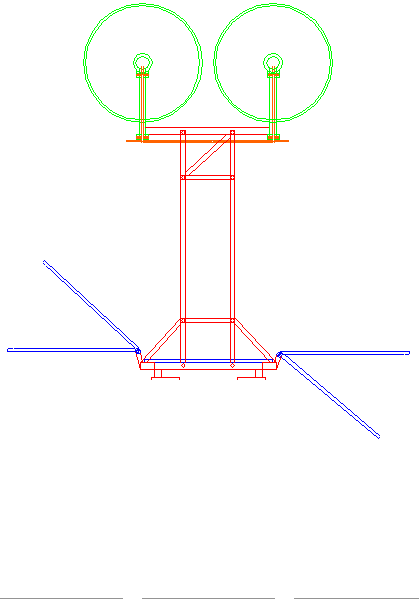 SOLAR PANELS - The wind turbines operate in conjunction with solar panels arrays as two wings and a central deck area. The solar wings can track the sun and fold over each other for safe storage when weather conditions are unfavourable. At such times the wind will be blowing harder, leaving the turbines to take advantage of the energy source until it become dangerous. This is where the folding mechanism comes into its own.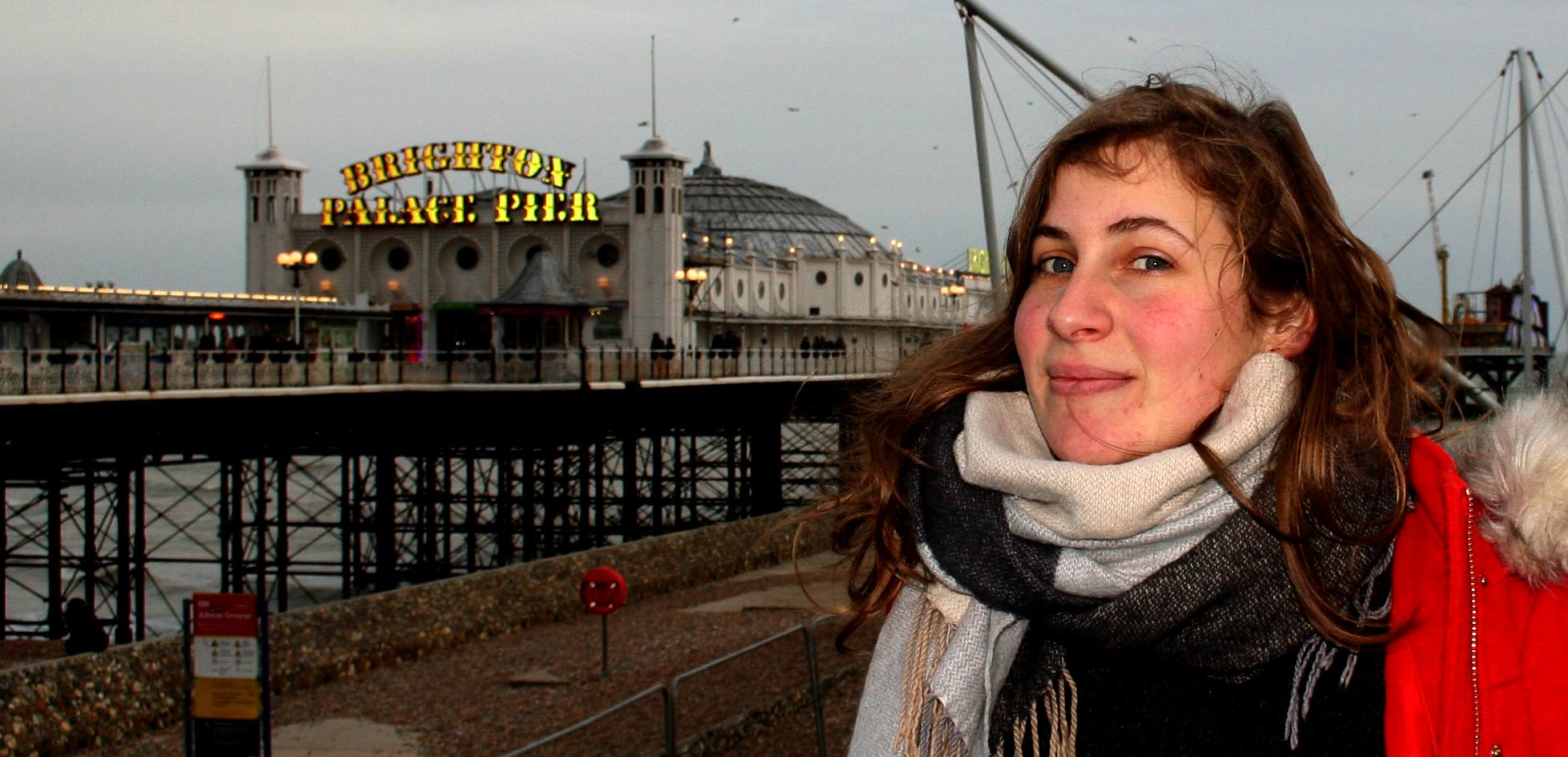 WINDY COASTLINE - One thing Lolita noticed was the difference between wind speeds inland and on the coast. She visited Newhaven Harbour and Brighton seafront, including the famous Palace Pier, to see for herself just how blustery it can be along the shores of England. Copyright © photographs, 9 March 2019. All rights reserved, Cleaner Ocean Foundation Ltd.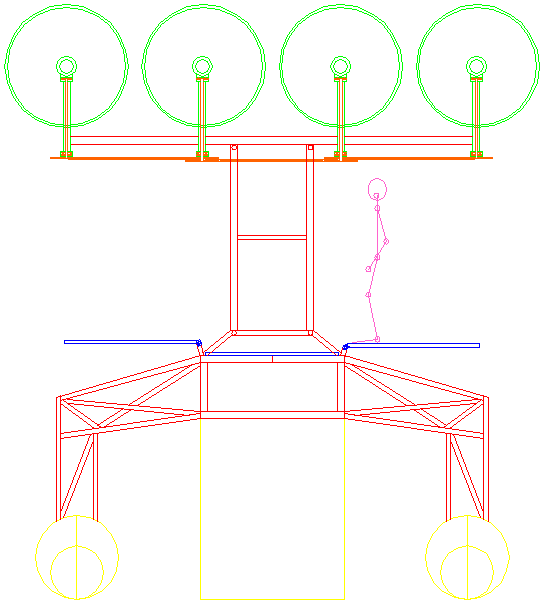 COASTAL DESIGN (DRAFT) - This design is based on the wind turbine test rig we are aiming to complete in 2019 with Lolita's help. The solar panel layout is identical and so is the wind turbine arrangement. The only difference is that we'll be doubling up on the energy harvesting front with 4 wind turbines and 24 solar panels to give us 5,200 watts incoming energy for each hour of peak generation. This may not be much by SeaVax standards, but it is all we think we might be able to afford where funding for this kind of research is normally aimed at universities and big businesses.
A small not for profit concern like the Foundation is left out in the cold somewhat, because we do not have a profit motive. Nor do we have existing products on sale to support such R&D. Corporations and academia have bigger budgets to be able to make complex applications for Horizon 2020 funding, build necessary consortiums and the like - all of which would sap our time and money, for an also-ran "thank you for applying," but you have been unsuccessful on this occasion. What the policy makers do not seem to realise, is that if funding is not achieved, there might not be a next time - as in the case of so many other missed opportunities where policy makers have slipped up. The oceans will get more clogged up with plastic and fish stocks could fail. The supposed savior; Aquaculture, is largely based on fish feed and many species, such as salmon, are farmed in the ocean where toxins are rife from biomagnification effect.
This rig will feed eight 110 AH deep cycle (lead-acid) leisure batteries to begin with, but we may change to lithium technology as and when funding allows, since this rig may be the subject of further testing and development for the full size SeaVax prototype. The point here being to provide the basic vessel onto which seawater sampling and cleaning experiments might proceed. To date this design has been funded entirely by our trustees and volunteers. Copyright © diagrams March 2019. All rights reserved, Cleaner Ocean Foundation Ltd.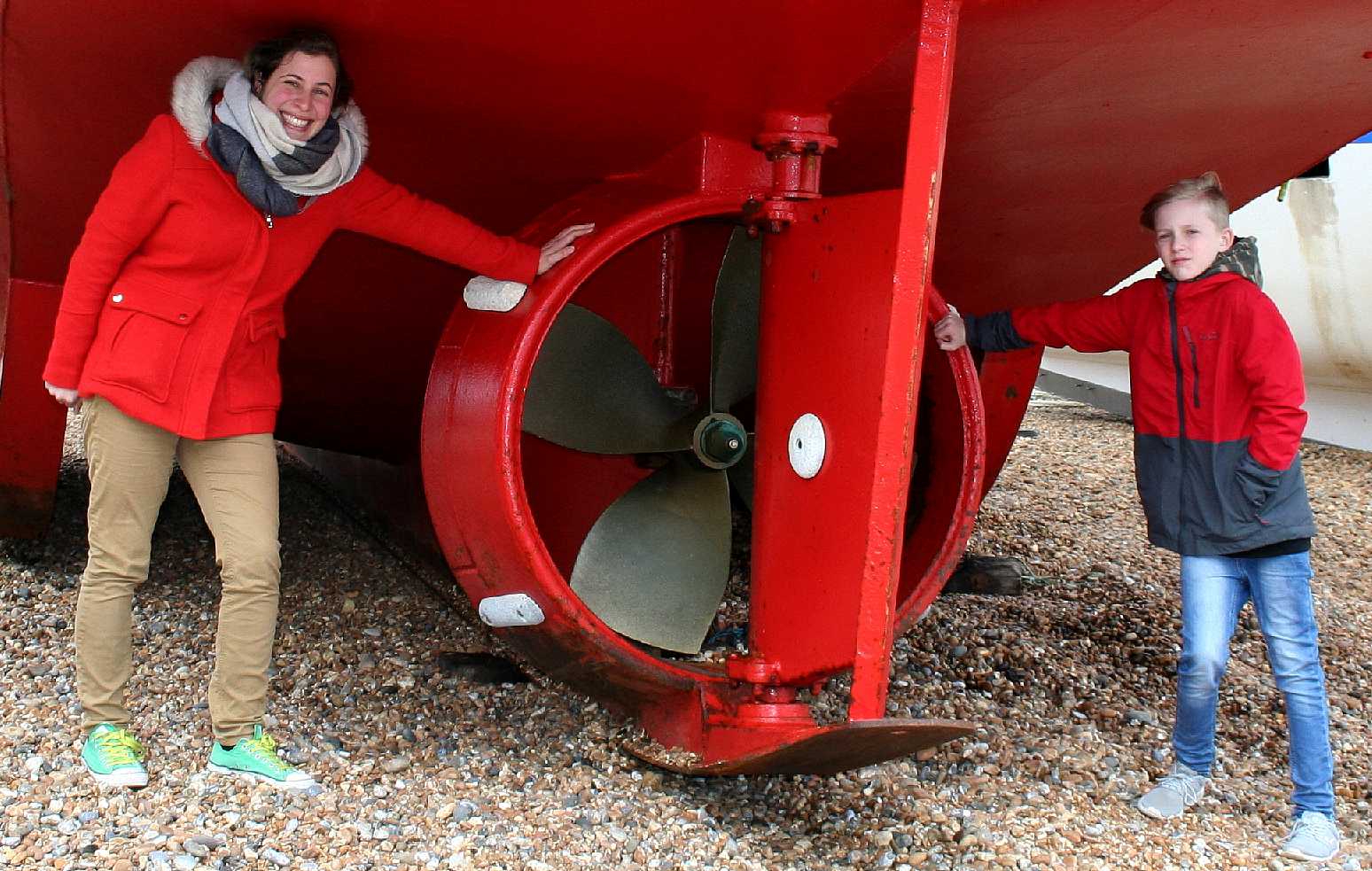 BEACH LAUNCHED FISHING FLEET - Hastings in Sussex is home to the world's largest fleet of beach launched fishing boats. The second largest beach launched fleet is at Ngawi Beach in New Zealand. The launch method is near identical where bulldozers push the boats into the water. At Hastings cable winches pull the boats back out of the water. At Ngawi special boat trailers are used to make recovery easier.
The beach at Hastings is strewn with single use plastic, fishing nets and ropes. The youngest member of the SeaVax team, Ryan, picked up several disposable lighters and other plastic waste from the beach on this visit to the coastal town, that is perhaps more famous for the Battle of Hastings in 1066. Copyright © photographs, 16 March 2019. All rights reserved, Cleaner Ocean Foundation Ltd.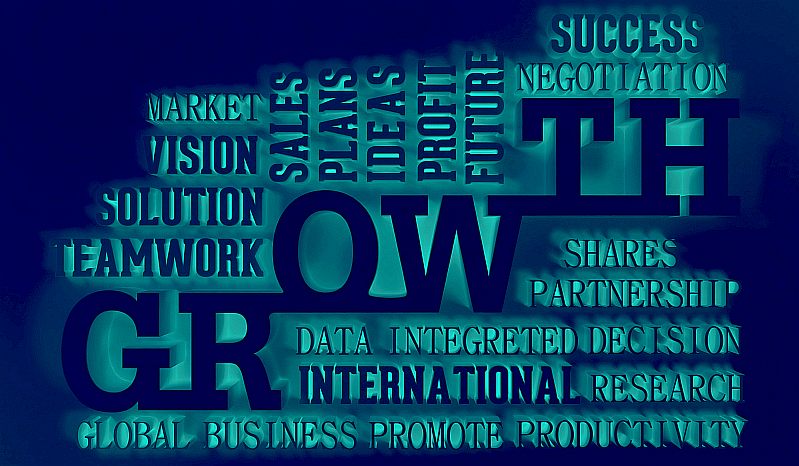 LINKS & REFERENCE
Université de Liège
Place du 20-Août, 7
B- 4000 Liège, Belgique
+32 4 366 21 11
https://uk.linkedin.com/
https://www.facebook.com/
Copyright © March 2019 Cleaner Oceans Foundation.