WATER HEATING & STORAGE
WATER BASIN TESTING FACILITIES
BRICKS & MORTAR - CARRIAGE - DRAINAGE - FILTRATION - GLASS & PAINT - GANTRY - HATCHES - HYDRODYNAMICS HISTORY - INSTRUMENTS - LABORATORY - LOGISTICS - OUR TEST TANK - PROOFING - REVIEWS - SEAVAX TEST VIDEOS - SLUICE GATE - WAVE MAKING - WIND MACHINE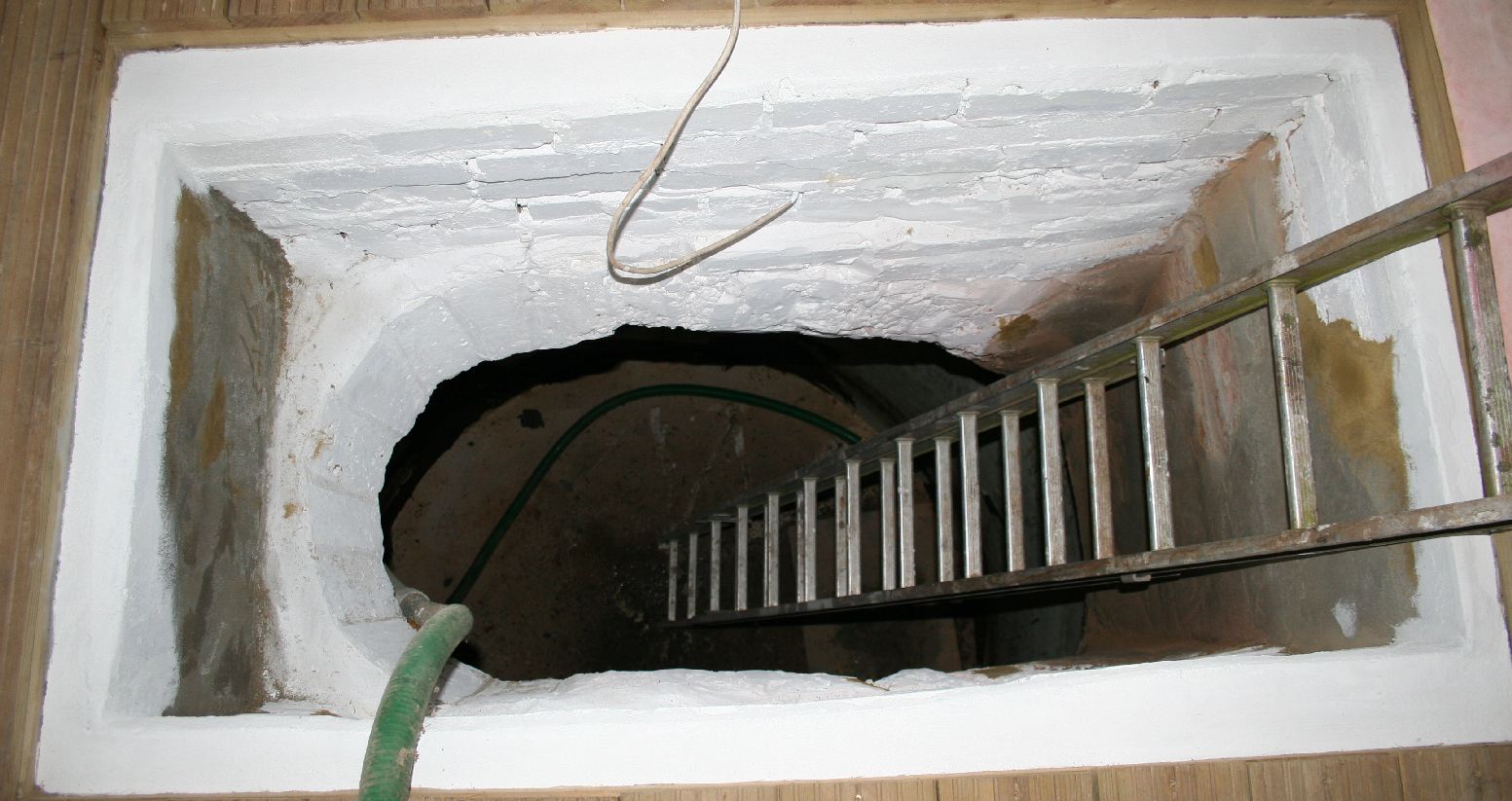 PAINTING - The brick built entrance receives a coat of white paint, the rendering having been completed. The next stage is to line the underground tank with GRP and to make a temporary wooden hatch cover. Other wooden hatches to be made are to be able to service the filtration pumps. Copyright © photograph August 29 2017 Cleaner Ocean Foundation.
WATER STORAGE ONGOING R&D

We are to use solar water heaters to collect and store heat in this underground water holding/storage tank that was originally built to cool water for a gas engine from 1909 - a sort of role reversal. The entrance to this tank is now in the middle of the floor of the Ocean Suite, that is our studio for giving presentations on plastic waste and for staging Miss & Mister Ocean competitions.
Where heat is stored as well as liquid, it is doubly important that there are no leaks. Otherwise you are losing valuable water and heat, where heating is expensive and our water comes from a well on site, thus supply is limited to our lifting pump capacity and the capacity of the well to replenish itself from the groundwater table.
We plan on having a laminated glass inspection cover, but for now will make a temporary door from treated timbers to match the decked floor. The whole of the underground tank is to be lined with fibreglass (Glass Reinforced Plastic = GRP) to prevent the persistent leaks that hampered experiments in the later part of 2016 and early 2017. The internal area to head height is 16 square meters. We are allowing for 17 m2 of materials for overlap.
Extraction fans will be needed during this operation to remove the styrene fumes while laminating takes place. We have rigged up a fan at the top at one side of the entrance that pushes fresh air into the tank but think that we need another on the other side of the entrance that pulls the air out - so creating a complete fresh air flow circuit - for the comfort of our laminator.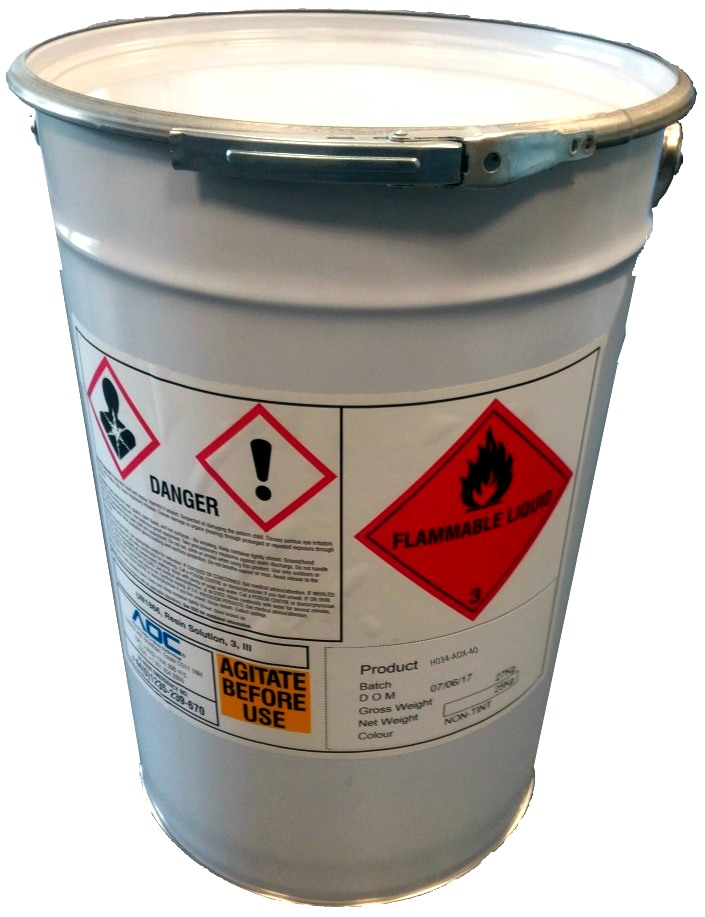 LAMINATING - We will need four 20kg drums for two layers of 900gsm chopped strand matt. Total cost, not including delivery but including VAT will be in the region of £460 pounds.
VINYLESTER RESINS
Vinylester resin (AOC ADX-40 or Atlac 580 ACT) is a pre-accelerated thixotropic, high grade bisphenol A vinyl ester urethane resin that combines exceptional chemical resistance and a combination of heat resistance and flexibility. This resin also has very good handling and curing properties. 100% vinyl ester resins are designed to work in the infusion process. Applications for these resins range from pools and spas to large composite marine vessels.

Vinylester resins are resistant to many aqueous acidic salts and alkaline solutions. It is especially resistant against alkaline media and hot water in which tests have shown an outstanding performance.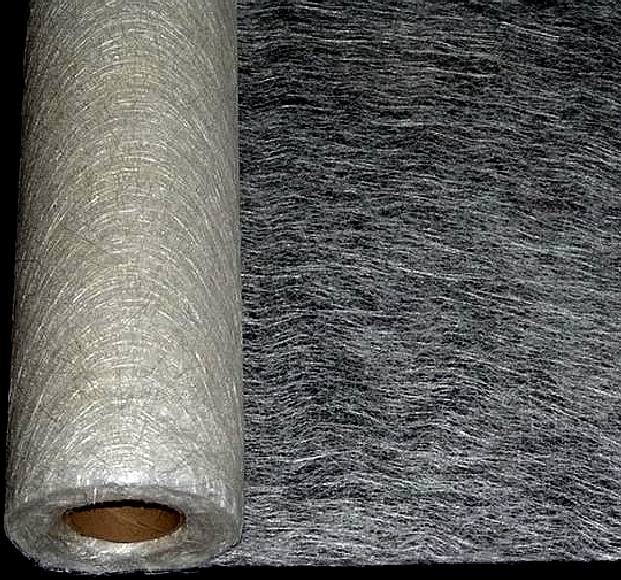 MAT - This is what the 900gsm chopped strand mat looks like supplied on rolls.
CHOPPED STRAND MAT
The standard form of fiberglass mat used in hand lay up and when used with polyester or Vinylester resin produces strong, stiff and tough laminates for boats, water tanks, industrial and domestic applications. Resin use is approximately 2.25 times the weight of glass matting used. So, for 1 square meter of 450gm mat then 1kg of resin will be needed. For 1 sq/m of 900 mat 2kg of resin is needed and so on.
For our ultimate tanking project we will need 17 sq/m of 900gsm mat x 2 layers: 17m2 x 2kg x 2 = 68 kilograms of vinylester resin for the matt and another 2 kilograms for the surface tissue.
Wet out is complete when the laminate is almost transparent. Mat is available in 300g, 450g, 600g and 900g per meter weights.
Surface tissue is typically applied after the gelcoat is applied to a mould surface to prevent print through of the Fibreglass mat onto the finished laminate. Surface tissue can be used as the final layer in the coating of tanks to provide a resin rich surface. We will be using a lightweight, 30gm/m2, non-woven fabric at a cost of £18.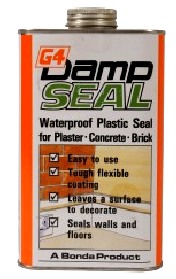 SEALING - We will need four 5kg cans to give us three good coats of this polyurethane based product for the recommended 550 gsm coverage. Total cost, not including delivery but including VAT will be in the region of £230 pounds.
G4 POLYURETHANE AS A POND/TANK SEALER
G4 pond sealer is applied to concrete ponds to prevent water from penetrating the concrete. Additionally it prevents toxic substances such as lime leaching into the pond. G4 pond sealer is polyurethane based and can be applied directly to concrete, bricks and porous stone.

Before applying ensure that the surface is dust free and dry. G4 pond sealer cures within 6 hours. Full mechanical hardness is achieved after 24 hours and chemical resistance after 72hours. It may be applied at temperatures higher than 0 degrees centigrade. Normally 3 coats/layers are applied for a durable seal. Coverage is approx 550gm per sq.m for the recommended 3 applications.
G4 Sealer, also referred to as G4 Damp Seal is a brown, translucent, polyurethane which hardens when in contact with moisture. Once applied, it will provide a tough damp-proof seal for most porous and non-porous substrates such as concrete, brick, stone or wood.

G4 can be applied with a brush or roller. It can be applied to substrates which contain moisture, although it is important to note that the area should be dry enough to be porous. If the area is too damp, this can cause the G4 to de-laminate or blister. Once the area is dry enough to be porous, this will ensure that the first application of the G4 sealer will adhere to the surface area. G4 should not be used in temperatures below zero degrees.

Ideally, the area should be free from all existing coatings and wiped down with Acetone before application. If this is not possible the adhesion will depend on the existing coating. If applying to brick, any loose pointing should be removed before G4 is applied.

It is also important to note that G4 is not effective in areas of direct UV light; therefore if UV resistance is required a topcoat should be used to enhance UV protection.

After the G4 is applied brushes should be cleaned immediately with Acetone and then dried. G4 Damp Seal can be used for coating walls, floors and as a pre-coat for fibreglass roof builds and ponds.

Ponds: In the case of fibreglass pond building, G4 Damp Seal helps to prevent lime entering into the water which is extremely important to the health of any fish in the pond.

Thanks to its polyurethane base, G4 can be applied directly to the concrete and will cure in approximately 30-60 minutes depending on the humidity. It should be brushed on with a coverage of 250g/m2.
Wood sealing: An effective use of G4 Sealer can be to varnish wood for internal use. It can be used even in cases of low temperatures or high levels of humidity. It is best not to use G4 for varnishing wood which will be kept outside as it can be affected by UV light. Despite this, G4 does have a good reputation as a varnish and in terms of performance it is rated as one of the best on the market.
RENDERING - To make working on and in the underground storage tank less arduous the entrance has been smoothed out as much as is practical with a sand/cement render and rough edges ground down with a diamond head on an angle grinder. Copyright © photograph August 29 2017 Cleaner Ocean Foundation.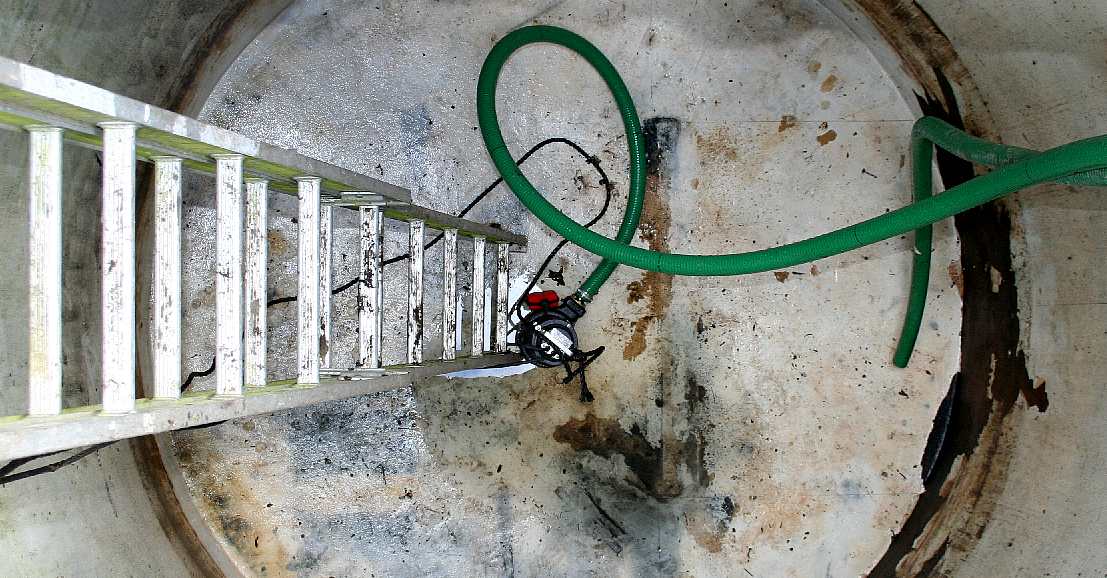 PRESSURE WASHED - Last year it took two volunteers a couple of hours to get the tank back to this condition. They used a bucket and industrial strength rubber gauntlets to scoop up 20 years of sludge. The aluminium ladder may get replaced by a custom built stainless steel unit. Copyright © July 11 2016, all rights reserved. You will need permission from Bluebird Marine Systems Ltd to reproduce this photograph.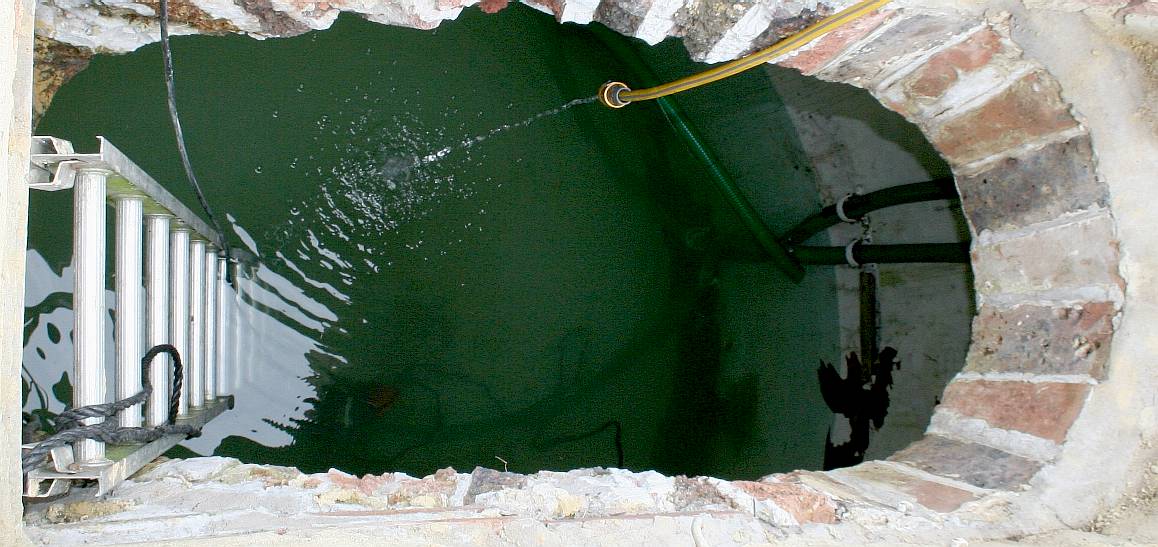 HOSE PIPE - Bluebird Marine Systems filled up the underground chamber to conduct experiments in July of 2016. It took almost two days to fill the underground chamber using an ordinary hose pipe supplied from a well, via a hosepipe. Once full it took about 25 minutes to fill up the test tank from this chamber using the Conforto VRX - and about the same time to empty the test-tank back into the storage chamber using the Mega FSF. The enormous time saving alone is cause to get this system working without leaks. Copyright © July 28 2016, all rights reserved. You will need permission from BMS Ltd to reproduce this photograph.
A TYPICAL POND LINER KIT CONSISTS OF

2 x 20kgs Resin
8 x 2.25kg 450g glass
2 x Glassfibre Surface Tissue EGlass 1m wide - 10m Long
1 x 1kg catalyst
3 x 30ml Measure cup
2 x Paddle Roller 70x21mm
3 x 6" Blue Stripe
1 x Paddle Roller 140x21mm
2 x Brush - 50mm (2.0") Single
5 x Brush - 100mm (4.0") Single
1 x 6" Push on Roller Handle
3 x 6" Mohair Refill
28 x Latex Gloves (single)
2 x Mixing stick
2 x Plastic Stirrers
4 x 2.5 Ltr Plastic Bucket
2 x Economy Coverall XL
1 x 5 Ltr Plastic Bucket
1 x 5kg G4 sealer

For 2 layers of 450gm mat, 1 layer of 30gm glass tissue and 1 layer of topcoat.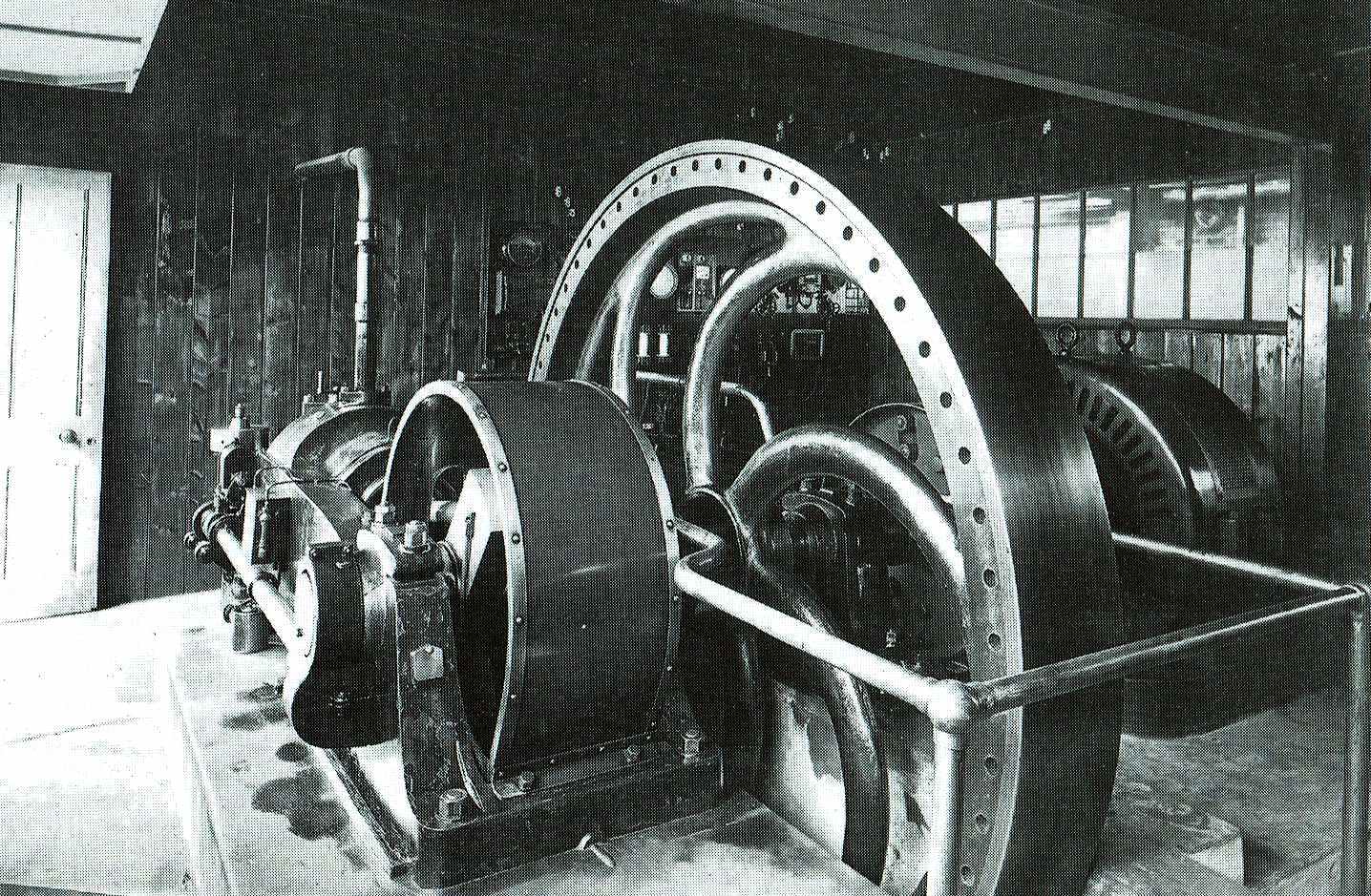 HISTORY - A 36 horsepower National gas engine identical to this produced electricity from the site of our test tank in the early 1900s, with electric ovens and bread baking equipment in Herstmonceux village by 1913 as a result. The local pioneer, Charles de Roemer was a friend of John Hopkinson, another well known electrical engineer at the time. The main building used Swan-Edison lighting and switches many of which are preserved. Joseph Swan being the inventor of the light bulb in the UK and Thomas Edison the same in the USA. Swan and Edison worked together after a court battle where a High Court judge ordered the two competitors to work together after which a new company was set up for the collaboration.
LINKS & REFERENCE
http://www.aoc-resinsuk.co.uk/
http://www.corrosionresins.com/
https://www.fibreglassdirect.co.uk/
BRICKS & MORTAR - DRAINAGE - FILTRATION - GLASS & PAINT - GANTRY - HYDRODYNAMICS HISTORY - INSTRUMENTS - LABORATORY - LOGISTICS - OUR TEST TANK - PROOFING - REVIEWS - SEAVAX TEST VIDEOS - SLUICE GATE - WAVE MAKING - WIND MACHINE
This website is copyright © Cleaner Oceans Club Ltd (COCL) (Company No: 4674774) August 2017
Solar Studios, BN271RF, United Kingdom. COCL is a charity without share capital. The name Miss Ocean™ is a trade mark of the Cleaner Oceans Foundation™. The names AmphiMax™, RiverVax™ and SeaVax™, are a trade marks used under license. Site Navigator